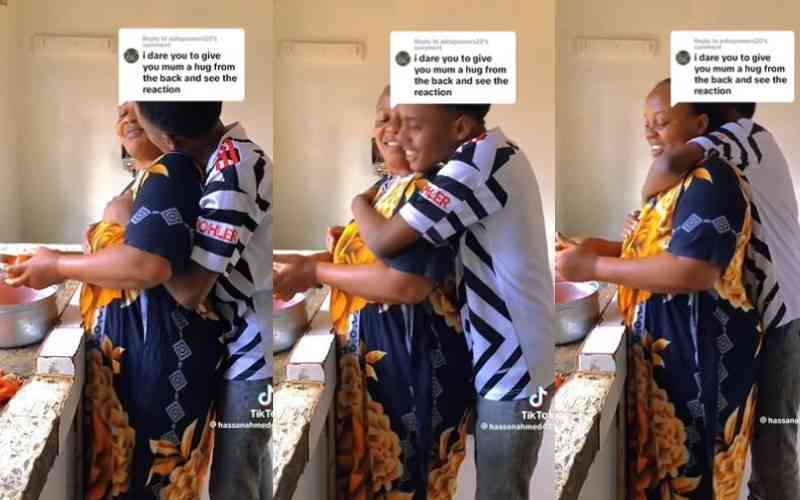 In a recent turn of events, a viral TikTok video has sparked intense reactions among Kenyans on social media. The video features a young man on TikTok, who decided to take part in a daring challenge.
The challenge called for participants to give their mothers a hug from behind and capture their reactions. The young man in question, approached his mother while she was busy cutting vegetables in the kitchen. Affectionately, he embraced her from behind and planted a gentle kiss on her cheek.
However, it was the subtle caress of his mother's breast that caused an uproar among viewers. This unexpected action immediately captured the attention of Kenyans, who took to social media to express their varied opinions on the matter.
Kujeni apa kidogo. What's your take? pic.twitter.com/dOLiklMiQe
— Eric Mose ?? (@ItsMose)
May 20, 2023
Many individuals expressed their outrage and concern in the comment section. Kevin, for instance, voiced his discontent by stating, "Such characters make TikTok a weird app." Fredrick, on the other hand, pondered whether the issue lay with the younger generation, saying, "I don't know if it's just me or if it's the Gen Z problem."
Maggie Kagia exclaimed, "Taboos no longer exist? This is an abomination! What exactly is happening with these two?" Cathy Mutuku took a firm stance, warning, "My mom will send you to your maker before your appointed time, online moms."
Phivon Nyambane expressed his strong disapproval, stating, "This is worse than treason, the actions portrayed in this video."
Peter Gichuhi, initially confused, remarked, "At first, I thought it wasn't his mother until I watched the second video where she bit him on the arm. Uncles are needed here to chase the boy from home."
Among the reactions, there were some who found humor in the situation. Aroko Brivoh jokingly commented, "This is the difference between wealth and poverty. If you don't have money, you can't even hug your mother. But if you take it to this extent, it's a death warrant."
While the video received significant backlash, there were individuals who offered different perspectives. Ben expressed his views, saying, "How do you hug your mother, my mother doesn't even shake my hand. She talks to me from a 5-meter distance."
Odiko shared a thoughtful viewpoint, stating, "This is sickening. You can hug your mother, but not from behind. Just as she can kiss you on the head or cheeks, but not on the lips."
James, seemingly surprised by the boy's actions, remarked, "I cannot even hug my mother. But again, her mother seems okay with all the boy is doing. Why is she smiling?"
Dasani and Kamau Munywa both found the video uncomfortable and distasteful, with Dasani describing it as "very uncomfortable to watch" and Munywa deeming it "completely distasteful."
Kibet Kosgei took a different approach, suggesting the need for boys to be taught how to "man up," stating, "This is totally unacceptable."
Saadhiya called for the normalization of such relationships with mothers, saying, "Can we normalize having such relationships with our moms? Your mindset is concerning."
Sharon Shajema highlighted the importance of age and the relationship between a person and their mother, stating, "It depends on age and the relationship you've been having with your mom."
Tonnie Mwaafrika warned of potential consequences within his community, stating, "In my community, if you do that to your mother, they will curse you."
Tabitha Ogola emphasized the importance of appreciating one's mother while she is still alive, stating, "Better appreciate your mother when she's still around."
Shantal humorously expressed her mother's potential reaction, saying, "My mom would scream and call a family meeting with all the village elders."
The TikTok video featuring the young man and his mother has undoubtedly stirred up a wide range of reactions among Kenyans, with opinions ranging from outrage and concern to humor and differing viewpoints on the boundaries of affectionate gestures towards parents.
Related Topics