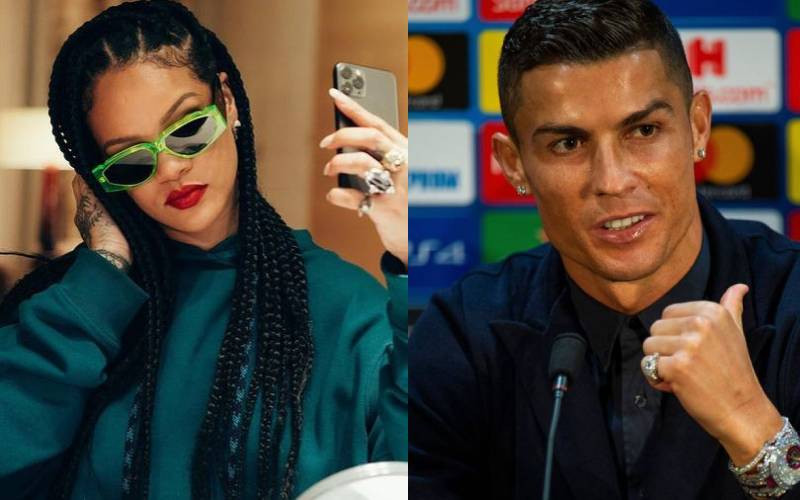 Getting insurance is sensible. In most cases, we insure our cars, houses and even our lives as it is become a modern part of life. However, when it comes to the rich and famous, a lot more is at stake. From legs to vocals to breasts and hair, these celebrities spend millions to have their "assets" covered to protect their careers in the limelight.
Mariah Carey
The We Belong Together singer kicks off the list with most expensive insured body part compared to any other celebrities. After becoming the face of Gillette's Legs Of A Goddess campaign in 2006, Mariah reportedly insured her legs for Sh109.8 bilion ($1billion). But legs are not the only thing the sassy singer has insured. Mariah Carey also took a Sh3.8 billion ($35million) insurance policy for her vocals in case anything was to go wrong during a world tour.
Rihanna
Despite not talking much about it, Rihanna's legs are reportedly worth Sh109.8 billion ($1billion) after she was Boawarded the Gillette's Venus Breeze Celebrity Legs of a Goddess award in 2007.
"They named me this year's Celebrity Legs of a Goddess, so along with the title comes an insurance for your legs of a million dollars. But I think I am just normal," said Rihanna during an interview.
Miley Cyrus
Being a singer, it would make sense that the Wrecking Ball hit-maker would insure her tongue. However, Miley's decision to give her tongue a Sh109.8 billion ($1billion) price tag has nothing to do with its function.
During an interview with Barbra Walters, Miley stated: "I was so embarrassed to be on the red carpet, and so many of disgusting photographers would tell me to blow a kiss, and that is not me! I do not want to blow you a kiss. I did not know what to do with my face, so I stuck my tongue out, and it became a rebellious, punk-rock thing."
Since then, sticking her tongue out become her trademark, thus, insuring the organ.
Daniel Craig
While other celebrities insure individual body parts, Daniel Craig decided to go for the whole package. The actor, just like Tom Cruise, performs his own stunts for the James Bond movies. Before shooting Bond flick Quantum of Solace, Craig took a Sh1 billion ($9.5 million) policy where he insured his whole body for contingency as some of the stunts were potentially dangerous.
Julia Roberts
In Hollywood, when you have a trait as valuable as a killer smile, you might want to protect it. Being one of the highest paid actresses in the world, Julia Roberts insured her iconic smile, and more so her teeth, for Sh3.2 billion ($30million).
Cristiano Ronaldo
Cristiano Ronaldo is one of the most celebrated footballers in history. According to Time Magazine, Real Madrid insured the Portuguese player's legs for Sh15.8billion ($144million) in 2009 to protect their investment. The policy was taken in case a stray foul landed the player a permanent leg injury.
David Beckham
In 2006, the former Manchester United and Real Madrid star player had his legs insured for Sh21.4 billion ($195million). The deal, widely considered the largest personal insurance policy in sport history, was so large it was rumoured to have been split among several companies. It was also a wide-ranging policy, that covered Beckham's legs, feet, toes as well as his looks.
Heidi Klum
As a model, your legs are probably the focal point of everything. In 2004, Heidi Klum legs were reportedly insured for Sh219 million ($2million) each. However, they were not both valued equally.
"I did not personally have them insured, but a client of mine did. Basically, I was in London, and I had to go to this place where they check out your legs. They would look at them and I had one scar here from when I fell on a glass, so this (left leg) is not as pricey and this (right) one," she told Showbiz Spy.
America Ferrera
Just like Julia Roberts, the star of television show Ugly Betty had her smile insured for Sh1 billion ($10million) by Lloyd's of London in 2007. The insurance policy, which covers her gums and teeth, was paid for by Aquafresh as part of an ad campaign starring the actress.
"It is very flattering to have my smile insured for $10 million. It is not something that I ever imagined happening," said Ferrera.
Madonna
The queen of pop apparently took a Sh219 million ($2million) insurance policy for her breasts. The singer believed they were so valuable and famous that her image and career would have never recovered if anything happened to them.
Related Topics