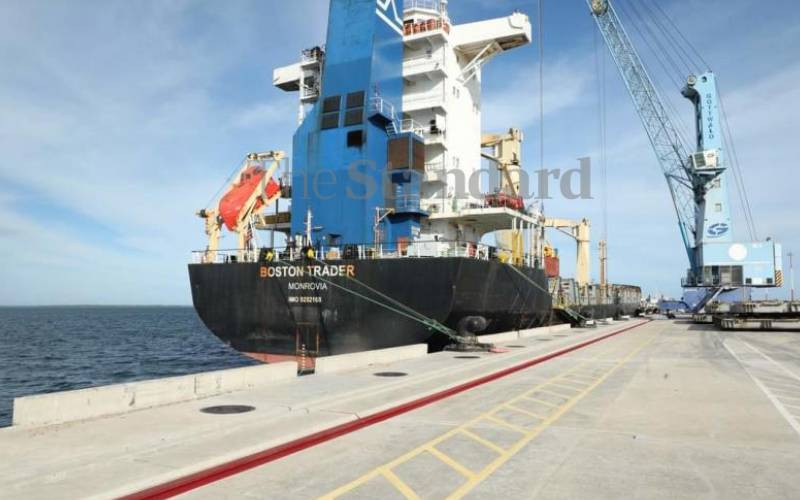 The shipping industry, responsible for emitting 3.9 per cent of planet-warming gases, drew little interest among delegates as the African Climate Summit was concluded Wednesday in Nairobi.
The now famous Nairobi Declaration was full of impressive assertions that revolved around climate financing, the geopolitics of climate change between the rich global North and the South, carbon credits, renewable energy generation for industrial activity, climate-smart and restorative agricultural practices, protection and enhancement of nature and biodiversity among others, but little was said about the need to reduce CO2 emitted by the shipping industry to net-zero by 2050, which is the global deadline.
Speaking during the summit, President William Ruto laid a lot of emphasis on financing, asserting that, "the Climate Change (Amendment) Act, 2023, establishes the necessary institutional framework to rally stakeholders towards the achievement of national climate action objectives."
"It is noteworthy that the primary thrust of the amendment is to provide the exploration of the full potential of carbon markets in Kenya in order to access adequate financing for effective climate action."
Kipchumba Murkomen, the Cabinet Secretary for Transport, explained that the country will be pushing for the importation of electric cars to cut emissions on the roads. He emphasised that Kenya's future lies in the manufacture of such cars, and the complete abolition of diesel and petrol vehicles, especially trucks, from the roads.
He however said little about the ships currently being built in Kenya's dockyards. The government recently revamped the Kenya Shipyards Limited (KSL), a company tasked with building new ships for the country.
The ships currently being lined up at KSL's headquarters in Mtongwe are diesel-powered galleons only capable of warming the planet more.
The global shipping industry is critical to world trade carrying up to 90 per cent of commercial goods. But that trade is highly polluting, using some of the most carbon-heavy fuels to power ships' engines. That is why nations are being urged to hasten the greening of their maritime sectors.
One of the newest technologies that is being adopted for green shipping is the development of modern ships that use the ancient technology of windsails. Around 3500 BC, ancient Egyptians invented the sailboat. They built ships with masts and sails made out of reeds that could harness the power of the wind.
Shipbuilders who are concerned with a warming planet have reinvented this ancient tech. Countries such as France and Japan, are building wind-propelled ships that run on turbines that operate in the same way as those in a wind farm.
Speaking to Shipping and Logistics, Shippers Council of Eastern Africa (SCEA) CEO Gilbert Lang'at said that there is a lot that can be done to green shipping in Kenya.
"We must start by greening the ports. This means investing in equipment that does not consume fuel. Investing in wind power, among others," said Mr Lang'at.
"We must also cut on the time that ships spend in our docks. You see, the longer ships spend floating in the docks, they emit carbon gases into our marine environment. Ships should be in and out as soon as possible."
Lang'at however opined that we must be more concerned with road transport which is a bigger emitter than shipping.
Road travel accounts for three-quarters of transport emissions. Most of this comes from passenger vehicles – cars and buses – which contribute 45.1 per cent. The other 29.4 per cent comes from trucks carrying freight.
Since the entire transport sector accounts for 21 per cent of total emissions, and road transport accounts for three-quarters of transport emissions, road transport accounts for 15 per cent of total CO2 emissions while shipping accounts for 3.9 per cent.
Aviation accounts for 11.6 per cent of transport emissions. Rail travel emits very little – only 1 per cent of transport emissions.
"If we can connect green shipping to rail transport while ferrying cargo, we can successfully bring down the emissions," Lang'at said.
Related Topics