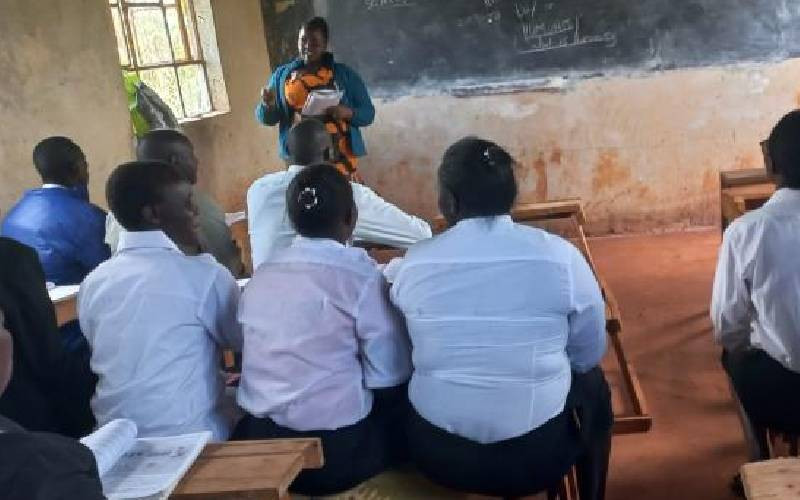 At least 45 learners pay close attention as Lucy Kirui teaches them at Kapserton Adult Education Centre (Gumbaru) in Nandi County.
Before 2007, Kapserto was an infamous illicit brew den according to the locals. Drunkards reportedly met there for shouting matches after their drinking sprees.
For 16 years, the adult education centre has refined the literacy of hundreds of grownups who never went to any school in their childhood.
Pioneer learners who ended up registering for the Kenya Certificate of Secondary Education (KCSE) tests and proceeding to further their studies in colleges and universities said they decided to contribute money to buy the quarter acre land of the illicit brew den and convert it into a gumbaru in 2007.
"Kapserton, where the adult education centre is located, was synonymous with illicit brew. The decision to make it an adult education centre increased literacy levels and ended illicit brewing," local assistant chief Viola Lagat says.
Decades ago, gumbaru was famous and classes were at times conducted in Chiefs' offices and at times churches. When Kenya adopted free primary education in 2003, several adults who would be Ngumbaru literacy learners joined schools.
Ageing Kenyans
Kimani Maruge (1920-2009), who enrolled in standard one on January 12, 2004, aged 84, and the late Priscilla Sitienei, who joined primary school aged 90 became among ageing Kenyans who joined their great-grandchildren in learning institutions in their bids to gain literacy.
Data at the Kapserton Adult Education Centre in Mosop constituency show that the gumbaru learners are aged between 20 to 50 years. On Friday, just after their afternoon classes, the learners erupted into song and dance as they celebrated World Literacy Day.
Forty-one adult learners will be joining thousands of Form Four candidates in the 2023 KCSE examinations from next month. It is the only school in Nandi that admits adults and the only one in the region, education officials said.
During World Literacy Day, Kapserton celebrated big names who started their academic journeys from the former chang'aa (local spirit) den.
Nandi County Public Communications Officer Vitalis Kemei, Uasin Gishu County Assembly nominated MCA Norah Rono who returned to work as an instructor in the village adult education centre.
Kemei said friends discouraged him from joining the adult education center but he didn't shy away. "I had dropped out of school, but I decided to join Kapserton Adult Education Centre in 2007 and became among the pioneers," Kemei who joined the learners said.
"I registered for KCSE and later joined the university. It would have been difficult for me to join high school as an adult. I am happy with my efforts to return to school through an adult education centre. It opened opportunities for me. I am now a public communications officer."
Kemei asked the Ministry of Education to fund adult education to enhance literacy levels among Kenyans in rural areas.
Learning materials
Norah Rono, who was the adult institution's first student (admission 001) in 2007 is back as a part-time gumbaru instructor.
"I did my KCSE right here at the Kapserton Adult Education Centre and scored a C plain. I later pursued a certificate in Adult Education and upgraded it to a diploma," says Ms Rono.
Part-time tutors however cite poor monthly pay and inadequate teaching and learning materials as challenges hindering the smooth teaching of adults at the region's only gumbaru school.
"A part-time instructor is paid Sh2,000 per month yet they prepare adult learners for national exams. They do the same exam that their KCPE and KCSE counterparts in primary and secondary schools do," Lucy Kirui, a part-time instructor who graduated from the University of Nairobi in 2012 says.
The adult school's headteacher Robet Bera says most of the gumbaru learners dropped out of school before gaining basic literacy levels.
Bera said a majority of the adult learners at the centre were women who quit school to get married and others who dropped out due to teenage pregnancies and felt ashamed to return to school.
Last year, Bera said, 22 adult learners did their KCSE tests and attained a mean grade of 1.5 (equivalent to a D plain). "We also have adults who were orphaned at young ages and could not continue their education. Many of them have progressed after doing their national exams.
"We are requesting the Ministry of Education to consider capitation for adult learners. They deserve to receive capitation because most of them are unable to raise the required fees," Bera said.
Nandi County Director of Adult Education Joseph Kagechu says there was a proposal to employ more adult education tutors. Kagechu said there was also a need to expand infrastructure and provide adult learners with more reading materials.
Related Topics