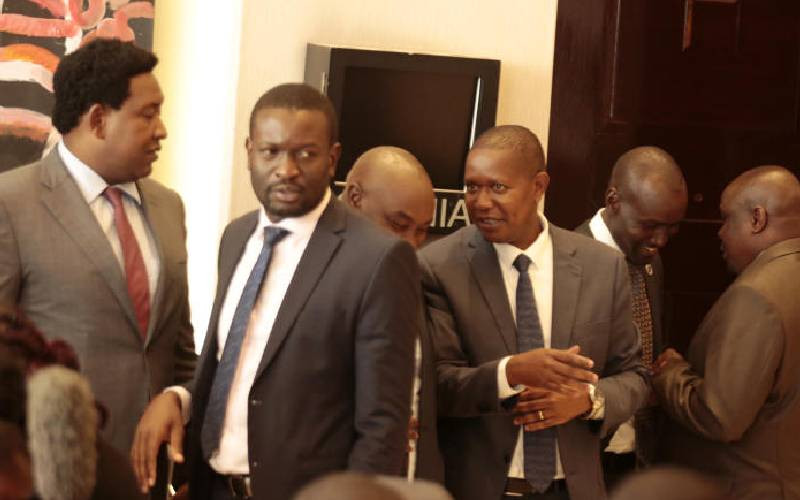 The membership of two MPs in the bipartisan committee is in limbo after Kenya kwanza and Azimio teams gave conditions that should be met in three days.
After a four-hour meeting yesterday, the second since the talks begun, the committee failed to agree on the membership of Eldas MP Aden Keynan and Pokot South MP David Pkosing.
Azimio argues that Keynan was elected on Jubilee ticket and can therefore not represent Kenya Kwanza in the talks as legally the party is still in the opposition coalition.
Rarieda MP Otiende Amollo, who is the co-chair, said Keynan is yet to resign as a vice chair of the Coalition Council and National Coalition Executive Council where he deputises Kakamega Governor Wycliffe Oparanya.
Amollo also noted that according to the Registrar of Political Parties, Jubilee is still an affiliate party of Azimio la Umoja-One Kenya.
But Tharaka MP George Murugara, the other co-chair, said Kenya Kwanza picked the Eldas MP because "on paper, Azimio is correct but that is not the case as we all know what has happened to Jubilee as far as Azimio is concerned."
Murugara argued that the ruling coalition wanted to have regional representation.
Three options
Kenya Kwanza is opposing the inclusion of Pkosing since he is a member of Kenya Union Party, which has initiated the process of exit Azimio.
But Amollo insisted that KUP is yet to officially leave Azimio. And just like Keynan who holds a leadership, Pkosing is Azimio deputy treasurer.
"There is no post-election agreement between KUP and Kenya Kwanza. Pkosing objection by Kenya Kwanza is just an afterthought that is in bad faith," he said
The Azimo and Kenya Kwanza teams, which addressed the media separately, gave each other up to Friday to resolve the issue.
The two sides agreed on three options that should be considered. They agreed on either a win win situation meaning no one loses and the coalitions withdraw the objections, the lose lose situation where the two members are withdrawn with an option of either having a replacement or not, or to have the two voluntarily step down.
The committee members will now sit down with their principles and decide on the best route.
Murugara asked Azimio to give the bipartisan talks a chance before resuming protests
"Do not engage in demonstrations until the outcome of the talks is demonstrated," he said
Azimio said anti-government protests will resume on May 2.
Related Topics