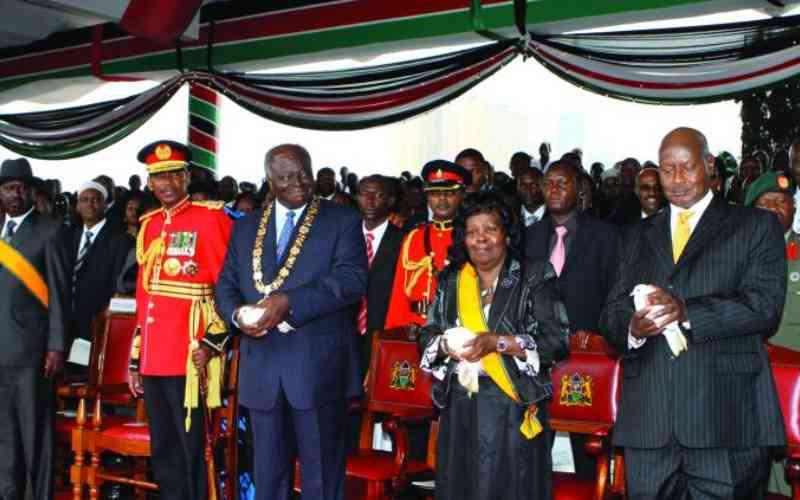 Azimio la Umoja One Kenya leader Raila Odinga's call for an end to imperial presidency and an all-inclusive government would not have been a subject of debate now had he maintained his push for a parliamentary system in the 2010 Constitution.
The ODM leader and his allies had pushed hard for a parliamentary system of government from 1999 until the very end of 2009, when they buckled under pressure and supported the current winner-take-all presidential system in the 2010 referendum.
The opposition leader is again calling for a law that stops MPs from party-hopping and inclusivity, arguing that two tribes linked to the president and his deputy are being favoured against other communities.
"Only two tribes got more than half of the Principal Secretary positions and officers from those communities are also the ones serving as procurement officers in government," Raila recently said at one of his rallies.
He was one of the key players in driving the Bomas Draft constitution and the Committee of Experts (CoE) processes that provided for equitable representation, inclusivity and checks and balances.
Key provisions in both documents were, however, either expunged or weakened by the 27-member Parliamentary Select Committee (PSC) on the Review of the Constitution that was chaired by former Mandera Central MP Abdikadir Mohamed in Naivasha between December 2009 to January 2010.
In his fight for reforms with other opposition leaders like the late Kenneth Matiba in the 1990s, Raila fiercely fought against President Daniel arap Moi's attack on multi-party democracy especially after he poached opposition MPs to Kanu after the 1992 parliamentary elections.
That is why in the run up to the 2010 constitutional referendum, the Azimio leader campaigned for a parliamentary system of government to bring to an end what he used to describe as an imperial presidency.
The opposition leader and his ODM allies, however surprised many people when it emerged that they supported the presidential system at the Naivasha talks.
Abdikadir recently told KTN that the discussions in Naivasha were political negotiations involving very difficult issues and with people who held very extreme positions.
"Contentious issues included the system of government and representation. In those hot political battles, we had to have the PNU and ODM negotiators sitting across the table to talk and agree otherwise we could not have got a constitution," said Abdikadir.
He also blamed Kenyan politicians, arguing that presidential candidates only see agitation for constitutional amendment as an organizing principle for their campaigns as opposed to weather issues being canvassed are good or bad for the country.
He also revealed that for talks to continue smoothly at Naivasha, some people who took hardline positions like ODM's Miguna Miguna and PNU's Moses Kuria had to be ejected for them to advance.
In his book, Peeling Back The Mask, Miguna gives details on how Raila diverted from the course for a parliamentary system to support President Kibaki's push for a presidential one.
Miguna states that Raila shocked them during negotiations with Kibaki and PNU when out of the blues, he suggested that they could work with a presidential system.
"It was in the course of the Harambee House negotiations where system of government documents were tabled for consideration that Raila dropped the ball," writes Miguna.
He says as people were debating and discussing, Raila suddenly said: "Your Excellency, I have a suggestion to make. I'm not sure if the suggestion will be accepted or rejected, but I get the feeling that we are not making progress.
"What would the PNU team's response be if we, the ODM side, suggested that we adopt a pure presidential system?" Raila finished and fiddled with his pen.
He explains that there was complete silence with everyone appearing shocked but Uhuru Kenyatta was the first to recover and said: "Your Excellency, maybe our side need time to consult briefly before we can comment on the suggestion."
President Kibaki and his PNU team left the room as the ODM team talked in hushed tones, mostly agreeing with Raila.
"I held my tongue briefly. I knew that Raila had betrayed us again. When the PNU team returned, they stated that they were grateful for ODM's climbdown and would support the decision," says Miguna.
The ODM side had proposed that the President would be elected directly through universal adult suffrage by secret ballot, while the Prime Minister would assume the position by virtue of being the leader of the majority party or coalition in the National Assembly.
The President was to chair the National Defence Council and be responsible for external defence, external affairs and preside over state functions, among other duties.
The Prime Minister was to chair Cabinet meetings and had powers to appoint and dismiss public officers, including Cabinet members.
"In other words, important executive decisions are made by Cabinet, not through the executive fiat of an individual as happens in a pure presidential system," said Miguna.
At Naivasha, Miguna again blamed Raila and ODM for having been disorganised, thus giving PNU an easy ride to entrench the presidential system.
Had they insisted on adopting the CoE harmonised draft constitution, the country could have adopted a hybrid system of government similar to the one Uhuru and Raila proposed in the Building Bridges Initiative (BBI).
The executive would have included an elected president, a prime minister and two deputy prime ministers elected by Parliament and the Cabinet comprising both professionals and MPs.
Abdikadir has in the past argued that his PSC team did not deliberately alter the Committee of Experts team (CoE) proposals, because the Nzamba Kitonga-led team that harmonised the drafts was a creation of Parliament and its constitutive Act did not give it the final say on the document.
The former Mandera Central MP has, however, acknowledged that the winner takes all presidential system is divisive with a ridder that it is Kenyans who decided that the winner gets 50 per cent plus one of the votes cast.
He doesn't know whether getting the runners up presidential candidate a formal office will make things more inclusive but is fully aware that inclusivity is by all means necessary.
"Inclusivity is an important issue because we need more of it as a country and yet the constitution tried to address it in many areas that have largely not been implemented by parliament," said Abdikadir
Before his death in October 2020, Kitonga argued that had the PSC not interfered with their recommendations on the structure of the executive, issues raised in the BBI couldn't have arisen.
"It is the mistakes of the PSC that have come to haunt Kenya because the harmonised draft contained all the provisions of the expanded Executive contained in BBI whose intention was to create national cohesion and harmony," said Kitonga.
Harmonised draft
The harmonised draft had proposed that a presidential candidate be allowed to contest both the presidential and parliamentary seats.
The successful presidential candidate would then automatically lose his parliamentary seat, which is one of the clauses that was eliminated in the haggling at Naivasha.
"I was startled in 2010 to learn that the now famous Naivasha meeting had agreed on a pure presidential system of government. This was shocking because, during the entire constitutional review debate, no person or political party had ever seriously proposed this system," he wrote in one of his articles.
He said PNU, sections of the civil society and religious groups had stood for a hybrid system with a powerful executive President, perhaps a nominal Prime Minister and a Cabinet drawn from Parliament.
Later on, he heard a story whose authenticity he never established that during the Naivasha meeting some MPs who wanted the old constitution retained decided to achieve that by creating a stalemate to force a compromise.
Related Topics