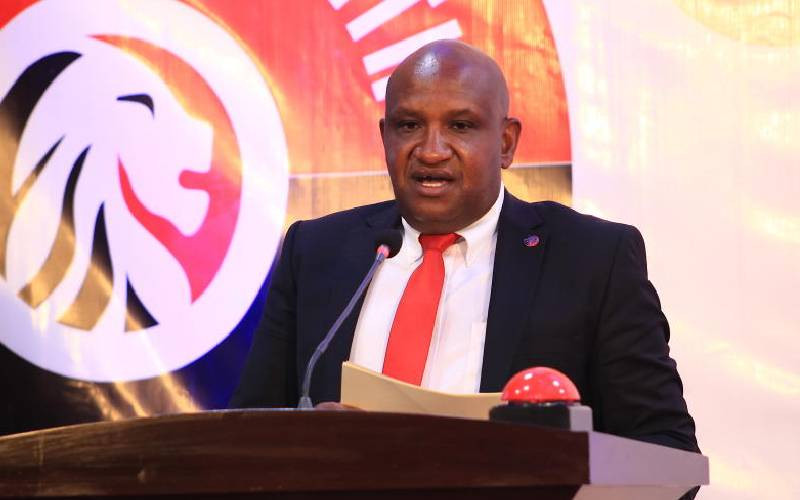 Dozens of senior officials in government appointed during the previous regime are feared to face the axe as President William Ruto's administration continues with a purge that started soon after he was sworn in.
New teams are taking over at key parastatals and State agencies replacing top officials amid concerns that they may be politically allied to former President Uhuru Kenyatta.
Re-assignments, firings, and promotions are common during transition periods between presidential administrations and are meant to increase comfort and trust between a new administration, analysts said.
The reorganisation in top State agencies comes as Ruto tightens the leash on the levers of the State since he was sworn into power 160 days ago.
Dozens of Uhuru-era power men have since been fired and replaced by Ruto allies.
On Friday, the taxman was the latest casualty of the continuing purge which insiders at State House say was a long time coming soon after Ruto took office on September 13.
The KRA Board on Thursday said former Commissioner General Githii Mburu had "resigned from the helm of the KRA to pursue personal interests".
Mburu, who is believed to have been pushed out, is a former intelligence boss at the KRA.
He took over the corner office at Times Towers following his appointment by former Treasury Secretary Henry Rotich in 2019.
Until his appointment three years ago, to one of Kenya's most coveted public offices, Mburu headed KRA's covert intelligence arm, serving as the commissioner for Intelligence and Strategic Operations.
In Thursday's changes, communicated by the newly picked Antony Mwaura-led Board, Mrs Rispah Simiyu was picked to be the acting Commissioner General with seven acting commissioners included in the changes.
Mr Mwaura, a former elections boss of the ruling party, was appointed by President Ruto to serve at the helm of the country's revenue collection body for a period of three years last November.
"Following the resignation, the Board has appointed Rispah Simiyu (Mrs), Advocate, EBS to be the Acting Commissioner General KRA with effect from February 23, 2023 until the position is substantively and competitively filled."
The Board also appointed Mrs Pamela Ahago as the Acting Commissioner of Domestic Taxes and David Mwangi as the Acting Commissioner of Customs and Border Control.
Other changes were that of David Yego who was appointed as the Commissioner in charge of Intelligence, Strategic Operations, Investigation, and Enforcement while Ms Nancy Ng'etich was appointed as the Acting Commissioner of Corporate Support Services.
Meanwhile, Dr Mohammed Omar was retained as Commissioner of Strategy Innovation and Risk Management alongside Dr Fred Mugambi Mwirigi (Commissioner Kenya School of Revenue Administration) and Paul Matuku (Commissioner Legal Services and Board Coordination).
The changes saw the offloading of Edward Kinyua Karanja and Lilian Nyawanda who were serving as Commissioner of Investigation and Enforcement and Commissioner of Customs and Border Control, respectively.
The two were appointed in March 2021 in what Mburu said was part of key roles in spearheading and sustaining revenue mobilisation and institutional transformation agenda.
The KRA's latest changes also immediately saw the exit of senior KRA managers including Grace Njeri Murichu (Supply Chain Management), Sammy Gichuhi Muchemi (Intelligence and Strategic Operations), Patience Nduta Njau (Contract Support Service), Dorine Mbingi (Domestic Taxes Department), Rosemary Njeri Mureithi and Joseph Kiago Kaguru and (Customs and Border Control).
The latest radical purge at the Times Tower corner office this week was a continuation of the realignments that are expected to continue, analysts added.
The President who fell out with his predecessor under the previous government had already vowed to axe key officials in the former regime in a raft of agencies if he won the presidency.
Ruto, during the presidential campaigns, had for instance said he will introduce "independence and integrity" at the KRA, Directorate of Criminal Investigations (DCI) and the Ethics and Anti-Corruption Commission (EACC) words echoed by his Deputy Rigathi Gachagua.
"On our first day we will free the DCI, we will free the KRA from the state capture, they have weaponised DCI, KRA and the EACC to run political errands," Ruto had told supporters last year.
He continued, "We will professionalise the DCI's office for them to discharge their constitutional and legal duty."
Like what happened at the KRA on Thursday, true to his word, Ruto has already made changes at the DCI where Mohammed Amin is the new boss. Now all eyes are on other agencies including the Ethics and Anti-Corruption Commission (EACC) where changes are speculated according to sources.
Ruto earlier confirmed that he fired former DCI boss George Kinoti.
The President, speaking during a joint interview at State House early this year disclosed that he relieved Kinoti of his duties for allegedly overseeing a team accused of multiple extrajudicial killings.
"Thirty bodies in Yala, 17 in Garissa, there was a container here at Nairobi area where people were being slaughtered, in a police station… how did we end up there? What kind of rogue institution was that? And that is why I fired that Kinoti man, because it's not right. There will be responsibility."
Ruto and his Deputy had earlier claimed that the State agencies under the previous regime including the KRA, DCI and EACC were being misused in harassing and persecuting political opponents allied to him during his time as Deputy President and Kenyans hence a need for "deliverance."
"They have weaponised state institutions, DCI, KRA and the EACC to run political errands. To dismantle businesses that belong to people who do not worship them, and I want to tell them, this country will change," Ruto said.
Since he took office, Ruto and his Deputy had also berated the KRA for what he deemed as non-performance to the new government's desired delivery targets.
The new government plans to increase tax revenues as a percentage of the gross domestic product (GDP) from 17.3 per cent over the current financial year to 17.8 per cent in the 2023/24 financial year.
The UDA administration has also accused powerful officials and wealthy individuals and business families of reneging on their tax obligations due to their rich status putting pressure on KRA to act.
"Beginning with William Ruto, everybody must pay tax. This is not the 'animal farm' where some are more equal than others," Ruto said as he hinted there will be no sacred cows in payment of tax.
The changes come at a time KRA has been under pressure from the new administration to seal revenue leaks and boost State coffers to enable Treasury to wean itself off reliance on public debt.
Experts warned yesterday the new team at KRA will face a long road in hitting targets set by the new administration amid a slowing economy.
"I wouldn't be able to comment on the KRA reshuffle but I would say (they face) pretty much the same challenges as before. Widening gap between the projected revenue and the collections and pressure for treasury to collect more," said Kunal Ajmera the chief operating officer at consultancy firm Grant Thornton.
"It is going to be very difficult to get to the set Sh3 trillion target," said Tax expert Nikhil Hira, partner and business partner at Kody Africa LLP.
KRA collected a total of Sh985 billion between last July and December in taxes, falling short of the target of Sh1.028 trillion that the National Treasury had set for the period.
Under Commissioner-General Mburu, KRA has been using various technologies and data bases to pursue suspected tax cheats.
It is during Mburu's reign that the KRA broke its tax collection record to hit the Sh2 trillion mark.
Related Topics