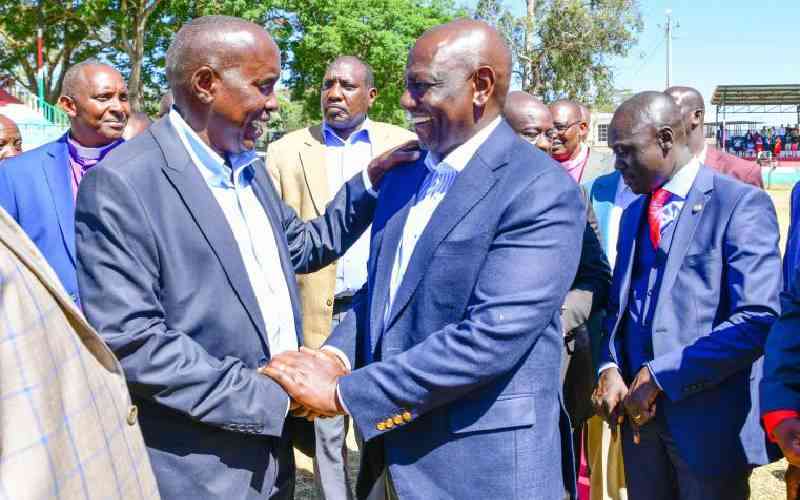 President William Ruto has reiterated that he will not budge on his agenda to move the country forward despite a declaration by the opposition that they will not recognise him as the duly elected leader.
Speaking during a thanksgiving service at Ole Ntimama Stadium in Narok County, on Sunday, the Head of State termed the opposition's agenda as selfish and aimed at benefiting a few individuals and their families.
"This one, you will not get. There is nothing for selfish people. There is nothing for people looking for something for themselves and their families. I am ready, willing and available to work with any leader on the prosperity of this nation. Any other thing, we shall face each other," said Ruto.
The president, who was accompanied by his deputy Rigathi Gachagua, Prime Cabinet Secretary Musalia Mudavadi among other leaders, maintained that he was not ready to engage the opposition to bring them on board the government through the back door.
"The same God who scattered the spirits of chaos, hatred and division which was being planned in August 2022 is still there. Those people have hatched new plans and won't succeed," he said.
He promised to serve the country without discrimination, saying that no Kenyan made a mistake in the manner in which they voted in the last election.
"The government I lead will not discriminate against people based on how they voted. Kenya belongs to all of us. No Kenyan is in the opposition apart from the few leaders elected to such roles," said Ruto.
The president termed recent remarks by Azimio leader Raila Odinga an attempt to divide Kenyans, saying it was the duty of all leaders to bring the citizens together for economic prosperity.
"We will not allow the opposition to change our priority. Our priority is about reviving the economy and food security. They won't suck us into their individualistic agenda," he said.
Ruto defended his administration against criticism that he was going against his word on external borrowing saying that this was work in progress.
"There was a plan to borrow Sh900 billion this year. I directed that we reduce that by Sh300 billion. We shall continue to reduce our borrowing every year until we stop borrowing a cent," he said.
Gachagua hit out at Raila, saying that there was no opportunity to discuss governance with him as they have already formed a stable government to deliver on their election promises.
"Raila now wants us to dialogue and get him space in government. We have given out all the positions. Let him focus on oversight. We can only discuss his exit from politics and permanent retirement," he said.
The DP accused the ODM leader of inciting Kenyans to discredit other leaders instead of speaking facts.
"They lied to people about land in Narok and the Mau Forest. Through this, they managed to split the votes. Kenyans can now see the lies they were told," said Gachagua.
Prime Cabinet Secretary Musalia Mudavadi hit out at Raila for declaring that he won't recognise Ruto's presidency saying that this was a reality they should come to terms with.
"If you don't want to believe that Ruto is the president, it is your wish. But the reality is Ruto is the president. You used this to fight for space in past governments. This narrative has to come to an end. That is the wise decision for all Kenyans," said Mudavadi.
He urged the president to focus on reviving the economy saying expectations were high on Kenya Kwanza government to undo the ills committed by the previous regime.
"Azimio people placed us in a deep economic hole. We removed you from that hole to stop you from digging it deeper for others. We now must save all Kenyans including you," he said.
The Prime Cabinet Secretary told off the opposition for calling on Kenyans to boycott certain products, terming the move economic sabotage that would affect job creation and revenue generation.
"Any agenda that they are pursuing to disrupt the economy is an ill-advised agenda. Telling Kenyans to boycott products, yet we want more jobs created to increase taxes collected to build our country," said Mudavadi.
National Assembly Majority leader Kimani Ichung'wah said that the opposition was free to conduct rallies but they will not allow them to interfere with businesses.
"They have threatened that they will enter Nairobi to close down businesses. Let them come. They will know whose businesses these are. We have in the past faced them and intimidation won't work," said Ichung'wah.
The Kikuyu MP claimed that there was a hidden hand behind the opposition rallies.
"Just as was the case with their presidential bid, we know these demonstrations are not their plans," said Ichung'wah.
He said the opposition protests against IEBC Amendment Act 2022 were not honest since it was drafted during the handshake government.
The Majority Leader claimed that the protests were designed to cloud the ongoing probe into the conduct of the 2022 General Election with a view of interfering with the outcome.
Kirinyaga Governor Anne Waiguru said the president has enough in his hands to allow himself to be sucked into political fights with the opposition.
Narok Governor Patrick ole Ntutu lauded the Head of State for including the Maa in his administration.
"Kindly give the Maa a day to visit you at State House as we show our solidarity with you moving forward," said Ntutu.
Kajiado Governor Joseph ole Lenku said that the politicking season was over and the focus should be on addressing challenges facing Kenyans.
Kajiado Senator Kanar Seki urged the government to come to the rescue of Kenyans ravaged by drought, especially pastoralists who lost livestock.
Related Topics