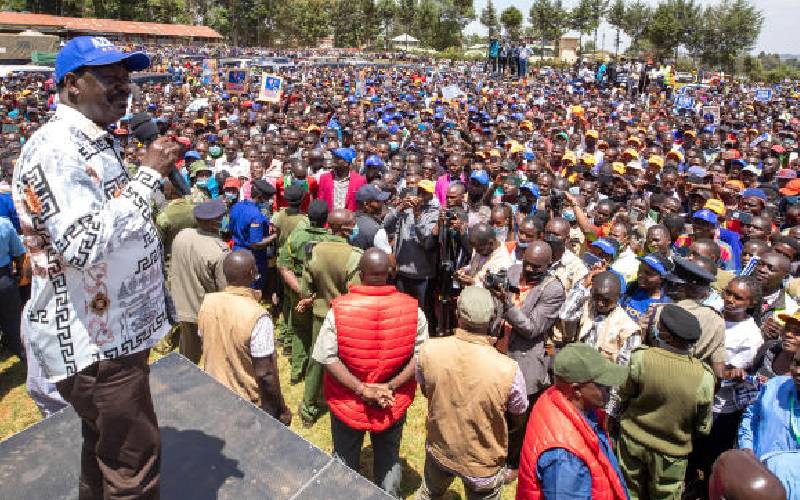 Jubilee party candidates in Kisii and Nyamira counties stand to gain from Azimio la Umoja One Kenya coalition's strong support base in Nyanza region.
Many candidates vying on Jubilee tickets, including seasoned politicians who have never supported Mr Odinga, have included presidential candidate Raila Odinga's portrait in their campaign materials, and even drum up support for him.
Several were cleared by the Independent Electoral and Boundaries Commission (IEBC) even as President Uhuru Kenyatta's outfit embarks on a charm offensive in the region.
Most of those the IEBC cleared to run on Jubilee ticket in Nyamira and Kisii counties are politicians seeking to return to active politics after years in the cold.
Lawyer Mr Stephen Mogaka, a vocal member of Jubilee party vying for the West Mugirango parliamentary seat, said Jubilee remains the government party and will play a pivotal role in formation of the next government.
Mr Mogaka, who flew the Wiper flag in 2013 and 2017, says he joined Jubilee after consulting with voters and his family. "The Jubilee deputy party leader is Mr Jimmy Angwenyi. We want to protect that position by having as many Jubilee candidates as possible elected in Gusii land. We ask voters to give us enough members who will contribute meaningfully to the House business in our region's favour," Mr Mogaka said.
In 2017, Jubilee won five parliamentary seats in the region. They were Nyamira Woman Rep, Kitutu Chache North, Kitutu Masaba, North Mugirango and Nyaribari Chache parliamentary seats.
Local Jubilee leaders say the party is keen to do even better. It is fielding Ms Cynthia Kerubo Toel for Kitutu Chache South parliamentary seat and Ms Janet Komenda in North Mugirango Constituency. The two have been cleared by the IEBC.
The Kitutu Chache seat is currently held by Mr Richard Onyonka, who will be seeking the Kisii Senate seat on ODM. Mr Onyonka will be up against Kisii Deputy Governor Mr Joash Maangi of UDA and former South Mugirango MP Mr Omingo Magara of Jubilee.
The battle is to win over the 546,580 registered voters in Kisii spread across the six clans: Abagetutu, Abanyaribari, Abamachoge, Ababasi, Abagirango and Abanchari.
Ms Kerubo says she has what it takes to win Kitutu Chache South, a cosmopolitan constituency that harbours a big part of Kisii town. Kitutu Chache was split to create Kitutu Chache South and Kitutu Chache North constituencies ahead of the 2013 election. It has 59,017 registered voters as per the 2017 IEBC register.
"With the ongoing work on the ground and the support I am receiving from women and youth, we have the victory," Ms Kerubo said after being cleared by IEBC.
The constituency has been represented in Parliament by influential leaders in the past, including former Cabinet ministers Mr Lawrence Sagini, Cabinet Minister Mr Zachary Onyonka (deceased) who is the father of the current MP, and Mr Angwenyi, who is the current MP for Kitutu Chache North.
Mr Angwenyi is defending his seat on a Jubilee ticket. The seat has attracted seven aspirants, including former Director of Youth Affairs in the office of Deputy President Mr Anthony Kibagendi of ODM.
Mr Angwenyi, who was elected to parliament in 2002 through Ford-People, will also be seeking his seventh term after being cleared on Sunday.
"Jubilee remains a strong party in this region. In 2017, we gave President Uhuru Kenyatta many votes. We are ready to do it again, by rallying our people to vote in Jubilee candidates. Jubilee is our bargaining tool in the next government," Mr Angwenyi said. Mr Magara, who was cleared by IEBC on Monday, exuded confidence that he would serve in the Senate. It will be his third attempt.
"We'll win this race this time around. I want the best for our community and I'll work to see it achieved just as our former leaders did. I am looking forward to a resounding victory, not just for me but for our party in general," he said.
Mr Magara vied for the seat on the People's Democratic Party in the 2017 and came second to Prof Sam Ongeri of ODM. He later decamped to UDA and after a short stint, left for Jubilee.
Prof Ongeri will be going for the governorship on DAP-Kenya ticket and will be up against Ms Rachel Otundo of PPK, Mr Simba Arati of ODM, Mr Chris Obure of Jubilee, Mr Ezekiel Machogu of UDA, and Mr Manson Nyamweya of KNC.
Mr Obure, a former senator who resigned as Transport CAS to vie for the seat, and remained in Jubilee after the 2017 elections when he finished second to Mr Stanley Ongwae of ODM. He will be making his second attempt at the seat and is confident that Jubilee will scoop more seats since it has a strong presence in Kisii.
Bomachoge Borabu MP Mr Zadock Ogutu will also be defending his seat on the Jubilee ticket after he was cleared on Monday. He won the seat in 2007 as an independent candidate.
Related Topics