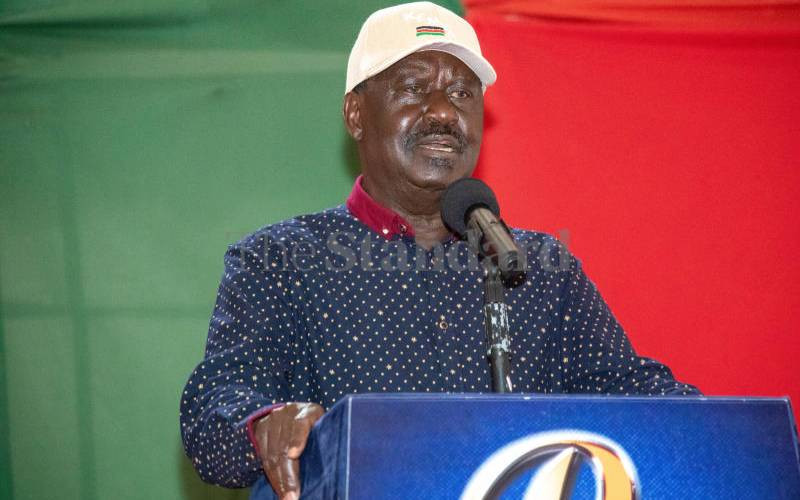 Azimio la Umoja leadership has thrown a political wrench into the works.
On Monday, Raila Odinga and his fervent supporters went at it hammer and tongs on the streets.
The capital city was hot. In the end, the William Ruto-led Kenya Kwanza woke up and smelt the coffee. We hear Sh2 billion may have been lost because of the opposition demos.
A video of a lone man dragging a coffin into a police station – with officers watching helplessly – was not only comical but a harsh confirmation of the restlessness around unmet pledges.
Opposition leaders Raila and his ally Martha Karua, who are no strangers to street action, have vowed to stay the mass action path twice a week to demand action on cost of living and electoral reforms, for as long as it will take. Characteristically, Ruto and his deputy Rigathi Gachagua have laughed it all off. The president says Azimio has no reason 'whatsoever' to protest and no one is above the law.
Meanwhile, many Kenyans feel the country isn't sitting pretty. In my view, Ruto and Raila will have to climb down from their edifices. Take this to the bank. It's a matter of when, not if.
Of keen interest in the newest clash, however, are half-hearted reactions, especially from the clergy – the new darlings of the State who have lately graced political events to pray for rain.
Before, during and after this week's mass action, not much fervor came from the men of cloth towards dialogue. Trade unions and influential civil groups too are yet to pile meaningful pressure.
Save for the Kenya Conference of Catholic Bishops who have expressly called out the two titans and demanded unconditional dialogue, and a few isolated voices here and there, the top cream of the country's wider church leadership is seemingly detached.
Perhaps the rule has it that when enjoying an unholy union with the powers that be, you don't talk!
Some clergymen have been purposely obtuse, looking the other way instead of defending the interests of their downtrodden, who were waiting for the Bible to come down with the cost of living on swearing-in day. Big question remains – where are the true voices of reason among us?
When Kenyans are told they don't have shares in government, families are hungry, the media is on the chopping board, jobs are lost, court cases are dropped, confidence in institutions plummeting, cronies landing plum jobs in a bleeding economy and 140,000 students missing out on higher education loans, we need all hands on deck for reason to prevail. After praying for rains, the clergy should pray to save us from political bane.
The political noisemakers may still dig in, yes. Gachagua, in his own wisdom, has ruled out dialogue with Raila. But before the new political blaze consumes us badly, the faith community must regain its foothold this time.
Recall the days of Ndingi Mwana a'Nzeki, Kipsang Muge and Henry Okullu who could speak truth to power? Greed never drove them into being cozy with powerbrokers.
Archbishop of San Salvador Oscar Romero once said that when the church hears the cry of the oppressed, it cannot but denounce the social structures that give rise to and perpetuate the misery from which the cry arises.
The clergy can embrace this sacred datum and not be blinded by political partisanship that can tear the flock apart. Clerics must shine in the dark. They must have the guts to spiritually police our democracy beyond being 'flower girls' that prayed at manifesto launches last year without caring if they would be implemented.
Although there is no good evidence to suggest Ruto and Raila care much about you and me in their chest-thumping, suffering Kenyans are hurting and the least they need are stalemates caused by short-sighted political recklessness.
-The writer is an editor at The Standard. Twitter: @markoloo
Related Topics