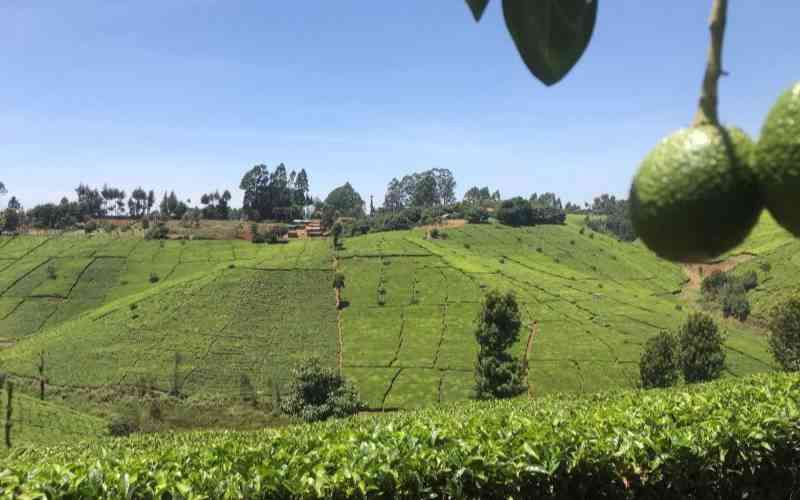 Nairobi can be a boiler, even when the temperatures are not this high. The pace of life is fast, though at times you can't explain what keeps you busy.
With time, being busy becomes a badge of honour. Never mind the stress that goes with that.
One way to escape the boiler is to visit the countryside. It's more relaxing and you get time to be human, meeting ordinary Kenyans who are more attuned to reality, nature and its cycles.
Last weekend, I decided to seek refuge in a green place, in the tea county, away from the scorched earth.
There are a few alternatives to visiting the countryside in the city, but they are expensive. They include going out to drink or engaging in hobbies such as golf. The city founders left too few green spaces.
It was not accidental. Nairobi is one of the few cities where spending money is the only way to relax. You have to get into a hotel to rest after walking or even meeting friends.
That was not an accident; how else would you force us to spend money and become cogs in the capitalist wheel? Noted how many places have a sign "no idling," a code for spend money?
Beyond Karura and Ngong forest or City Park, where else can you sit relax and exhale? The most crowded places such as Githurai or Mlolongo were left without any breathing space. At Mlolongo the overpass is a "park" full of people relaxing. These estates are simply bedrooms.
An hour's drive, I was in Ndakaiini, near the dam that gives Nairobi its water. The water level has gone down and the contours of the dam, when the water level was higher, are visible. The Aberdare ranges could not hide, there were no clouds.
The best optimist could not fail to notice it's dry and the land needs rain. On the way to Ndakaiini, pickups and carts carrying jerrycans of water or fodder were plenty. Maize that dried before it was fully grown dampened my spirit. Hunger is real.
Around the dam, tea farms suddenly brighten up the scorched earth. Like curtains, the farms roll from the hilltop to the valleys. At the hilltops, families have their homes.
The tea farms are so beautiful that one feels like never leaving the place. The only patches in the green are small toilets for the tea pickers.
Fresh air
There is a feeling that you are in touch with nature. The cool fresh air soothes your nerves. Where in Nairobi can one feel like that?
I can't tell why tea farms are never listed as Kenya tourist attractions, in addition to beaches and national parks. We really limit ourselves; it is at Ndakaiini where the famous seer Mugo Wa Kibiru is buried.
But there is nothing to indicate that. Yet we visit Egypt to see pyramids, which are nothing but graveyards.
A few observations made my day as I exhaled. One is the number of 'foreigners' around Ndakaiini, in the heart of central Kenya.
They are tea pickers. It would be interesting to find out how they have changed the demographics of this place. Why is labour imported?
A native of Ndakaini, Prof JH Kimura showed me around. He observed that beyond tea pickers, the first shop owners were not indigenous.
Clearly, entrepreneurship is driven by immigrants, even in the most unexpected places.
The second observation is a concerted effort to diversify from tea to avocados. Every tea farmer seems to have a section reserved for these fruits. I was told in two years, the fruits would be ready for the market. A fruit can go for Sh150, good money.
The problem is that you can't make money alone, others will join you. I fear that soon there will be a glut in avocados and the price will fall.
How much effort is being made to expand the market for this fruit whose use includes hair oil? The market is big, more so when the avocado grown organically without chemicals.
The fourth observation is the devolution of 'maendeleo'. I saw palatial homes that rival Runda or Muthaiga. Even BnB are there. Apartments are now common in rural areas.
Even small towns seem to be attracting investors. Some small tired Murang'a towns are waking up. Who are these investors?
The fifth observation is how different coffee and tea zones are.
The tea zones are more affluent going by all indicators, from houses to the health of the citizens. Will the golden age of coffee ever return?
Six is the persistence of colonial borders. From Thika, you drive through vast coffee or flower farms before getting to 'reserves' where the 'natives' used to live, a reservoir for cheap labour.
Stagnant life
The trip demonstrates how modernity and the past have coexisted. The journey from Thika to Ndakaiini is not 40 kilometres, it's actually 100 years. You see frozen history.
One is left wondering how the small-scale farmers will escape from this stagnant life. What will it take? Their own efforts or the government's? There is no doubt it will need both.
But the rural areas suffer from a less talked about problem - brain drain. The best and brightest leave while Nairobi and other cities pick the brains and prosper. The top performers in national examinations and university students are unlikely to be in the rural areas. Devolution devolved few brains.
It's only when we start experiencing brain gain in the countryside that its fortunes will change.
What incentives do we give the brains beyond jobs? Have you been to rural areas lately? What did you observe? Can you share?
Related Topics