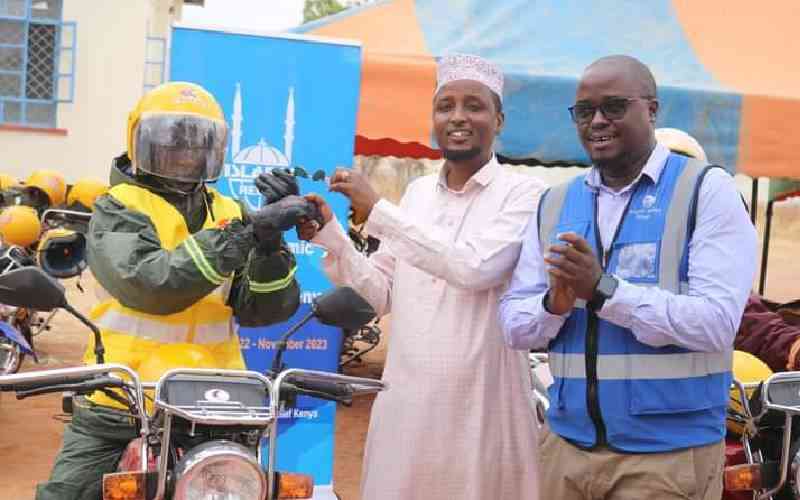 A section of youth in Wajir can now breathe a sigh of relief after they received a donation of motorcyles.
The donation by Islamic Relief Kenya aims to economically empower those from poor and vulnerable families.
The Project Manager Mr Evans Otieno said the donation of the 50 motorcycles is under its social economic empowerment of the youth in Kenya aimed at supporting them to generate income and build resilience.
Otieno said this is the first face of the pilot program and they would build on its success to bring more beneficiaries on board.
"The project is meant to empower the youth economically through provision of the motorbikes which plays a key role in transport commonly known as boda bodas. This will be a great tool for income generation and improving their livelihoods," said Mr Otieno.
He said the beneficiaries had not only been enrolled in a driving school and issued with licenses but had also received comprehensive training on entrepreneurship.
They will form SACCOs where they are required to save a particular amount from their daily earnings.
County's Education CEC Mr Ahmed Wardere urged the beneficiaries to make good use of the opportunity by adhering to traffic rules.
"The Sustainable Development Goal No.8 which is to Promote sustained, inclusive and sustainable economic growth, full and productive employment and decent work for all. With such empowerment we shall achieve these goals to make our county better economically," Mr Wardere said.
The beneficiaries vowed to take advantage of the donation by working hard towards their financial freedoms.
Related Topics