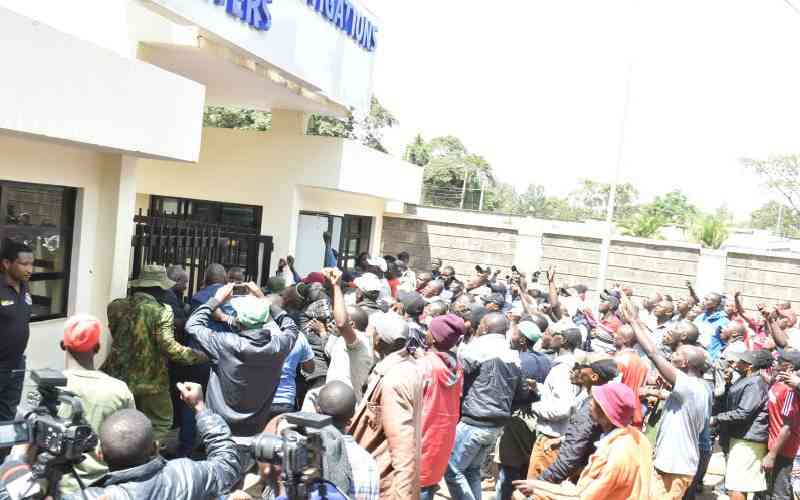 Recent events around Maina Njenga, former leader of the dreaded Mungiki sect are causing anxiety among mainstream churches and government circles that the sect could be regrouping.
At the centre of all this is Njenga, who now says he is a bishop of his own church, and the emergence of a new grouping, Amani Sasa, which has so far registered more than 5,000 members.
Njenga's latest run-ins with police, he was charged with 12 counts among them being a member of the organised criminal gang and engaging in criminal activities, rekindled memories of the criminal gang that terrorised locals especially after the 2007 General Election.
Mungiki gained its notoriety in 1998 after the post-election violence in Laikipia when it was courted by some Mt Kenya politicians who were keen to militarise the members of the erstwhile religious sect .
Njenga, an ex-leader of Mungiki and now the leader of Amani Sasa Foundation as well as the chairman and a spiritual leader of Christian Independent Movement (CIM) has dismissed the connection claiming he was being associated with the sect because of his political affiliation with Azimio leader Raila Odinga.
"What I'm being accused of is the exact charges I was accused of in 2008. Those people calling themselves Mau Mau descendants are responsible for our arrests, destroying our unity, bringing persecutions because they are looking for seniority from the mountain," Njenga said.
The opposition led by Azimio One Kenya Alliance leader Raila Odinga, in a show of solidarity with Njenga, accused the government of misusing State agencies such as the National Police Service to silence them.
Njenga's woes started on April 20 after a video of him leading a group of youth, largely men, in singing songs that are known to be used by Mau Mau freedom fighters went viral.
While addressing the youth, Njenga claimed he was the spokesperson of Mt Kenya region having succeeded the late minister Njenga Karume who he said was his relative.
"I visited the late Karume at his deathbed in hospital and he gave me the mandate to look after the community and since I don't want to attract his curse, nothing will stop me from pushing and protecting our people," Njenga said.
He trashed reports linking his foundation to the re-emergence of Mungiki saying his was a unity group keen on uniting Mt Kenya region and emphasised on his Christian calling that he said boasted of more than 5000 churches across the country.
Yesterday, Deputy President Rigathi Gachagua said the government will crush Mungiki.
However, a senior government official who requested anonymity claimed the government had intelligence that Njenga together with prominent politicians from Mt Kenya region was reviving the outlawed sect disguising it as a political movement.
"We are trailing the re-emergence of the sect which has rebranded into a political/peace movement across the Central Kenya region," the State officer said.
On May 12, detectives from the Directorate of Criminal Investigations (DCI) stormed Njenga's six houses in Nyandarua, Laikipia, Ng'arua, Nakuru, Lavington and Mavoko and announced they had recovered two guns and over 90 rolls of bhang at his Nakuru home.
"One of the firearms recovered was a homemade pistol capable of firing while the other one was a Tokarev whose serial number had been defaced," DCI said. Njenga was not at home at the time.
On Thursday, Njenga's supporters danced and chanted pro Njenga slogans and belted up liberation songs that were sung by Mau Mau and consequently Mungiki sect while they performed rituals at the DCI headquarters .
At its conception in the early 1990s, Mungiki started as a group of disenfranchised sons and daughters of Mau Mau freedom fighters who were seeking purity by returning to the traditional ways which included performing ritual such as female circumcision. With their trademark dreadlocks and tobacco sniffing adherents, the group was organised into small cells which were then coordinated at the county and regional level.
Ironically, Mungiki wormed itself to Kanu and actively campaigned for its candidate, Uhuru Kenyatta during the 2002 election where Njenga unsuccessfully sought a parliamentary ticket for Laikipia west seat.
After taking power, Mwai Kibaki administration pulverised the sect in a series of operations that left hundreds of adherents killed in controversial circumstances while others disappeared as happened to one coordinator, Ruo Kimani who was snatched from the streets by security agents in Nairobi and has never been heard of again
The sect shot to international limelight after the 2007 Post Election Violence when it members were allegedly recruited for self-defense from the attack from other communities.
The name of the sect found itself to Hague where former President Uhuru Kenyatta, in a litany of charges that were later dropped, was accused of funding it.
In 2009, the sect clashed with yet another counter group known as Vigilante that had allegedly been formed with the good will of some politicians leading to the massacre of 16 people at Kiaruhiu village near the border of Nyeri and Kirinyaga counties.
The Mathira massacre was a reiteration of an attack by the Vigilante in Karatina which had been a Mungiki stronghold.
Church leaders and a section of politicians are now calling on the security agencies to rein in the members.
MPs Njeri Maina (Kirinyaga) and Dancun Maina said the government must use all means to ensure that the illegal sect does not creep back to life.
"From where I stand someone is sponsoring what we saw at the DCI for political expediency. I insist that we must not be drawn into a narrative that would lead us down a path of regret. It is a fact that we are at crossroads as a community, we must agree to leave the past behind and put our house in order," Ms Maina said.
She was concerned that the current situation when the country had high levels of unemployment and when people were destitute they were vulnerable to be used to settle political scores.
Her Nyeri Town counterpart said the Thursday scenes at DCI headquarters pointed to a "well-oiled structured and well-coordinated mobilisation and deployment".
"Government must move with speed and unravel the root cause of the resurgence of the group, its missions and objectives to protect our people from the painful memories of the dark days of the group's operations that included beheading those who did not believe in them," Dancun said.
Anglican Church of Kenya Mt Kenya Central Bishop Timothy Gichere said the church is concerned by emergence of cult-like groups advocating for a return to traditional Kikuyu values and religion and abandonment of Christian lifestyles.
"The groups have been using coercion, blackmail and intimidation to force women to undergo Female Genital Mutilation (FGM) and we have asked government to act," the prelate said.
He said most of the cult groups hide behind religion and called on the government to hasten investigations to prevent radicalisation and brainwashing that may lead to Shakahola-like massacre.
Muranga Bishop's forum chairperson Stephen Maina of Full Time Winners Gospel Church said some sects have adopted new names so as to attract new members.
"Government must move a notch higher and interrogate the beliefs of these groups to stop the sects from converting our region into gang's paradise," he said.
Recently, there has been an intense battle for souls in Mt Kenya region as newly established sects compete with mainstream Christians by spreading the Mwene Nyaga gospel. Although many have exempted themselves from the blame of advocating for FGM, the church has linked them to the outlawed exercise.
Karanja Mwangi, who describes himself as a seer (mundu mugo), says he uses the cultural divine intervention to speak to the living dead who dictate to him about the calamities his more than 100 followers face.
"We have made major strides to inform and educate our people about our true god and our efforts are bearing fruits, in the next 50 years, all Christians will have realized about Mwene Nyaga and will get back to their traditional ways of worshipping," said Mwangi.
Related Topics