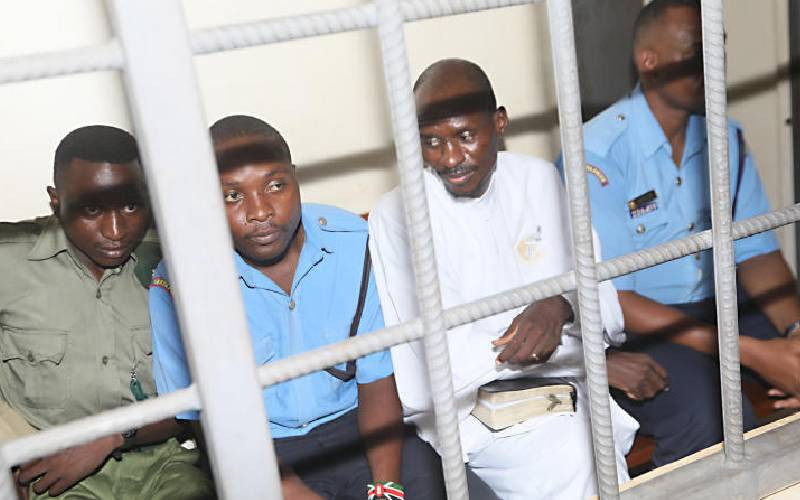 New Life Centre owner, pastor Ezekiel Odero's troubles with the State seem to deepen with the Directorate of Criminal Investigations (DCI) now claiming organs trade in an application to freeze his bank accounts.
After seeking days to probe him for his alleged association with pastor Paul Makenzi and the Shakahola deaths, the Mohamed Amin-led agency has now gone for his accounts.
In a startling allegation now before the court, the DCI now claims that postmortems conducted on bodies exhumed from Shakahola indicate that some of the bodies had missing organs.
DCI's allegation is contained in an application before Milimani Chief Magistrate's court, which issued orders Monday to freeze his accounts pending the probe. Chief Inspector Martin Munene swore an affidavit in support of the application. He told the court that he is attached to DCI's financial investigations unit.
According to Munene, the investigative agency received intelligence that Odero is allegedly engaged in money laundering.
"Both pastors are suspected to have a close link. Post-mortem reports have established missing organs in some of the bodies of victims who have so far been exhumed. It is believed trade on human organs has been well-coordinated and involving several players," claimed Munene.
­He claimed that Odero has links with Makenzi. He referred to Odero as a close associate of Makenzi.
According to the investigator, Odero has been receiving huge amounts of money in his bank accounts.
He claimed that the amount is believed to be from Makenzi victims who were allegedly radicalised to sell their properties and gave their money to the embattled pastor.
Dollar accounts
Munene claimed: "Most of his (Ezekiel) victims who have been followers of Paul Makenzi who is a close associate to Ezekiel are missing and are suspected to have died mysteriously. It is believed that more bodies may be still buried in the expansive land covering more than 1,000 acres."
DCI sought to freeze at least 12 bank accounts in the name of Kilifi International School and Life Prayer Centre. Court record reads that pastor Ezekiel has dollar, euro, and pounds accounts.
At the same time, it claimed that some Tanzania and Uganda shillings account in the school's and church's names. DCI is also interested in seven Safaricom lines in the names of the embattled pastors.
The investigator told the court that he is interested in bank account statements, signatories of the accounts, instructions to debit and credit, and RTGS instructions.
The time of interest, according to Munene, is between January 1, 2017 and April 30 this year. "The applicant prays to the honourable court to issue preservatory orders in respect of account numbers below for a period of 30 days pending the completion of investigations, which accounts are holding money suspected to be proceeds of crime acquired through suspected procurement fraud," said Munene.
In a separate case in Mombasa, Odero distanced himself from Mackenzie. He said the police knew that they had no ties adding that the television channel sale between the two pastors failed.
"The respondents know too well that I have been dragged into the mud and my reputation soiled due to failed commercial transaction between myself and Mr Paul Mackenzie who is under serious investigations over his involvement in the many deaths that are reported to have happened at Shakahola," said Ezekiel
He was responding to an application to detain him to enable the police to probe the Shakahola deaths. "Instead of taking any action against me, they have resulted in frustrating and making me a subject of adverse public mentions," said Odero.
Related Topics