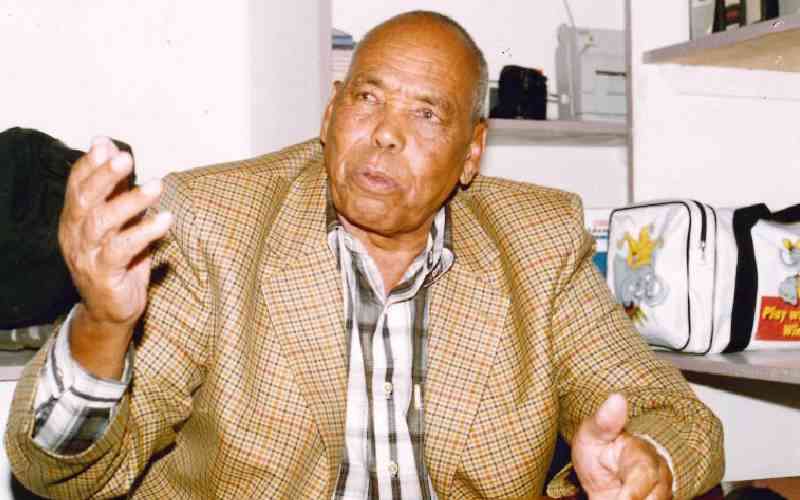 Sometime in December 2015, veteran politician John Keen wrote a detailed Will, expressing how he wished his wealth would be shared.
This was at least a year before he died on Christmas Day the following year.
From court documents, it was estimated that the former assistant minister in President Daniel arap Moi's government had amassed more than Sh13 billion estate.
Keen served as an Assistant Minister for Agriculture and Kajiado North MP from 1969 to 1979.
Perhaps, he thought, his Will would guard his three wives, children and grandchildren against the many intrigues that haunt many rich families after the death of a matriarch or patriarch. The intrigues often revolve around control and sharing of the vast estates left behind.
In his Will, maybe as a further precaution to ensure that his name would not be dragged in endless succession battles, he put a caveat that anyone who challenged his wishes in court ought to forfeit the share of wealth he had gifted them.
Nevertheless, his family is in the sort of dilemma he so much wanted to guard them against.
The children of his first wife Gladwell Wairimu have filed a case against their step-mother Rosemary Sanau and step-sister Pamela Soila in a battle over 39 properties they believe were acquired by their late mother and father as matrimonial properties.
Wairimu died while a succession battle between the three wives was still before the family court at Milimani.
She argued that her late husband failed to factor in her contribution to his wealth before he married her co-wives.
On January 23 this year, Justice Aggrey Muchelule (now a Court of Appeal judge) declined to hear an argument that she was entitled to a share of matrimonial wealth. He stated that the court was hearing a succession case and not a matrimonial one.
Her two children – Victoria Naishorua and Eva Sein have now filed yet another case before the family court. Documents exclusively seen by The Standard indicate that they want the court to find that children can sue on behalf of a parent to claim his or her share of matrimonial wealth.
Naishorua and Sein target 47 properties registered in Keen's names or his companies J. Keen Investments Limited and Rossen Gardens Limited.
According to them, the properties were acquired while Keen and Wairimu were married, from December 21,1957 to August 11, 2020 when she died.
Among the prime properties they are after is a house sitting on a five-acre land in Karen and Osilale Farm- Namanga. The two claim that their late mother lived and knew the Karen home dubbed 'White House' as a matrimonial property since 1974.
At the same time, they state they deserve Osilale farm where their mother was buried.
They argue that the properties are held in trust for them and therefore they are entitled to 100 per cent ownership.
At the same time, they are seeking 40 per cent of 39 properties and are asking the court to force their step-mothers to transfer the same.
The two are also seeking orders to be granted 40 per cent of money held at Standard Chartered Bank Limited, Kenya Commercial Bank Limited, Credit Bank Limited and Equity Bank Limited.
In the case, they state that they have been authorised by their siblings Lydia Shellel Keen, Nicholas Sangale Keen, Dennis Kiruti Keen and Clifford Lemita Keen to pursue Keen's second and third wives on behalf of their late mother.
They claim that their late mother and father were married for 63 years and had amassed money and assets.
However, they are of the view that their father erroneously gave away wealth that belonged to his first wife.
According to them, Keen infringed on his late wife's rights in his Will.
"I and my six siblings are apprehensive that we individually and collectively risk losing all rights and inheritance in the acquired matrimonial properties and homes that belong to our late mother to other beneficiaries and unwarranted/third party claimants as proposed/gifted in the Will by our late father if the Grant of Probate is confirmed in Nairobi Succession Cause No. 123 of 2017," court papers filed by their lawyer Kakai Kissinger read in part.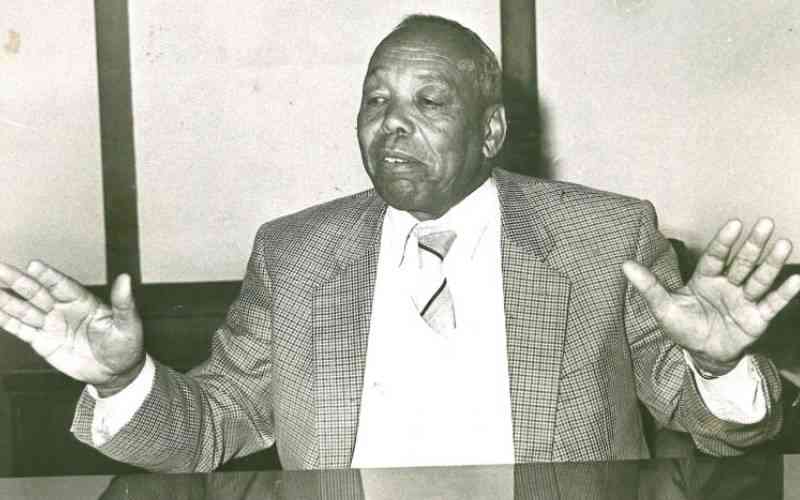 They argue that although a property is registered in the name of one spouse, the court should factor in monetary and non-monetary contribution of the other spouse.
"The court ought to consider great awareness of the value of non-financial contribution to the welfare of the family, and the increased recognition that, by being home and having been looking after her 11 children, for the 63 years in marriage, Gladwell Wairimu Keen may lose forever her rights over matrimonial properties unless this court intervenes," they argue.
In her affidavit, Naishorua states that Keen was married to Wairimu, Mary Njeri, Sanau and Wamuyu.
She narrates that her mother was a registered nurse and a midwife who had trained at Pumwani Hospital and later worked in different hospitals, including Karen Dispensary and Lang'ata Health Centre.
According to her, Keen parted ways with Njeri in 1974 and her mother assumed parental responsibility for her co-wife's five children in 1974.
She states that Njeri left for the US where she lives to-date.
Naishorua adds that in 1994, her father again parted ways with Sanau for six years and her mother took in her two children.
"To the best of my recollection and being the eldest of the children in the four houses, my mother had the onerous task of taking care of her own six children, five children from the second house and two children from the third house and she did it diligently, motherly and joyfully
"I vividly recall that the contribution of my mother was equally in providing my father as a career politician and public figure with companionship and support through decision making, problem solving support with compassion and sympathy and attending extended family functions in the absence of my father," Naishorua claims.
She laments that her house will lose their mother's wealth if the succession case is concluded.
According to her, it is unfair for her father to distribute the properties they have cited to other wives and children.
Naisorua states: "There is a rebuttable presumption that the property/properties were held in trust by my father for the benefit of my mother and that the Respondents are accountable for the said property/properties for the benefit of my mother's estate."
In his Will, Keen had appointed Supreme Court judge Isaac Lenaola and lawyer Maina Wachira to oversee the implementation of his wishes.
However, the judge resigned from the role and Maina died. It follows that Sanau and Soila took up their role.
Keen died at the Aga Khan Hospital on December 25, 2016, leaving a valid Will dated December 2, 2015 that was drawn by Maina Wachira & Company Advocates.
"I declare that without prejudice to and withstanding the provisions herein before contained my trustees shall have and enjoy all the powers, authority and discretion conferred upon executors or trustees by law," Keen who died aged 90 had stated in his Will.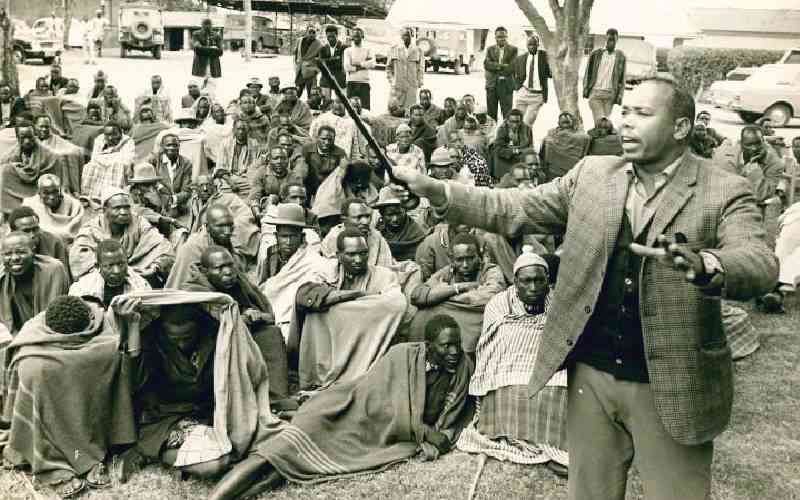 He made it clear in his Will that none of the beneficiaries should challenge his wishes.
"Any legatee herein be it a wife or child or grandchild questioning, challenging or objecting to my wishes as herein expressed shall be deemed and taken as disrespecting me and I direct that the wife's, child's or grandchild's gift, endowment, entitlement and bequests shall upon such act or event automatically be forfeited and those assets and property shall form part of my residuary estate," he warned.
In his Will, Keen who valued education bequeathed his 24,500 shares of J Keen Investments Ltd and 998 of Resson Gardens Ltd to Lenaola and his team to hold in trust and to apply the income for his grandchildren's education.
Keen said once the youngest grandchild attains 21 years, the shares of J Keen Investments Ltd should be distributed to his children.
At the time of his death, Keen had shares in blue chip companies such as Safaricom Ltd (659,880), Standard Chartered Bank of Kenya (11,877,840) and Kenya Commercial Bank (53,000,000).
Keen who did not want his children and grandchildren to suffer when he is gone, left the 11,877,840 shares to those who might not be able to pay for their medical expenses and other necessities of life.
He also took care of the welfare of the grandchildren who may want to start a business after college and attaining the age of 21.
Keen considered the conduct of each of his children towards him and generally the love and respect each one of them accorded him.
He also left something for his siblings, a house help and nanny to his daughter. The beneficiary who will get the highest amount for treating Keen well, will receive Sh15 million. The person who will pocket the least amount will get Sh5 million.
The Maasai elder had land in Kajiado, Kilifi and Nairobi.
He also wished that 270 acres of land in Kajiado County be retained by the trustees and J Keen Investment Ltd trustees for wildlife habitation and ecological objectives. This excludes the land Maasai Lodge stands on, which he said shall be used only for recreational purposes.
Keen gave 125 acres of land in Kajiado to the trustees for the establishment of an educational centre. This is on condition that his son Cliff Lemita is appointed chairman of the trust fund. He left his livestock to two of his sons on the understanding that they would continue with farming.
Related Topics