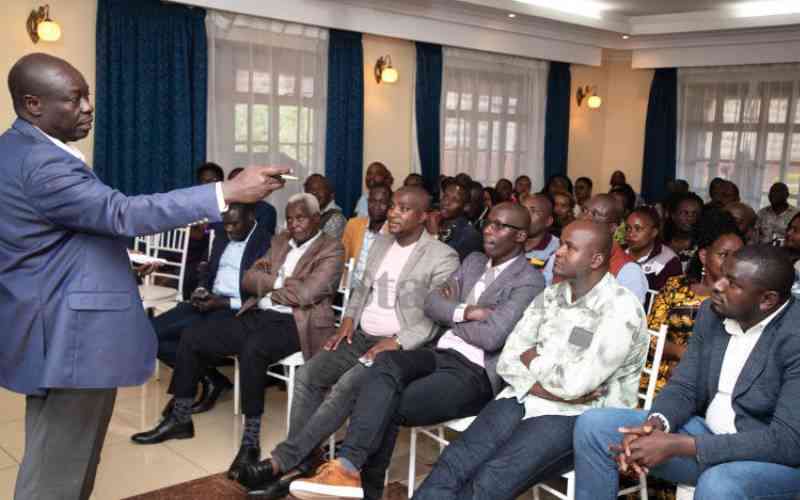 President William Ruto has tasked his Deputy Rigathi Gachagua to lead reforms in the coffee subsector.
Gachagua has been passionately rooting for reforms in the coffee, tea, and milk subsectors, which he has said have been under State capture, therefore, denying farmers better profits.
In December, the DP promised farmers that he will focus on dismantling cartels in the coffee, tea and milk subsectors. These vital sectors have been choking in the stranglehold of some exploitative players who have been raking in millions from the sale of the produce at the expense of the farmers.
At the height of the tea crisis some disgruntled farmers had started uprooting their crop protesting that the earnings were so low that even tea pickers were making more money than the actual producer.
There's an estimated 250,000 farmers in the production of coffee which is exported through co-operative societies which have been characterized by poor management, high cost of operation and very low pay outs to farmers leading to a sharp decline in production
President Ruto yesterday issued Executive Order No 1 of January 2023 on the Organization of the Government of the Republic of Kenya. In the Executive Order, Ruto outlined six key functions for Gachagua, one of them being taking charge of the Coffee Sub-Sector Reforms Implementation Standing Committee.
"Thousands of our farmers rely on coffee to support their families. Despite fetching good prices at the international markets, middlemen reap big from the sweat of the farmer," said Gachagua.
One of the priority areas for the DP will be establishment of a Coffee Fund at the New Kenya Planters Cooperative Union, to, among other functions advance financial credit to farmers at lower rates than the current regime where marketers and millers have held peasants at ransom.
In addition, Gachagua will work with farmers, legislators and other actors in the subsector to ensure factories can be societies on their own. This will allow the farmers to determine their financial destiny as opposed to the current situation where this decision is made by millers and marketers in what he calls "State capture of subsector for the benefit of individuals."
On the other hand, the DP is rooting for direct settlement system of the coffee revenues to farmers instead of agents and marketers who charge exorbitantly for just being conduits. This is in addition to expelling millers, brokers, buyers and other markers from taking part at the Nairobi Securities Exchange, for a farmers-friendly auction.
Gachagua says it's time farmers are freed from the yoke of secondary players and given powers to determine how their produce is managed from production to payment.
Related Topics