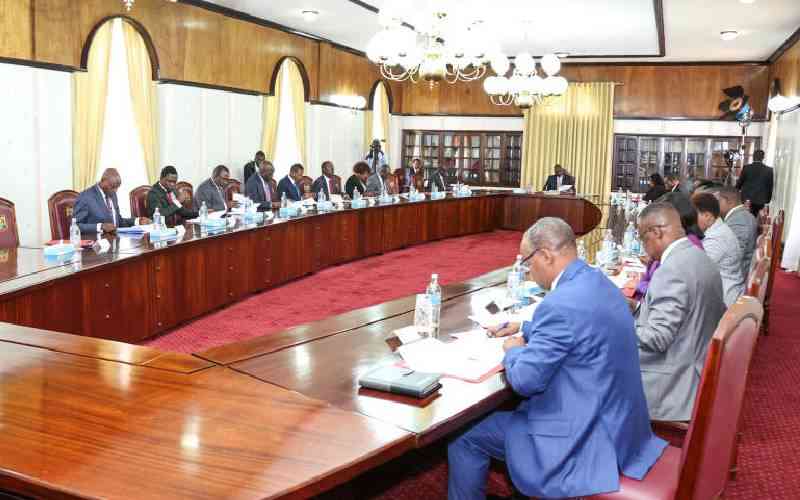 Cabinet has approved the legal and institutional framework to anchor the establishment and implementation of the Financial Inclusion Fund (Hustlers Fund).
This follows a Cabinet meeting chaired by President William Ruto on Tuesday, November 15.
According to a statement sent to newsrooms after the meeting, the fund is expected to open up affordable credit facilities and will be structured in Personal Finance, Micro Loans, SME Loans and Start-Ups.
The fund will be launched and rolled out on November 30, 2022, with loan limits being a minimum of Sh500 up to a maximum of Sh50,000 based on the borrower's credit score. The fund will attract an interest of eight per cent annually.
Cabinet also supported proposals to deploy specialized police units drawn from the General Service Unit (GSU) and the Rapid Deployment Unit (RDU) to deal with the rising cases of crime in the country.
A multi-agency coordination between security organs and operators will be reinstated at border points as a heightened measure to detect and prevent the trafficking of narcotics and other psychotropic substances.
At the same time, the Cabinet has approved the establishment of the Centre for Entrepreneurship which will be within Kenyan Industrial Estates.
The program will be established through a partnership with the German government and will target over 250,000 youth entrepreneurs between the ages of 18-35.
Additionally, 100,000 youth entrepreneurs will access in-depth screening services: coaching, mentoring and career guidance.
The Ministry of Health has also reactivated the National Task Force on the Ebola Virus Disease and heightened the level of surveillance at all points of entry into the country with the border Counties.
Related Topics