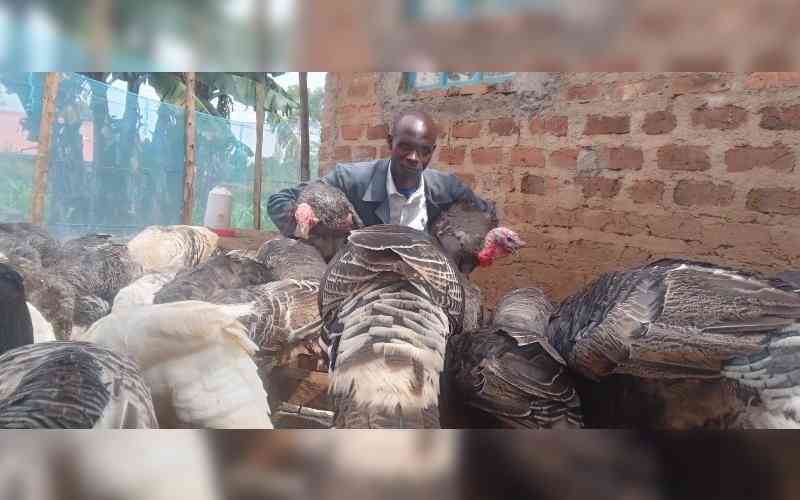 Like many employed young Kenyans, when Covid-19 hit in 2020, Bernard Osunga, who worked as a human resource manager at a construction company in Nairobi, lost his job.
"It was a big blow. To survive, I did menial jobs here and there to fend for my family but it was a struggle because I was making very little," he recalls.
With bills to pay in the city and a young family to fend for, he soon realised the hustling was not working and he was forced to relocate with his family to his rural home in Kakrao village, Migori County.
After months of research on farming opportunities that can thrive in the area, he discovered an opportunity in the turkey business.
"I came to learn that there was a middle-class group that was interested in turkeys because of the sweet meat," says Osunga.
He got tips and tricks from farmers who were already doing it and also had prior knowledge from his grandfather who was a veteran turkey breeder.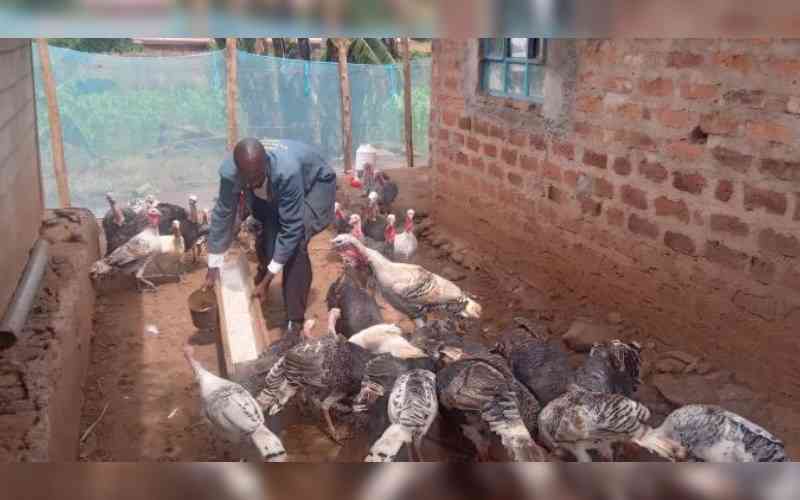 To start off, Osunga used Sh40, 000 from his savings to buy four turkeys from a referral source. For housing, the father of one made a modest wooden house for his four turkeys.
"The first months, it was a struggle because the cost of feeds was expensive. But I used to supplement the commercial feed with kitchen leftovers like vegetables," Mr. Osunga says.
In two years, the four turkeys had multiplied and he was able to sell more than 73.
It took a while to break even, but he kept ploughing back the little he made into the business.
Market research
He sells a pair of four-month-old turkeys at Sh10, 000.
So far, he has sold turkeys worth Sh800, 000.
He sells a turkey that weighs a kilo between Sh800 and Sh1, 000.
Currently, Osunga owns 207 standard bronze and black turkeys on his one-acre farm.
"Cash generated from one turkey is equivalent to 10 chicken while a turkey egg equates to the cash from a tray of chicken eggs," he says.
He makes between Sh12, 000 to Sh16, 000 from a single mature turkey.
In a bad month, Osunga says he can make at least Sh40, 000 from the sale of his birds and eggs.
He explains that turkeys grow faster and are more adaptable to feeding.
He admits that the biggest challenge he faces is the high cost of feeds.
To deal with that, Osunga uses some of the maize from his farm to make turkey feed. He processes the maize grains into homemade poultry feeds, which, he says, lowers his production costs on feeds.
Feed making strategy
The turkey farmer says he learned how to make homemade poultry feed from his grandfather who before passing in 2009 was a turkey farmer.
"By the time my grandfather died, I was still in college," Osunga says.
His grandfather, who started turkey farming in the 1950s, would grind maize using a stone.
During grinding, he learned that the maize should not be ground to be too soft, but the size of salt or sugar particles. He would then grind Lake Victoria sardine (Omena) and mix the two before feeding it to the turkeys. But for best results, Osunga takes his maize to a posho mill and instructs that it is ground to be like chicken feeds.
"If made to be too soft, it would look like flour and this would be hard for turkeys to feed on," he says.
Once the maize is milled, he buys 'ochonga' ( a type of fish found in Lake Victoria which is cheaper and smaller than omena) and mixes it with the ground maize.
A kilo of 'ochonga' is sold between Sh50 and Sh80.
Marketing
Though he has clients from his locality, to get more clients, he has created a Facebook page to market his turkey. He has clients in Migori, Siaya, and Kisii counties and is now focusing on institutions and hotels.
"I have also been selling to customers across the country who make orders through my Facebook page," Osungu says.
Types of clients
Osunga has three categories of customers, those who want the birds for home beautification and security, some would order a turkey for meat and egg consumption, and those who would want to start them for business. He also trains those who wish to venture into the business at a fee. People interested in turkey rearing come as far from Kisumu, Busia and Nandi counties for training.
He encourages youths to venture into the business as it is not labour and capital-intensive yet the rewards are guaranteed.
For those interested, he advises them to buy turkey eggs which go at Sh350 for hatching, or collect the two-month-old turkey chicks at a lower cost.
Other than feeds, another challenge one should expect when rearing turkey is disease outbreaks.
According to https://ishamba.com, compared to chicken, turkeys are more susceptible to diseases, indicating that they require a much higher level of management and skill than other domestic fowls. In turkeys, the common diseases include blackheads, Newcastle disease, erysipelas, fowl cholera, fowl pox, and hemorrhagic enteritis. To keep diseases at bay, livestock experts advise that one embraces strict biosecurity measures.
In simple terms, biosecurity is utilisation of measures that can stop or slow down the introduction and spread of infection into or between components of production systems. Such measures include limiting the number of people and vehicles in the poultry section and for those who must gain entry, ensure that they dip their feet in disinfectants.
Related Topics