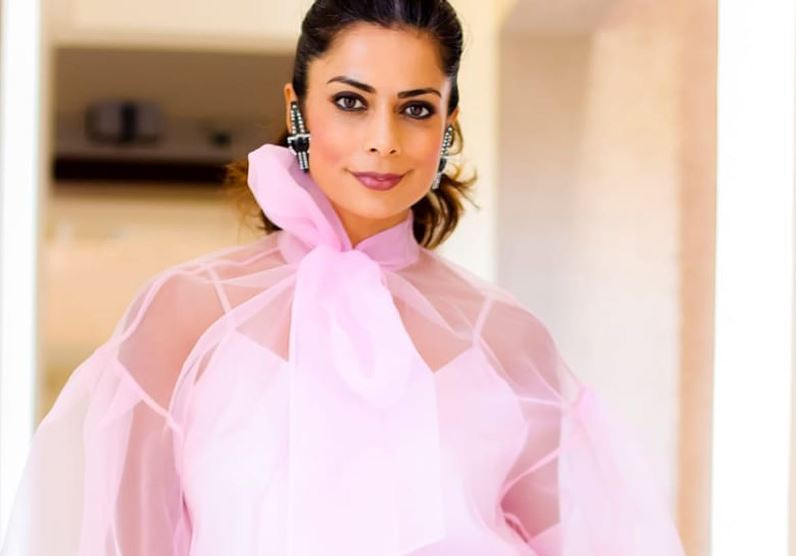 Pinky Ghelani wears many hats. She is a beauty queen, media personality, MC, and UNHCR brand ambassador. She is also passionate about women's empowerment. The witty and stylish mother of two is always looking to reinvent herself. Her home, located in the green leafy suburbs, is fit for a beauty queen. When she got married, this was the home she moved into after marrying her husband, Raj.
Pinky shares that she dated Raj on and off before they got married. "I dated my husband for seven years, and he implies that I proposed to him, which is not true," she says. Seeing as Valentine's season is here, can today's women propose? Food for thought.
Pinky says that they discussed settling down before their two families met. She explains that that was the proposal. Pinky's mother-in-law house-hunted the home – a beautiful space with a manicured expansive garden – for her family. Once you enter the compound, you realise how magnificent the mansion is. This home is a treasure and will be passed down to the next generation. Her mother-in-law, however, did a lot of renovations to the house. For instance, they had to cut a tree to cover the spacious lounge area, which was initially open. The lounge area is grandiose with a double-high ornate wooden ceiling made from the tree.
The lounge area waterfall has calming sounds. Next to it is a pod with terrapins, her mother-in-law's pets. Having never seen them before, I was curious about this species from the Chelonian family that look like turtles. They live in water and on land. They love sunshine and relate very well with human beings. "You should see how they behave when they hear my mother-in-law's voice," says Pinky.
The lobby feels like a ballroom. The interior is a mix of valuable antiques and custom-made furniture, some from Lamu. Many artefacts, portraits, and mementoes are meticulously displayed in the hall. They have an old-world charm.
Around the hall is a splendid, intricately designed wooden staircase. The room has a sweeping ceiling, and from the indoor balcony, one can enjoy the view of the lounge from any angle from upstairs. Designed across the lounge area, this indoor balcony feature reminds one of the Downtown Abbey series with its opulent effect.
Adjoined to the main house is an extension house with separate rooms where Pinky and her family live. It has bedrooms, a living room, a kitchen and a home office.
Her home office smells divine. It is filled with glitz and glamour. One can tell that Pinky is a lover of beautiful and glamorous things. Unexpected aesthetics in this space create a larger-than-life feel, albeit it being an office.
Some of her designer shoes, fancy hats and sleek bags are on display. There are also shimmery accessories, beautifully wrapped gifts she is yet to open, and everything that can be found in an office.
Seeing that she lives in a big house, this space is her sanctuary and creative space. Sometimes she holds meetings with her lovely children here.
She takes me to the main living room where all the family meets, mainly during significant occasions such as wedding ceremonies or parties, as per Indian culture.
The living room is unique, spacious and bold. The black and white zebra animal print theme evokes a sense of boldness. "My mother-in-law decorated this space," says Pinky.
The wooden floor in the living room gives the space a timeless and cosy feel.
The traditional fireplace keeps things toasty. Chinese giant blue flower vases, black sheers, and black leather seats with zebra print cushions tie the theme perfectly and give the space a charming and bold character.
Meticulously displayed masterpiece art pieces, Chinese decor on the fireplace, rustic focal wall, and artefacts collected from different countries give the room an eclectic feel. Pinky's mother-in-law is an expert in styling.
Pinky shows me one of the bars in the living room adorned with high bar stools, ornate, colourful artefacts and mementoes from different countries. The bar looked exotic and inviting.
The formal dining table covered with zebra print tablecloth holds Queen Anne silverware crockery, which is valuable. Pinky's mother-in-law treasures the crockery, which seems to have been an inheritance.
The outdoor manicured massive garden stands out and gives one a sense of calmness and tranquillity.
The garden is home to a gazebo, ornate artistry, and a happy bounty of outdoor plants, of different outstanding species, including the monkey tail plants.
Food for thought: Would you have terrapins as pets in your home?
Watch this episode on KTN's YouTube channel and the Art of Living show every Sunday at 6:30 pm.
Related Topics