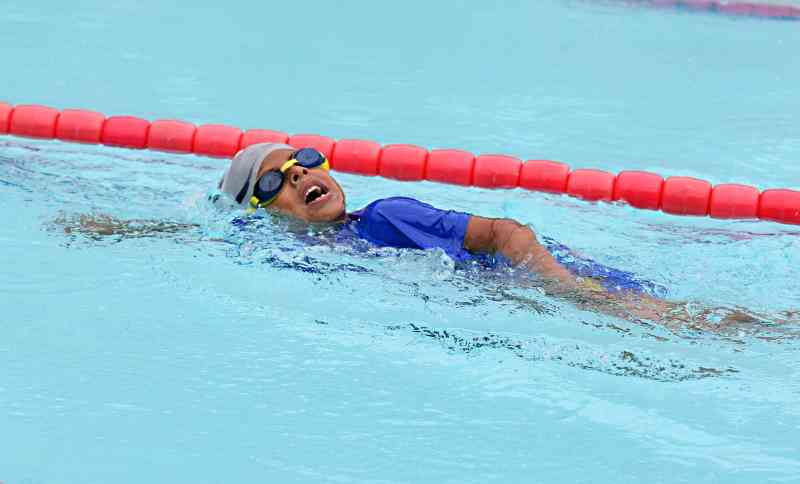 Bandari and Blue Ocean swimming clubs stole the limelight during the Mombasa junior and relay swimming gala at the Aga Khan Academy Mombasa over the weekend.
The two-day meet which was organised by the Mombasa County Swimming Association attracted over 10 swimming clubs.
They included Aga Khan Academy Mombasa, Bandari Swim Club, Blue Ocean Swim Club, Braeburn Swimming Club, Mombasa Aquatics Club, Oshwal Academy Mombasa, Mombasa Parents Swim Club, Jaffery Academy Mombasa among others.
Bandari continued with medal haul in the boys nine years 25m butterfly race after Marcus Gacharamu and Longe Amos swam 22.08 and 24.95 to grab the first and second positions respectively. Dev Soni of Braeburn swimming club Mombasa timed 29.50 for the third spot.
In the boys eight years 25m butterfly, Raheeb Ahmed and Alyaan Pasta both from Blue Ocean swimming club timed 26.96 and 27.30 for the first and second slots respectively as Ahmed Nassor of Aga Khan Academy touched the finish lane with a time 28.44 for the third position.
In the boys seven years 25m butterfly category, Abubakar Hemed of Bandari won with a time of 24.43. Riyan Kanabar and Jaffrey Matheka both from Blue Ocean swimming club clocked 25.06 and 25.10 respectively.
Bandari's Khairan Khuweylid clocked 28.67 to win the boys' six years 25m butterfly race. Abdulkader Varvani of Blue Ocean and Raphael Kadernani swimming as an individual entrant clocked 28.87 and 30.11 for the second and third positions respectively.
In the girls 11 years 200m individual medley (IM), Khadija Khuweylid of Bandari timed 3.07.80 to emerge the winner. Elliana Maina of Mombasa Aquatic Club timed 3.10.23 for the second position.
In the girls 10 years 200m IM, Aga Khan Academy were the dominant after grabbing the top three positions through Arriela Zuri, Grosuenor Perez and Saiya Shiraz with a time of 3.54.62, 4.09.49 and 4.14.64 in that order.
Bandari were unstoppable in relays where they dominated both boys and girls races.
In the boys 6/7 years 100m medley relay, Bandari's team of Israel Otieno, Abubakar Hemed, Ryan Munene and Danish Shah clocked a time of 1.55.42 to emerge victorious.
Blue Ocean claimed the top position in the boys' 8/9 years 100m medley relay with a time of 1.37.10 courtesy of Aariz Noorani, Trever Odhiambo, Alaqmar Hamid and Adil Ahmed.
In the girls 8/9 years 100m medley relay, Bandari team of Mikaella Magdi, Nadia Thuranila, Salma Omar and Samantha Frumkim won with a time of 1.41.52.
Related Topics