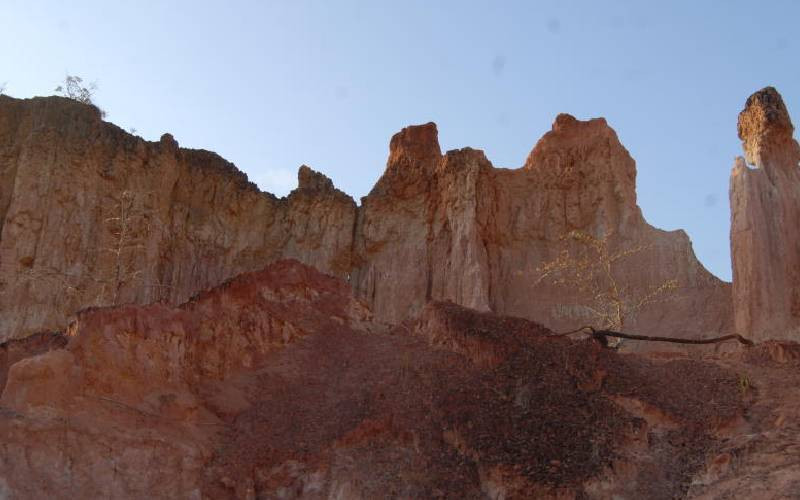 Malindi. It is 5.45 am and I am out of my room anxious to experience a sunrise. However, I find few places would give me a nice view – trees that camouflage the environment, making it impossible to have a view of a sunrise surrounding my home-away-from-home.
After 'scouting' for an ideal place to catch the sunset, I give up and get back to my room to prepare breakfast. By the time I am through, the sun is already out and I get to enjoy its warmth as I take my breakfast under the canopy in the beautiful gardens.
I am looking forward to a great day exploring the famous town of Malindi – the town I found out last time I visited was glowing with fame with hundreds of visitors and locals "doing their thing", making Malindi, and its tranquil pristine beaches a beehive.
As I wait for my pick-up, a tuk-tuk, I can almost visualise how the day is going to be – full of fun, memoirs, and interactions. I am looking forward to going site seeing – what makes these places lively for me is interactions – families, tourists, locals, all involved in all manner of activities.
I was "dying to visit Malindi's best such as the Vasco da Gama Pillar, the Malindi pier as I get to inhale the early morning breeze and watch tens of fishermen making it back to the beach after a night out fishing.
My Tuk-tuk drive for the day arrives at 8.30. We are set for the day's tour of Malindi but when I tell Suleiman that I was here long before Covid-19, he quickly points out that so much has changed.
"The charm of the quaint tourist attraction is now lost and for the discerning traveller, Malindi seems to have lost its glory. Suleiman notices my silence as I take in what this means for my visit, and quickly points out that all is not lost and the effects of Covid-19 "that crushed Malindi" are now waning away and the tourist town is slowly picking up.
Thirty-five minutes later, we are driving through the town centre, and I can now visualise what Suleiman meant. There seems to be "no life" and the bustling town that I once experienced is no longer a 24-hour economy. The town is dead asleep.
After exploring the outskirts where beach life was once fun, I discover that most of the beaches are now deserted, and hospitality joints that were once the fame of Malindi have almost no visitors and no activities. Not even the locals frequent them and the historical gems of Malindi, are no longer frequented by crowds of enthusiastic travellers.
"Most investors have left Malindi, with key investors like the Germans, and Italians taking their business elsewhere like Nairobi and Mombasa, while others have opted to go home," says Suleiman.
He jokingly points out that the ones that stuck around are those die-hards that were born and bred in Malindi, which they call home. Indeed, the local Germans and Italians have adopted the local language and coastal culture.
The town, which was not so long ago the place where the hotel industry was a great attraction with so many popular attraction spots is no more. Many spots that had long periods of advance bookings are struggling to stay afloat, while others have since closed down.
Even those that seem to have stood the test of time as Malindi struggles to return to its former glory, still look run down.
I remembered that the last time I was here I visited the Malindi Falconry; I was so excited that I promised myself that I would do a repeat visit – to have some fun with the Mzee Kobe the tortoise (if he was still alive), and the eagles as I commanded them to fly out and back to my hand.
I ask Suleiman if the Falconry still operates, and he tells me that though it had also experienced Covid-19 challenges it was still operational. The Falconry is located at the heart of the town.
At the reception, we find Falconer, Kahindi Kitsao, in charge of the Falconry.
The Falconry is known as the Falconry of Kenya Greif Vogel Park and Eagle Park. The establishment hosts diverse species of animals, including a star tortoise, which is now 128 years old. He seems to be "ageing gracefully".
Apart from tortoises, there are crocodiles; snakes like pythons, the venomous puff adder and black mamba; monitor lizards bush babies, owls, hawks, and my favourite, the eagle.
Although the Falconry is a tourist attraction for both tourists and locals, especially students, Kahindi explains that it has been and will always be an orphanage for rescued animals where they are given care sometimes for a lifetime.
"Every day my team wakes up early to feed the animals and birds, ensuring that they are healthy after they are brought here with injuries or when they fall due to strong winds," says the Falconer. Those that are healed are taken back to the forest or the wild.
This, he says, is because animals and birds are meant to live free.
I am excited about the "drill" which will eventually end with me trying to make a call to an eagle after releasing him from his cage for a fly away and fly back demo.
After one hour of the tour, my moment of excitement is finally here – the fly away eagle-fly back eagle at my elbow. After five minutes of the dos and don'ts, I am ready for the challenge, and after 10 minutes of the challenge, Kahindi announces that I have been a very successful handler.
Related Topics