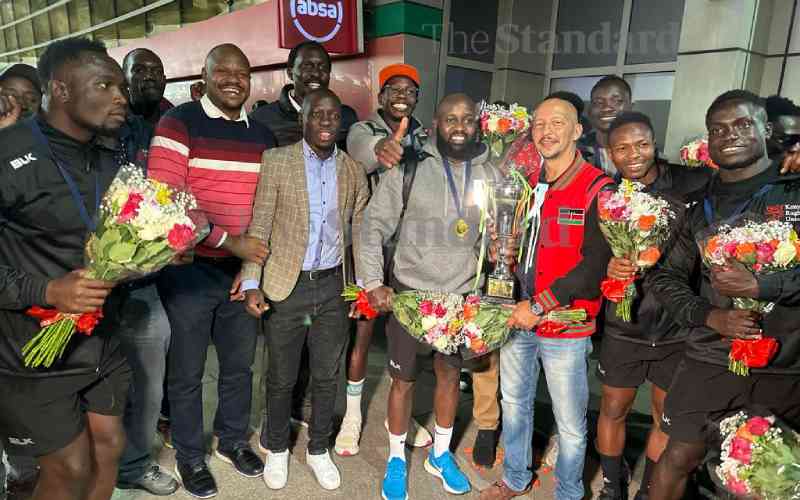 In an electrifying showdown at the Rugby Africa 7s cup final, Shujaa emerged triumphant over South Africa, securing a 17-12 victory in the cup final at Harare Sports Club in Harare, Zimbabwe over the weekend.
This win not only guaranteed their spot at the 2024 Olympic Games but also bestowed upon them the title of Africa 7s champions. The jubilation was evident, and the key figures responsible for this achievement couldn't conceal their joy and pride.
Shujaa captain Vincent Onyala, radiating happiness, said, "I'm incredibly pleased that our plans have come to fruition. The team truly stood out, even with six newcomers, delivering such an outstanding performance."
His words echoed the team's meticulous preparation and unwavering dedication to realizing their dream. Despite facing daunting odds, the youthful and gifted squad exhibited their resilience and mettle on the field.
This victory holds a special place in Kenya's rugby history, particularly in light of their journey.
Shujaa head Coach Kevin Wambua, overwhelmed with emotion, remarked, "I'm at a loss for words. We had a dream, worked tirelessly, and now we've achieved it. Going from relegation in the HSBC World Rugby 7s series to this victory demonstrates what our country and team are capable of." The transformation from adversity to triumph underscores the team's unwavering spirit and commitment to excellence.
He further emphasized the importance of unity and vision in their path to success, saying, "We put in a lot of effort, but the key was selling the dream to the players, convincing them that we could do it, refining our game structures and strategies, and fostering a team culture." This comprehensive approach, blending tactical refinement with a shared sense of purpose, propelled Kenya 7s to victory.
Kenya 7s' triumph transcends the final score; it symbolizes the potency of determination, teamwork, and belief in the face of adversity. Their journey from relegation to becoming Africa 7s champions and earning an Olympic berth is an inspiring narrative that will be remembered for years to come.
As Kenya 7s readies itself to represent the nation on the global stage at the 2024 Olympic Games, they bear the weight of not only expectations but also the pride and aspirations of an entire nation. This remarkable accomplishment attests to the heights that can be scaled through dedication, hard work, and a shared aspiration.
In a sport where courage and passion converge, Kenya 7s has demonstrated to the world that they are a formidable presence. This victory signifies more than just a ticket to the Olympics; it is a testament to the unyielding spirit of Kenyan rugby and a shining illustration of what can be accomplished when dreams are pursued with unwavering determination. [Additional reporting by KRU Media]
Related Topics