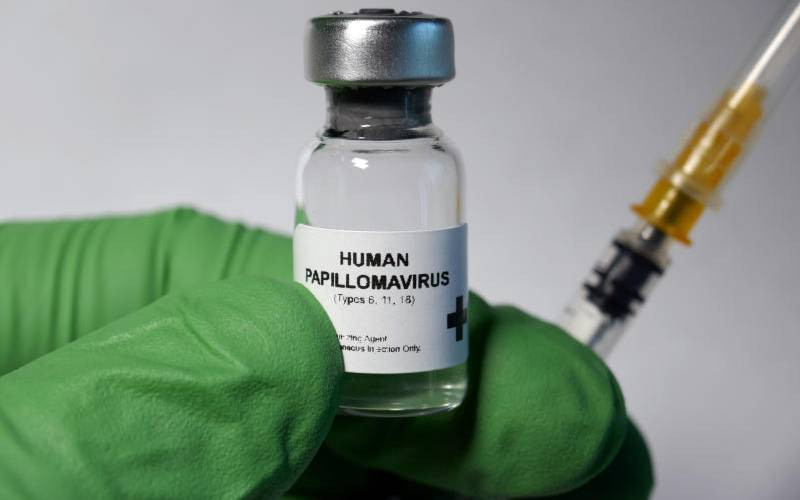 Rumours and conspiracy theories that the Human Papillomavirus (HPV) vaccine is an agent of birth control may have contributed to the low uptake of the vaccine, immunisation experts have said.
This is despite scale-up measures by the Ministry of Health and partners.
According to Data by UNICEF, Kenya has missed the five-year target set in 2019 to vaccinate 3.2 million girls.
The data reveals that only 487, 500 girls in Kenya have fully been protected from cervical cancer.
UNICEF Kenya Immunisation Specialist Dr Collin Tabu noted that only 70 per cent of girls have received the first dose of the vaccine, with 35 per cent getting their second jab.
"HPV vaccination of girls in the country remains low. The low uptake is attributed to rumours and conspiracy theories associated with HPV vaccination as being an agent of birth control," said Dr Tabu.
From the national administrative immunisation data, the top three leading counties in HPV uptake in the country include Migori, Kisumu and Bungoma at 76, 68, and 68 per cent respectively.
Counties of Mandera, Garissa and Wajir have recorded the lowest uptake of the jab at 18, 17 and 11 per cent respectively.
Dr Shyreen Khalid Abubakar, the Directorate of Medical Services, Preventive and Promotive Health said there is gradual awareness being conducted to demystify myths linked to the vaccine.
"Parents imagine we are trying to prevent their children from getting pregnant in future. What they do not understand is that we are not stopping them from getting pregnant," said Dr Abubakar.
The official added that it is a concern that girls are engaging in sex early with multiple partners, risking them from contracting the HPV virus which might lead them to develop cervical cancer in future.
Data she said indicates that cervical cancer is currently reported in young adults in their 20s, unlike previously when the disease was common in the 40s.
"Parents should understand their children are engaging in sexual conduct, we are telling them we are protecting them from contracting cervical cancer," said the official.
Low uptake of the vaccine is a concern with increased cases of cervical cancer.
HPV vaccination was launched by former President Uhuru Kenyatta in 2019, to help reduce cases and deaths attributed to cervical cancer.
Data by the Ministry of Health reveal that cervical cancer is the leading cancer with the highest number of deaths, and the second most common cancer among women.
At least nine women die of cervical cancer in Kenya daily, and cases are estimated to increase to 22, by 2040.
Additionally, 5,250 new cases and 3,268 deaths are reported annually.
Dr Juliet Maina, a clinical and radiation oncologist at Nanyuki Teaching and Referral Hospital, explained that the HPV vaccine contains ingredients of the strains, which allows the body to create antibodies, which fight the virus that triggers cancer.
"If vaccination was initiated early, the morbidity and the burden that comes with cervical cancer significantly reduce," said Dr Maina.
Dr Maina attributed the low uptake of the vaccine to a lack of awareness among medical practitioners and the public.
"It is worrying that the disease is killing people left, right and centre, yet we are not utilizing the solution with us," said Dr Maina.
Other challenges linked to the low uptake of the jab according to UNICEF include inadequate knowledge of the HPV vaccine among caregivers and Covid-19 pandemic containment measures.
Tabu said during the Covid-19 pandemic, containment measures adopted by the government such as the closure of schools and churches also dragged the administering of the jab.
Misinformation about the vaccine was also witnessed on "social media platforms".
"Negative sentiments have been expressed by some individuals on social media on the safety and benefits of HPV vaccination," Dr Tabu told The Standard.
The UNICEF immunisation specialist added that communication from healthcare workers about the vaccine is also crucial for education and reminding caregivers about what vaccines are available and what they do, particularly for new vaccines such as HPV.
Similarly, Tabu said caregivers need to be involved in the awareness campaigns for HPV vaccines as they are trusted by communities.
"Involvement of other actors from communities, such as religious and community leaders, school teachers, could also improve awareness and strengthen acceptance," he said.
Further, he observed that facilities need to organise regular targeted and sustainable outreach immunisation in schools and the community to help to improve vaccination uptake.
He added that engagement of communication champions with extensive social mobilisation and raising awareness to demystify the myths and misconceptions that still exist about the HPV vaccine are important as well.
Further, Tabu said both national and sub-national governments also need to increase public expenditure for immunisation programmes and communication activities to scale up and sustain coverage.
Related Topics