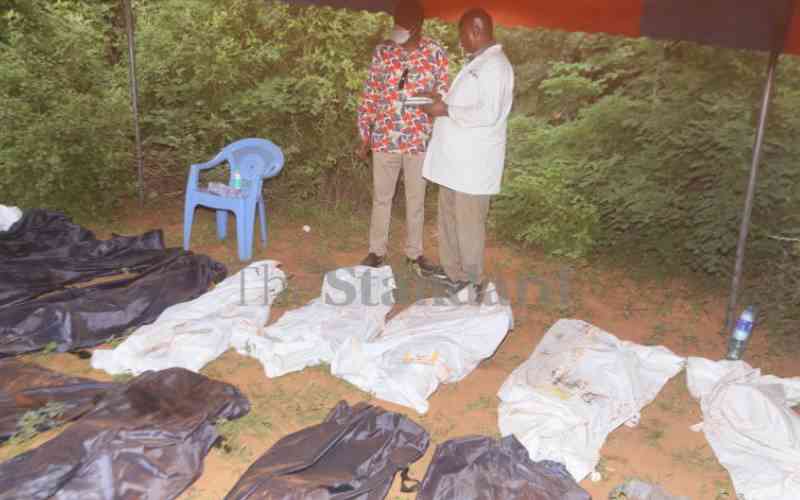 By the time you read this, there is a possibility that the death toll from the killing fields of Shakahola in Kilifi will have increased, as more graves are discovered.
For the second week, Kenyans have been horrified to read how a doomsday cult operated freely in our land under the leadership of one Paul Mackenzie, a former taxi driver-turned-preacher. Another preacher, Ezekiel Odero, is also reported to be under police probe.
Interior Security Minister Kindiki Kithure, whose girth appears to be expanding, perhaps because he's not been moving much in recent weeks, took to Twitter to break the news of Odero's impending prosecution.
Last December, Odero filled stadiums armed with hankies and "blessed water," which he claimed would wash away the sins of sinners. And the 60-000 strong crowd reportedly purchased the merchandise.
Perhaps police could not do much because some of those preachers soon appeared at the State House to, among other things, rejoice in Kenya Kwanza "thanksgiving." They also appeared for a prayer session for the rains.
The rains did not come but the message had been delivered; the new leadership had announced their "holy" mandate to rule, anointed by the Lord from on high. They proceeded to dismantle a pub at State House that they claimed was a desecration of their faith.
This perhaps was an evocation of Jesus expelling thieves and charlatans from the temple. Only that it appears thieves and charlatans were herded into temples in Kenya, judging from the crimes that continue to be reported from Kilifi.
Related Topics