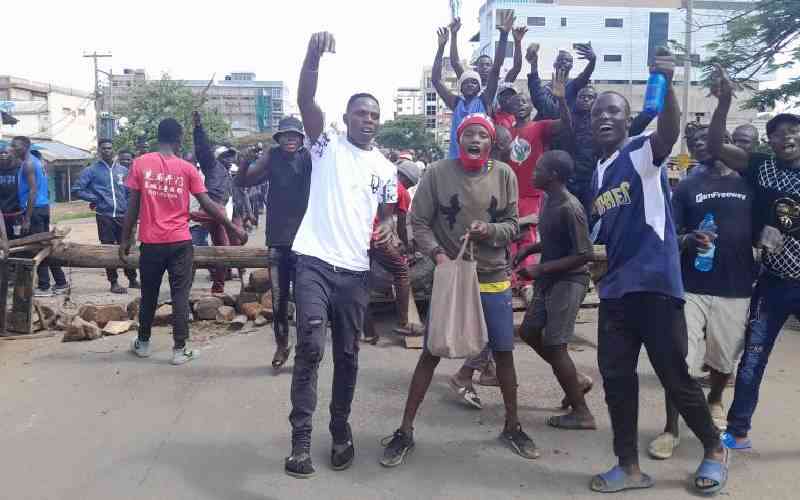 National holidays are moments for collective introspection as a people; a time to turn our eyes inward and take a mental flight of just how far we have come in such a short time.
In just 60 years, we have moved to availing equal opportunities to both men and women of our country. As a people, we have experienced the wonder of information technology and science.
We have evolved our political institutions from single party dictatorship to an era of devolved units. All these were neither assured nor guaranteed. Nothing was inevitable.
But we, the people, inspired by the words of the scripture, that "Faith is substance of things hoped for and evidence of things not seen" decided to challenge conventional wisdom and rejected comforting lies of the moment.
Having marked the 60th Madaraka Day, we must appreciate that it has not been all rosy. Our political mobilisation is still deeply steeped in tribe and ethnic mobilisation.
This has made it possible for some to fashion their political parties as special purpose vehicles through which they bulldoze their way to the table.
Not to champion the interest of the people but, as the president observed during his Madaraka Day address, "exploit their ethnic constituencies to negotiate a bigger share of public resources as well as positions of power and privilege in the service of private ends".
The net effect is that many young people with neither economic means nor political power have become tools of war in political contests, sometimes in blatant provocation of the law enforcement agencies.
The other festering wound remains corruption, both mega and petty corruption. This is the djinn that we must bottle or else we will have no future to bequeath our children.
As a country, we would be filled with righteous anger whenever reports of corruption hit the headlines of our newspapers. Not anymore. It seems we have eventually embraced this monster. The president has indicated willingness to deal with corruption decisively. But we all know how viciously corruption can fight back.
However, most Kenyans would love to know precisely how we moved from a sovereign debt of Sh1.8 trillion in 2013 to Sh9 trillion in a decade, sapping the vitality of our economy in the process.
The National Assembly and the Senate must, as a matter of urgency, interrogate the borrowing of the last one decade, the utilisation of such borrowed money, the repayment period and if Kenyans got value for money, failure to which, the president, as the finest expression of our sovereignty, must set up a commission of inquiry into the same.
After the charade that was the war against corruption of the last five years, let us have a credible war against graft that is agnostic to political stimuli and actors.
Let's now focus on the elephant in the room; the economy. In his Madaraka Day address, the president told us that only 17 per cent of the economy is formal. The other 83 per cent is informal.
For a government that presides over only 17 per cent of the economy, you certainly can only pay salaries at best, and that leaves you with lip service for capital expenditure. After the infrastructure led Uhurunomics that has left so many families without an income, so many people are anxious about the prospects of their own future.
Majority of Kenyans underestimated how deep the mess was and some thought that the president was going to shake a magic wand and voila, all economic problems would be gone. Far from it.
Difficult choices still have to be made. However, for all the difficult decisions the government has to take, they must be explained better than is being done currently.
For we believe in the beauty of this country's future. We believe in the sun even when it's not shining. We believe in our commander in chief to steady this ship to safe harbours. In the words of the scripture, by faith, the walls of Jericho fell down.
Mr Kidi is a governance and policy analyst. [email protected]
Related Topics