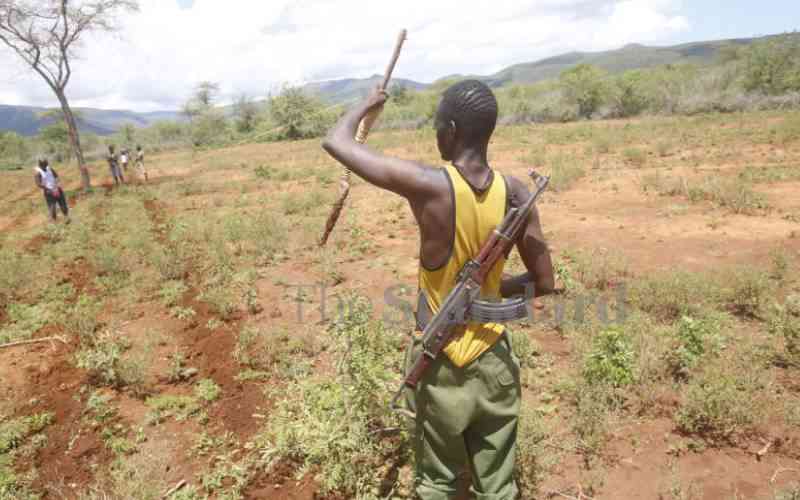 Recently, the government in an effort to contain insecurity along the troubled Kerio Valley, reinstated the National Police Reservist (NPR).
Whereas this move is welcome, there are still much that needs to be done by both the Ministry of Internal Security and the National Police Service Commission.
The idea of the State using police reservists to maintain law and order in the banditry-prone sections of the valley that stretches across Elgeyo Marakwet, Baringo, and West Pokot counties, is noble
However, serious concerns have been raised over issuance of guns to police reservists from one community at the exclusion of other communities that reside in the same geographical area that is prone to insecurity.
It is my considered opinion that provisions of National Police Service Act on National Police Reservists are grossly inadequate. The gaps in the Act make it difficult for the reservists to discharge their roles effectively.
Whereas the National Police Service Act provides that a reserve police shall be recruited, enlisted, and trained in accordance with the rules and regulations developed by the Commission, the Commission has not made any effort to develop the said rules and regulations; thus, leaving the recruitment of NPR at the whims of government officials.
This has left the process open to manipulation with some individuals using it for their selfish political and communal gains.
On the other hand, the Act provides that a person serving as a reserve police officer is bound by the same requirements as a regular police officer. In practice, this provision has discriminatory effects in the sense that NPRs serve under totally different terms of service compared their colleagues in full service.
For instance, does the State cater for the medical expenses of a reserve police officer who is injured in the course of discharging his/her duties? What becomes of the family of a reserve officer who is killed on duty? Does the State compensate his/her family?
To cure the above deficiencies of the law, and given that the National Police Service Commission has failed in its statutory duty to regulate the National Police Reserve, upon resumption of the House business in February, I propose enactment of a stand-alone legislation on National Police Reserve.
The proposed law will among others, provide for clear roles of the Cabinet Secretary, the Inspector General of Police, and the National Police Service Commission in respect to National Police Reserve.
The proposed law will also seek to provide clear and unambiguous process of recruiting, enlisting and training of reserve police, including provision of transition of reserve police from being a reserve police officer to being an employee of National Police Service.
Empowering and taking care of the welfare of police reservists will be a sure way of motivating them to work, and will in the long run help in fighting insecurity in Kerio Valley and other banditry-prone areas.
-Mr Kipchumba is the MP for Marakwet West
Related Topics