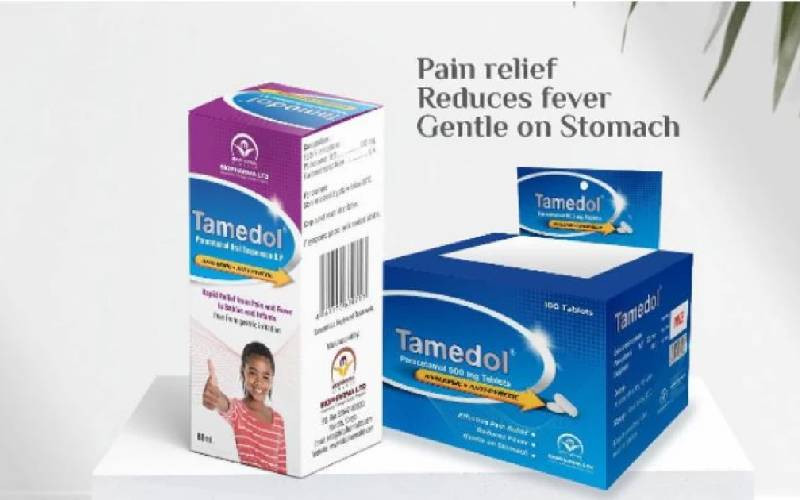 The government has recalled the Tamedol oral solution (Paracetamol oral solution, 120mg/5m1, 60 mls).
Through the Pharmacy and Poisons Board (PPB), the government's Ministry of Health said the move was taken following numerous complaints from members of the public concerning the quality of the oral drug.
In a statement dated September 18, the board's Chief Executive Officer Fred Siyoi said the drug, manufactured by Biopharma LTD, had failed to meet the threshold of the prescribed market authorisation requirements.
Siyoi said following the complaints, the board initiated preliminary investigations, which revealed that the affected product batches had infiltrated the market illegally, having been imported and distributed through unauthorised and illegal supply chains.
The affected product batches include Visipaque (Iodixanol) 320 mg/mL manufactured by GE Healthcare Ireland, Cork Ireland: Batch Number 15950809, 15944839, 15950792 and 15906117; and Visipaque (Iodixanol) 320 mg/mL manufactured by GE Healthcare (Shanghai) co., Ltd, China: Batch Number 5389618, 15429745, 15444386, 15661498, 15904073, 15751274, 16017833, 16044911, 16085815, 16100415, 16107210 and 16177061.
As a result, the advised that all pharmaceutical outlets, healthcare facilities, healthcare professionals and members of the public to take immediate action and seize distribution and consumption of the drug.
"STOP all further distribution, sale, issuing, or use of Tamedol oral solution. Members of the public are urged to return the product to their nearest healthcare facility, while healthcare facilities are instructed to return the products to their respective suppliers," read part of the statement.
Siyoi said the mandatory recall was in line with Section 3A(i) of the Pharmacy and Poisons Act (Cap. 244).
"We encourage the public to remain vigilant at all times and promptly report any suspected cases of sub-standard medicines or adverse drug reactions to the nearest healthcare facility or the Pharmacy and Poisons Board," the statement read.
While assuring the public of safety, the board said it has implemented rigorous measures to guarantee that medicines supplied to the Kenyan market adhere to the requisite standards of quality, safety and efficacy.
Related Topics