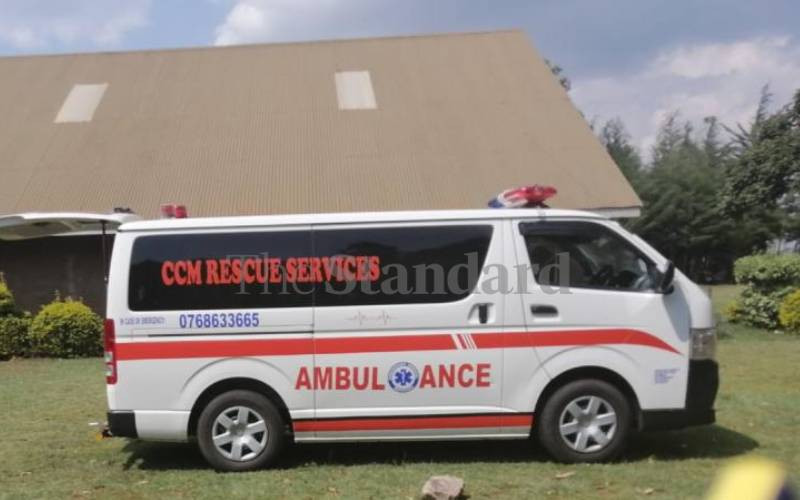 A standoff between Kakamega County government and a private company offering ambulance services has threatened to cripple health services.
Critical Care Management (CCM) is aggrieved after the county government embarked on a process to procure ambulance services elsewhere.
At the centre of the storm is a Sh27 million debt and a court order that has stopped the tendering process of ambulance services.
CCM through its lawyer Wesonga Masinde, also threatens to halt its ambulance services on August 21 if the dues would not have been settled.
The company moved to court after feeling 'shortchanged' by the devolved unit that turned around to award E-Plus (Red Cross Ambulance services) a contract.
It claims the tendering process was flawed. St John's Ambulance and Rescue Connect had also applied for the tender.
CCM argues they were supposed to be awarded the tender because they had been offering ambulance services after E-Plus halted its services in May this year.
Kakamega County Chief Officer of Medical Services Dr David Alila and the Head of Procurement are listed as defendants in the suit.
Kakamega Senior Principal Magistrate Zacharia Nyakundi issued an order stopping the tendering process on August 10, 2023.
"That an order of temporary injunction be and is hereby issued restraining defendants/respondents from undertaking tendering process for the provision of contracted ambulance services for Kakamega County, pending hearing and determination of this application," Nyakundi ruled.
The case will be heard on August 28, 2023.
CCM sent a demand letter on August 14, to the Chief Officer of Medical Services demanding settlement of the Sh27 million debt.
"That our client started providing ambulance services within the county of Kakamega following a telephone conversation on May 17, 2023, between our client and Kakamega County," the letter reads in part.
The letter further reads: "This was after E-Plus, who had initially been tasked with provision of the ambulance services by the Ministry of Health, downed their tools for reasons well known to them."
The advocate in the letter said CCM has provided 12 ambulances for use at Sh750,000 per month.
Related Topics