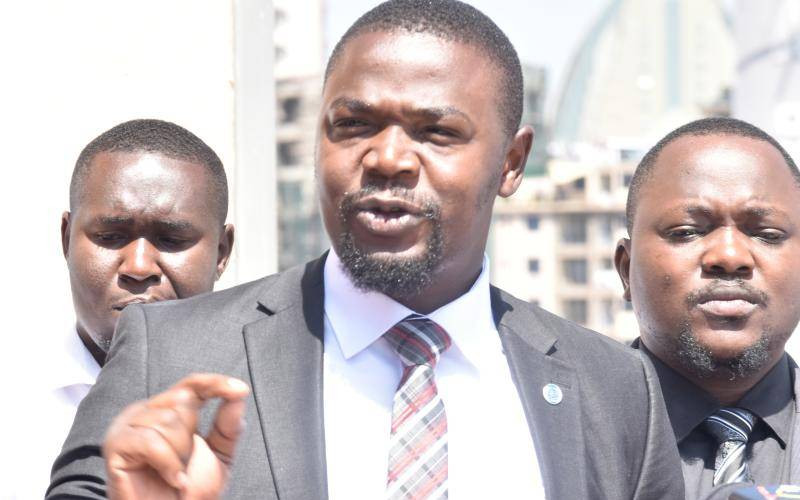 The health systems of counties have been creaking under the strain of delayed payments, staff shortages, stretched budgets and lack of proper equipment and drugs, prompting strikes every so often.
Currently, healthcare workers in four counties - Nyamira, Kisumu, Vihiga and Bomet - have down their tools after the county governments failed to pay salaries by March 19, the last day of the strike notice issued by the Kenya Medical Practitioners Pharmacists Dentists' Union (KMPDU).
"I'm striking because I think enough is enough... We're underpaid, we are not valued," said Ms Zuwena Sifuna, a nurse at Jaramogi Oginga Odinga Teaching & Referral Hospital (JOOTRH).
"It's over four days, and these counties have not paid the bare minimum of our demands. How do you expect people to work without pay?" asked Ms Sifuna.
Dr Davji Atellah, the KMPDU secretary general, says the affected county governments said they were awaiting disbursements from the Treasury, "but that is their business. The only time healthcare workers will fully resume their duties is when the money hits their bank accounts".
Other counties that had failed to pay, including Mombasa, Taita Taveta, Kisii, Murang'a, Laikipia and Nyeri, caved in and paid their healthcare workers before the strike notice expired.
"It doesn't make sense that we have to issue threats and beg for salaries. How will we have the promotion for healthcare workers, employment, drugs, reagents and equipment when the bare minimum is not met?" he poses.
The union has been holding solidarity meetings with doctors in the four affected counties since the beginning of the strike.
"We stand in solidarity with the healthcare workers who are bravely standing up for their rights. They're the backbone of our healthcare system, and the government must recognise the critical role they play in our communities," he says.
"We demand that our healthcare workers are fairly remunerated and in a timely manner."
While in Vihiga, KMPDU officials condemned salary delays, victimisation and witch-hunting of doctors. In Kisumu, the union officials called on the government to take immediate action and address all concerns raised by the workers.
"Kenyans deserve better, and it's unfortunate healthcare workers have to withdraw their labour for these issues to be addressed," said Dr Atellah.
"'World over, fair wages and proper compensation are not just a matter of basic decency but essential components of just labour practices that ensure skilled workers are attracted and retained, thus improving the quality of their delivery," said Dr Atella while meeting doctors in Kakamega.
In Kericho, the union leaders condemned unfair employment terms, delayed promotions and non-remittance of statutory deductions.
"We look forward to a favourable outcome, failure to which we shall reconvene to weigh our options, including withdrawal of our skills," said Dr Atellah.
Related Topics