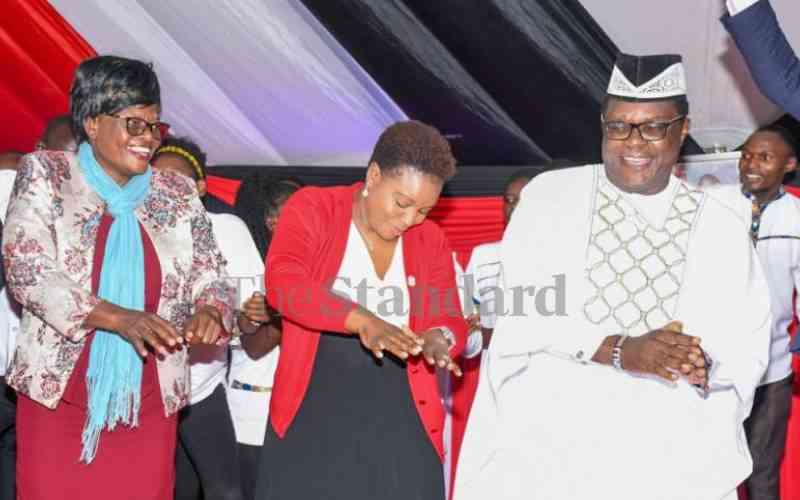 Health and Sanitation Cabinet Secretary Susan Nakhumicha has said the government is determined to invest heavily in primary healthcare as a way of preventing new HIV infections and boosting service delivery.
Speaking during the national World Aids Day celebrations at Kibabii University on Thursday, Ms Nakhumicha said that weaknesses in essential care are a great threat to the public.
To address the surging numbers of HIV among teenagers, Nakhumicha called on all the stakeholders to work together and solve the menace.
"On Wednesday I had a consultative and fruitful meeting with the council of governors where we chatted the way forward on how we shall improve health services in our counties," she said.
Nakhumicha said that following the recent decline in donor funding towards important programs in the health sector the government has prioritized commodity security where it allocates funds towards immunization, family planning commodities, Tuberculosis screening and treatment, malaria and nutrition.
"We cannot only sit back and wait for the donor funding towards crucial health programs in our country and counties. That is why we have to move with speed and find solutions," she said.
She said that a recent report by the ministry of health reveals that Bungoma has recorded an increase the HIV cases attributing them to three triple threats of gender-based violence, teenage pregnancy and female genital mutilation.
Nakhumicha pointed out that Kenya has lost over 2 million individuals to HIV/AIDS over the past year saying that the numbers are alarming and there is need to sensitize more.
"Even this national event was not only meant to remember those who succumbed to HIV/AIDS but also to create awareness that gives people opportunities to know their status," she said.
She further noted a 15 per cent decline in the annual AIDS-related deaths from 52, 000 in 2010 to 23,000 in 2021.
"Even with this decline there is still need to increase more on the sensitization of the public," she said.
Speaking at the same function, Bungoma governor Ken Lusaka attributed the hiking numbers of HIV cases to the transit drivers on Webuye- Malaba highway.
"I am not saying that truck drivers are HIV positive but the chances of HIV transmission are high considering that they travel for a long distance and they interact with many people," Lusaka noted.
Lusaka affirmed that his administration is determined to increase budgetary allocation towards primary health care in Bungoma.
Lusaka said that his administration has also put aside funds for trade loans, women empowerment funds and youth funds.
"The route of all this is poverty therefore my administration is ready to eradicate poverty by empowering our people," Lusaka affirmed.
Related Topics