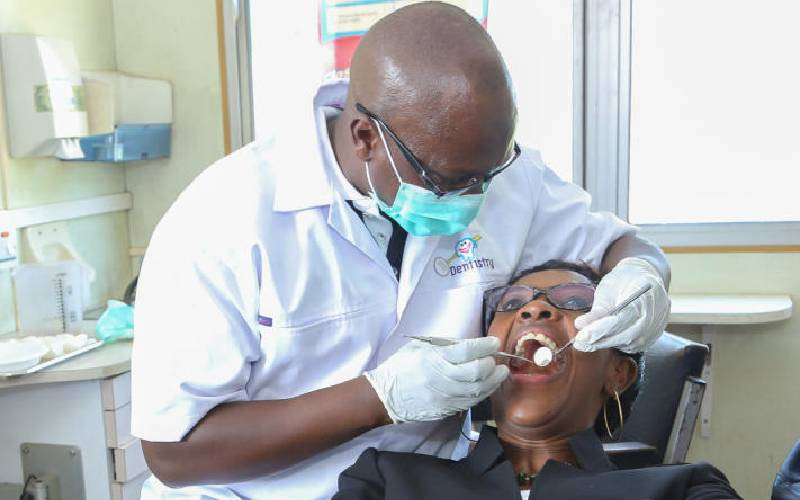 Kenya is facing an acute shortage of dentists, according to the latest data.
Statistics from the Dentists Association of Kenya (DAK) indicate that one dentist is serving over 70,000 patients against a recommendation by the World Health Organisation (WHO) of one dentist per 7,000 patients.
This came up during the Association's 39th annual scientific conference in Naivasha, Nakuru County when it emerged cases of oral diseases are on the rise due to the shortage of dentists.
During the three-day conference, county governments were challenged to employ more dentists.
DAK chairman Tim Theuri said they were pushing for the employment of more dentists terming the current situation as wanting.
"The low number of dentists is affecting efforts to deal with oral diseases which are on the rise, partly due to a change in diet," Dr Theuri said.
He added: "We are also calling for the adoption of technology as one of the ways of addressing the oral burden that has resulted from a shortage of dentists. We are working with communities to improve disease surveillance as we give them tools for a proper dental screening."
Dr Samuel Mwaura, the health CEC nominee in Nakuru, noted that the country has just 876 registered dentists.
"These are very few dentists compared to Kenya's current population," said Mwaura, who was the chief guest during the conference.
He added: "Oral healthcare is very critical. Unfortunately, the government has not invested in dentists meaning more suffering for our people."
He decried the high number of residents suffering from fluorosis (a condition that results in white or brown speckles on teeth), blaming it on the high fluoride levels in water consumed in parts of the county.
"Many people in Naivasha, Gilgil, and Bahati are suffering from fluorosis. We are calling for more research on how this condition can be reversed," said Dr Mwaura.
KDA council member Eva Njenga said the association had 793 registered dentists by the end of last year.
"Cases of dental problems are on the rise mainly due to changes in diet. But I laud the county government of Nakuru for investing in oral health," said Dr Njenga.
Related Topics