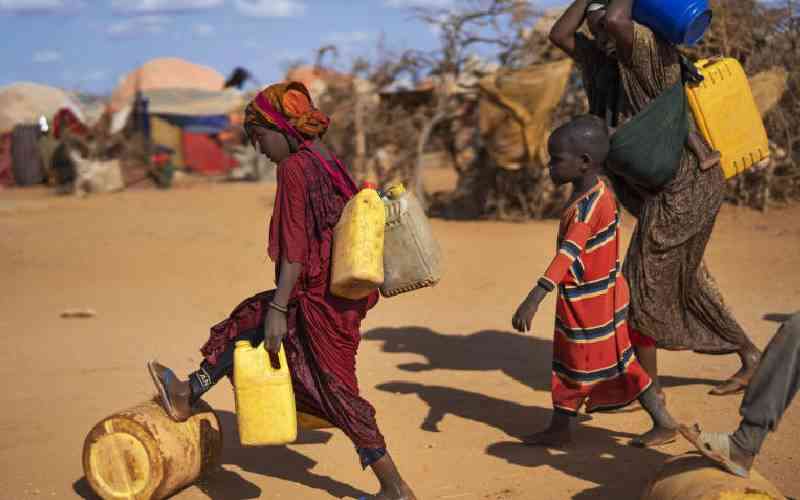 Failed rainfall in Kenya has left about 1.4 million children with reduced access to nutritious food, and safe drinking water, UNICEF has warned.
The children are also not able to access education, health services and protection from violence and neglect.
Kenya has experienced four failed rainy seasons with UNICEF predicting a fifth poor rainy season which will worsen the situation, leading to more children and families needing humanitarian aid, said UNICEF Goodwill Ambassador, actress Priyanka Chopra Jonas who was in drought ravaged Northern Kenya last week.
Turkana is among 15 drought-stricken counties in Kenya due to climate change and the ongoing impacts of Covid-19 - where almost one in three children are suffering from acute malnutrition.
"In the Horn of Africa children are starving to death and millions more are on the brink of starvation right now," Chopra said adding that "this is what climate change looks like here" and UNICEF will distribute "nutrient-packed therapeutic foods that can save a child's life."
UNICEF Kenya Acting Rep, Jean Lokenga said the "dire situation could get worse, especially if the next rainy season fails or life-saving commodities such as ready-to-use therapeutic food (RUTF) become unavailable due to funding shortfalls."
According to September report by the National Drought Management Authority (NDMA), at least 10 counties are in the alarm drought phase, 10 on the drought phase, and three are in the normal drought phase due to moderate offseason.
The report noted that 942,000 children below five years require treatment for acute malnutrition compared to 884,454 in August.
Also, 134,000 pregnant and lactating women require treatment for acute malnutrition compared to 115,725 in August.
In response, UNICEF is scaling up nutrition services and distributing therapeutic milk and RUTF to health centres besides supporting governments to identify and treat children with malnutrition in the hardest-to-reach areas.
"The reality in Kenya is that so many children are not getting the treatment they need, and are uniquely vulnerable. Children whose immune systems are already weakened by malnutrition can't fight off disease, meaning they're just as likely to die of illness as of hunger," said Chopra adding that she met the Sopel Village community whose members have migrated in search of water and pasture due to the brunt of the drought in central Turkana.
The Sopel community, however, got a solar-powered borehole for domestic and for use by the local health dispensary and primary school from UNICEF which also provided emergency WASH kits to families affected by drought to treat water at home.
Vulnerable families also received cash transfers to support with health costs and to protect children from child marriage and dropping out of school.
Related Topics