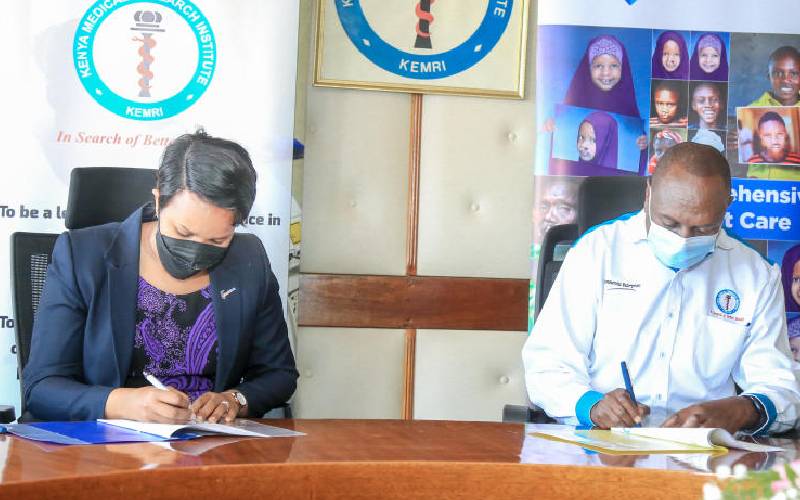 The Kenya Medical Research Institute (KEMRI) has signed a Memorandum of Understanding with Smile Train, a cleft-focused organisation to continuously train more professionals in East Africa on the medical condition.
The memorandum seeks to address the gap of lack of sufficient data on cleft prevalence in East Africa which would prompt policy development. The two institutions have now called for more healthcare professionals in cleft research.
According to Smile Train Programme Director for East Africa Jane Ngige, more collaboration is required in the region to get the attention of the policymakers to address cleft care and to have local partners lead in innovations for comprehensive cleft care.
"If we are to truly achieve Universal Health Coverage, we need to work together to ensure that persons abled differently are also provided with quality treatment," she said.
"To better inform cleft care programmes and advocate for inclusion in national health policies, it is key to have evidence-based data."
Additionally, the KEMRI Acting Director-General Prof Samuel Kariuki called on Smile Train to continue sensitising the healthcare professionals to tap into their experiences to get the attention of the decision-makers.
"We appreciate the value we have brought to the teams, and now we encourage the surgeons, nutritionists, social workers, and anaesthetists to continuously use research to voice the needs of patients with neglected surgical conditions. We as KEMRI have broken down the concepts of research, enabling the healthcare professionals to apply them to their day-to-day engagements."
The two were speaking after the end of a two-week training programme on Cleft Research Methodology which was facilitated by KEMRI Graduate School of Health Sciences (KGSHS) and Smile Train hosting cleft professionals from Kenya, Uganda, Tanzania, Rwanda, Democratic Republic of Congo and Ethiopia.
Causes of cleft are not known but risk factors include environmental factors, the diet of the mother during pregnancy, and genetics.
Smile Train has been collaborating with local medical professionals to enhance a sustainable model of care to provide free, safe, and comprehensive cleft care ranging from surgery, nutrition, speech therapy orthodontics, and ear, nose and throat services.
Related Topics