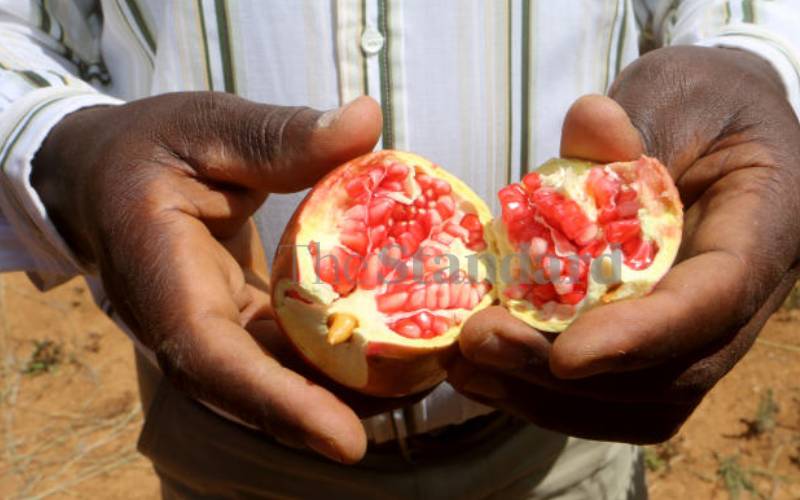 Pomegranate, popularly known as Kukumanga, is a fruit with a variety of nutritional and medicinal uses, but Kenyans mostly associate it with male sexual athleticism. But women can also benefit from the red fruit with tough outer bark and which can easily be mistaken for an apple.
Rich in vitamin C, kukumanga not only enhances immunity, but also increases circulation of blood, especially to the heart, reducing the risk of heart attacks and stroke for either gender, according to Dr Nick Okoth, a gynaecologist and obstetrician.
"The vitamin C in pomegranate helps in lowering blood pressure both in men and women, improves cholesterol and cleanses the arteries. It improves memory as its rich in polyphenols, a component that improves memory function", explains Dr Okoth who works in South Sudan.
Blood circulation is crucial in achieving an erection and the high fibre in kukumanga slows erectile dysfunction and oxidative damage thus increasing sexual performance for men, says Dr Okoth adding in both men and women, kukumanga increases sex drive through increasing testosterone levels.
Dr Paul Saoke, a general medical practitioner, says the many seeds in kukumanga are rich in antioxidants, which will help to increase blood flow to the uterus and promote a healthy uterine lining, improves the quality of ovaries, reduces the risk of miscarriage thus leading to a healthy pregnancy and normal birth.
Pomegranates also contains vitamins C, E and K besides folic acid which help in the healthy development of the foetus. It also treats iron deficiency and anaemia in women.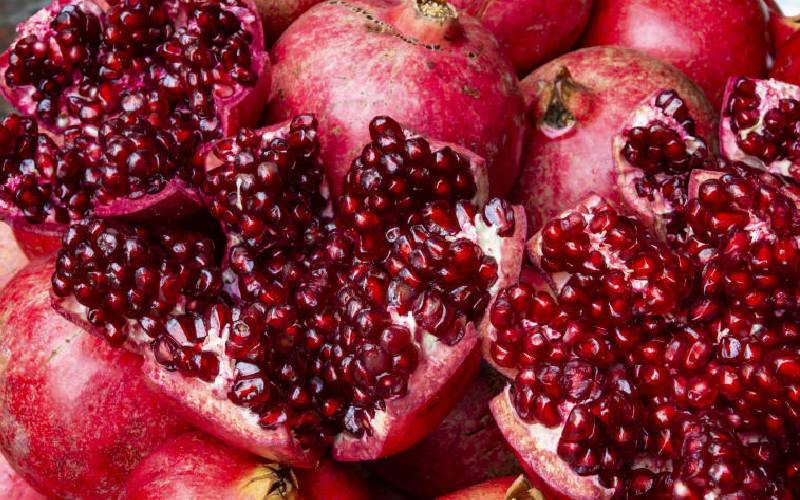 Kukumanga has antioxidants that make hair follicles stronger and improves blood circulation in the scalps resulting in healthy hair, says Dr Saoke explaining that the "oxidants found in pomegranates help strengthen your hair follicles and improve blood circulation helping the hair to grow out faster, healthier besides reducing hair breakage" and improving skin texture by brightening a woman's skin via skin cell regeneration and skin tissue repair through increased blood circulation.
The extracts of kukumanga also helps in blocking the production of enzymes that worsen arthritis by destroying cartilages (relieves rheumatoid arthritis) besides easing metabolism, regulating bowel movement and digestion from its high fibre content which is ideal for treating constipation and stomach discomfort.
The high fibre also helps in reducing the risk of bowel conditions like Crohn's disease, a chronic, life-threatening inflammatory condition that affects the lining of the digestive track.
Kukumanga also helps curb ulcerative colitis, another chronic inflammatory condition which affects the innermost lining of the larger intestine, colon and rectum and a precursor to colon cancer.
Dr Saoke adds that kukumanga also helps in fighting bacterial and fungal infections as it has essential vitamins ranging from vitamins C, B, K and potassium.
Dr Okoth also adds that kukumanga has anti-inflammatory properties like natural immune response that helps the body protect itself from bacteria and viruses. This in turn offers protection against diseases like type 2 diabetes and obesity and has good anti-ageing effects with the reduction of dark spots and wrinkles by countering the effects of sun damage. However, this is no substitute for sun protection.
Kukumanga also helps in preventing certain type of cancers such as skin and breast and colon cancers by restoring body's tissues and enhancing the immune system.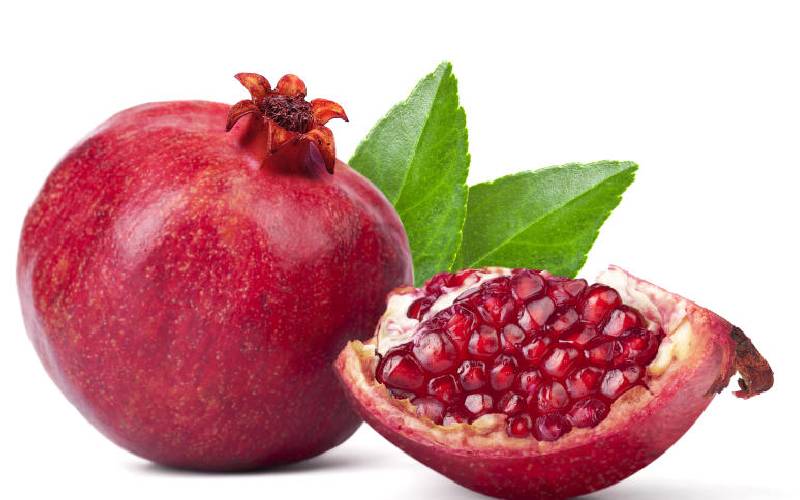 The high vitamin C content in pomegranates also help in regulating the production of sebum, which is one of the main factors responsible for acne and pimples, says Dr Okoth.
Pomegranate a lucrative, resistant fruit
Though it originated from Persian, kukumanga-which costs between Sh750 and Sh1200 a kilo in local supermarkets, is a resilient fruit which can grow on any backyard.
But this drought-resistant fruit mostly does well in dry and semi-arid places like Machakos, Makueni, Kitui counties, parts of North-Eastern Kenya like Wajir and Mandera counties. It also does well in Central parts of Kenya like Nyeri, the coast, parts of Western Kenya and Nyanza, according to Oxfarm Organic.
Harvesting takes place between five to six months after flowering and one tree can produce between 12 and 15 kilograms.
Related Topics