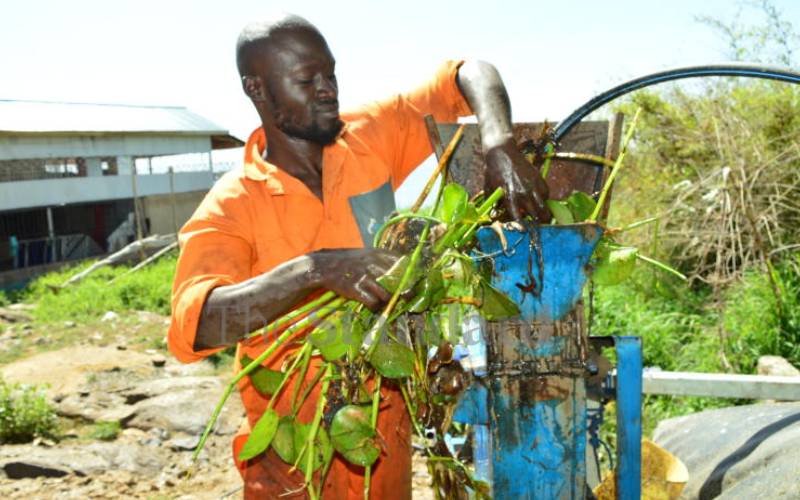 It is a normal day on Dunga beach on the shores of Lake Victoria. Tourists are flocking in droves to delight their sights on the view of expansive lake waters while waiting to enjoy a delicacy of fish prepared at the beach.
The rains are here but fishmongers are not worried about the source of fuel to prepare the delicacy, thanks to the biogas being generated from the invasive water hyacinth that has supplemented the use of firewood and charcoal.
And there is enough raw material as the Kenya Marine and Fisheries Research Institute (KEMFRI) estimates the weed covers about 2,618 hectares of Lake Victoria.
Converting the weed into methane began four years ago when Biogas International Company set up shop on the shores of the lake. It has since been getting rid of water hyacinth while providing alternative energy.
A team of three collects the weed on the shorelines, which is then shredded. Water is added in a proportional ratio then the weed is moved to a digester filled with cow dung.
The water hyacinth is deprived of oxygen and decomposes once mixed with cow dung, which has anaerobic bacteria that digests the shredded hyacinth, giving off methane gas. The gas is then collected into big black balloons at the top of the digester.
Under pressure, the gas is channeled into a narrow pipe leading into the kitchen and whatever remains as waste is used for organic farming.
Eunice Anyango, a fishmonger attests, her business is better off with clean fuel as "using firewood for cooking was tiresome, the smoke-choked and the food was not as well cooked as compared to the use of biogas."
Anyango confirms that her profit margin has increased and she spends less time serving well-cooked fish to her customers.
The project has also provided 50 digesters to homes around Dunga beach, enabling families to use clean energy rather than firewood and charcoal.
Biogas technology from water hyacinth has multiple benefits; it can used for cooking, drying fruits — a form of value addition — and it can also be used for power generation and brooding purposes in poultry farming.
According to Enock Owour, the Dunga beach plant supervisor, the system which is 50 cubic metres in capacity produces between 45 to 50 cubic metres of gas per day which is equivalent to a 12kgs gas cylinder.
There is also a gas meter that detects and records the amount of gas consumed in a day. According to Owuor, fishmongers buy the gas at Sh50 per cubic metre.
"At times, we sell a lot especially during the cold weather but less in hot seasons," Owour says, adding that once installed, it is not a system that can break down easily except for leakages that can be easily rectified.
The uptake has been relatively slow but the community around the lake has started embracing it.
When installing the system in homes, some families expressed doubts but the first domestic digesters were installed in 2017 and the owners are still using them without a hitch.
A home biogas system is currently installed at Sh65,000. The cost also includes a burner.
Margaret Nyamalo, 73, is one among the 50 who have had the system installed in their homes.
"I am happy preparing food on gas with no smoke or smell, and this serves me better than firewood."
Owour, however, cites financial challenge as a major setback to biogas production, adding that many locals cannot afford to buy the system.
He laments that high taxation is one major reason for the high cost of installation.
"Unfortunately, the green energy material is being taxed, thus making it hard to regulate the cost of installation, and this makes profit margins low," says Owour. "We would like many homes to have this technology but we are highly taxed."
He said there is a need to create awareness in communities for easy acceptance of the new technology with greater benefits to the environment and human health.
"Many people are still in doubt, they look at water hyacinth and cannot accept fact that it can be harnessed to produce gas," says Owuor who is confident hyacinth as a raw material won't be eradicated soon since the pollution in the lake is high.
KEMFRI scientists say that the weed thrives in the polluted waters but "in case it is eradicated the technology can use any other organic matter," Owour says.
Such alternatives sources of energy are safer considering that more than three billion people globally cook with solid fuels like charcoal and coal on open fires or traditional stoves, producing high levels of carbon monoxide, which kills about four million people annually, according to the World Health Organisation (WHO).
Related Topics