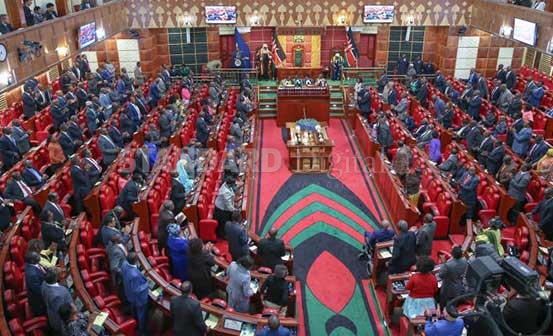 Kenya's lawmakers handed the country an Easter gift when they overwhelmingly approved a Sh141 million programme to fight cancer. In a rare show of empathy, the lawmakers sanctioned the National Government to sponsor 47 doctors — one per county — for specialised studies on how to treat the killer disease.
The doctors will be sent to advanced medical schools in Britain, India or in the US to study Oncology.
The political dividends of the resolution saw MPs jostle to put their support on the record, and in the two-hour debate, at least 40 MPs managed to squeeze in their views, to push the National Government to train personnel to deal with the third-largest killer disease after malaria and pneumonia. Usually less than 30 MPs make contributions over a two-hour period.
The statistics of the Parliamentary Budget Office as lifted from the Economic Survey show that 14,000 people die every year from cancer, but cancer activists and survivors put the figure of annual deaths at 27,000 per year. Ms Gladys Wanga (Homa Bay) rallied the House to approve the resolution and argued that the debilitating cost of cancer treatment in Kenya, the few congested hospitals that deal with cancer patients, and the prohibitive medical costs for those seeking treatment abroad were sufficient reasons for the allocation.
Insufficient specialists
"Many of our people cannot afford treatment. Even when you can, we do not have sufficient specialists to offer treatment. Our oncologists have to run from Kenyatta University Hospital to Aga Khan University Hospital and to Nairobi Hospital," said Wanga.
The House voted for the resolution, and MPs vowed to ensure that the next budget — 2016-17 — which is scheduled for submission to Parliament next month, will have an initial allocation of Sh30 million for the first batch of doctors to go abroad for an advanced medical degree on oncology. Apart from the Kenyatta National Hospital and the Moi Teaching and Referral Hospital, there are very few public hospitals that offer any kind of treatment to cancer patients. The bulk of the treatment is in expensive private hospitals.
"The real purpose of training is to get people who will set up centres in counties and provide required leadership. If we do this, we will improve access to cancer treatment locally," said James Nyikal (Seme).
Nyikal, a former Director of Medical Services, said the MPs' reasoning is that once training is concluded, then specialists will develop programmes to manage the disease.
The economic dividends, especially the capital flight to foreign hospitals and the effect of the disease to the productive population, is also one of the reasons why MPs thought training doctors and having them come back to offer treatment at home was key. "Most people suffering from cancer are young and with high potential to contribute to growth of our country. Some are professionals working for the welfare of this country while others are already in business. Once they travel out of the country to seek cancer treatment, they spend a lot of money, in effect, exporting so much foreign currency that we need to save in order to avoid trade deficit," said Kigo Njenga (Gatundu North).
Middle level
Makali Mulu (Kitui Central) said high cost associated with cancer care is responsible for the fear the disease induces in people. "Where I come from, when a family member is diagnosed with cancer, the entire family goes into panic. Panic because cancer can easily move a family from middle level income assessment to a very poor family assessment. It is very expensive to treat cancer," said Mr Makali.
Robert Pukose (Endebess) added that provincial hospitals will be given the first priority as the country seeks to boost accessibility to healthcare and eliminate quacks. "More often, people seek treatment from unqualified persons. We are aware of herbalists who give medication which can assist in management of cancer but others take advantage of that situation.
They advertise their medicine and say it cures cancer and yet it is not true," said Mr Pukose, a former senior official at the Ministry of Health. Patrick ole Ntutu (Narok West) said MPs should come up with a law to ensure the national and county governments are compelled to set aside money every year, and come up with policies for training medical personnel and for equipping hospitals. "The greatest challenge is early detection and effective treatment. We must invest in personnel with the technical capacity to detect and effectively treat it. When we ensure that our people can access that service, we will start to win this war," said Ababu Namwamba (Budalang'i).
Other MPs said the Government ought to be censured for providing poor healthcare. "The fact that we lack oncologists in this day and age, very many years after independence is a great indictment on us in terms of our priorities in manpower development," said Opiyo Wandayi (Ugunja).
Related Topics