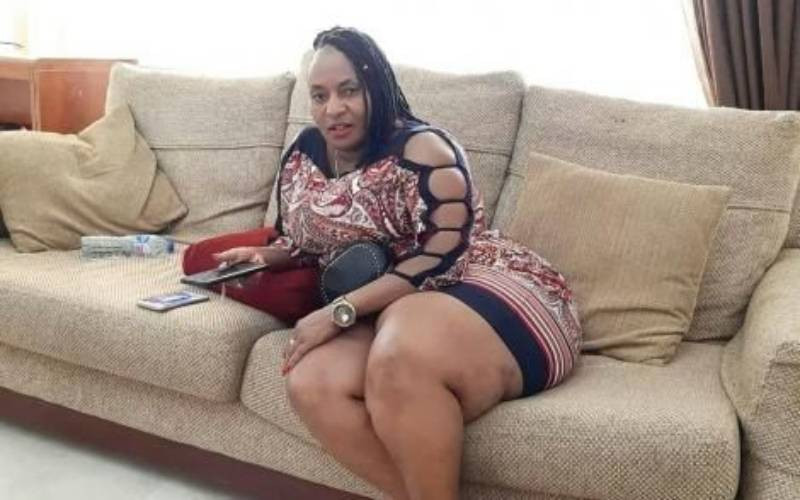 Is Private Investigator Jane Mugo unlucky when it comes to matters love? This is what her loyal clients and followers are asking after the spy-queen revealed that she had ended a relationship with a man who was intending to marry her. The revelations come about four months after Jane flaunted her engagement ring and announced that she was officially taken.
But on October 26, Jane through her online platforms announced that her relationship with the man was over."When I posted about my engagement in July, I received congratulatory messages from my followers, media streams, enemies, family and friends," Jane shared on her Facebook account.
To her disappointment however, after finding her new love, four women crawled out of the woodwork and laid claim to her man. They even shared photos of their good times with her Romeo. One of the women claimed to be from America, another stayed in Kitale, the other hailed from Pokot while the last one was from Kisumu. The heartbreaking revelations marked the beginning of Jane's troubled union with her man.
Played and promised marriages
"They were all bitter but honest to me because this guy had played them online and promised marriages because he was out of Kenya and had not met them," Jane stated in a lengthy Facebook confession.
She went on: "All this happened when I was bed ridden in hospital after the kidnap and I later joined campaigns so I was busy but we spoke daily. He did it online. I chose to ignore them because I was determined to make my marriage stand."
Jane accused her former lover of being unfaithful after digging his dark side from former school mates, neighbours and even mother."To me it's not about my happiness. I respect hearts. I have dignity," posted Jane.
Jane then went ahead and declared herself single, signaling the end of the shortlived love affair."Am confirming I am#SINGLE, busy, happy, not searching, and am returning the ring and all gifts to the sender. It's not worth fighting for. You still claim to love and respect me," she declared.
Blast from the past: Molo businessman Flash Mwatha
This is not the first time Jane has found herself at a crossroads over matters to do with the heart. In 2019, she briefly dated Molo businessman Flash Mwatha. At some point, the flamboyant man proposed during a boat ride to Jane while they had gone for a holiday in Malindi. However, the two parted ways after Flash accused Jane of disrespecting him. Jane denied the claims.
"It is so disgusting because I told him about my fears of being cheated on. He swore that he would never do that to me," said Jane after the bitter breakup.Sometimes back Jane narrated how she got pregnant when she was still training to be a nun in a Convent. At the time she said that she was a church girl and that is why she decided to become a nun.
Unfortunately, Jane met a young man while she was on holiday and they had a relationship, breaking one of the commandments. She gave birth to a son.
Best in the world, in Africa and Kenya
The controversial private detective was born and raised in Gichugu, Kirinyaga County where she schooled at Kiaumbui Primary School then joined Karoti Girls' High School.''I then came to Nairobi in early 2002 where I started working as an undercover agent. I pursued a diploma in Criminology at a local University while still working part time." Jane told the press in a past interview.
A year ago, she was featured on the BBC investigative segment Africa Eye where she was hailed for solving hundreds of crimes including murders and kidnappings."I am the best in the world. In Africa and Kenya, nobody can beat me up." Jane told the international broadcasting company.But the piece elicited different reactions, with many criticising Jane's skills and knowledge. Many were shocked when she tried to show her tae-kwondo prowess but failed when her kicks blatantly refused to fly.
The BBC reported that Jane has put behind bars more than 70 criminals and received numerous death threats. However, she does not mention a single case she has solved as no cases are cited. In November 2021 Jane was admitted in hospital after she sustained a fracture on the hand and head injuries in a carjacking incident at Burnt Forest area, Uasin Gishu County.
Related Topics