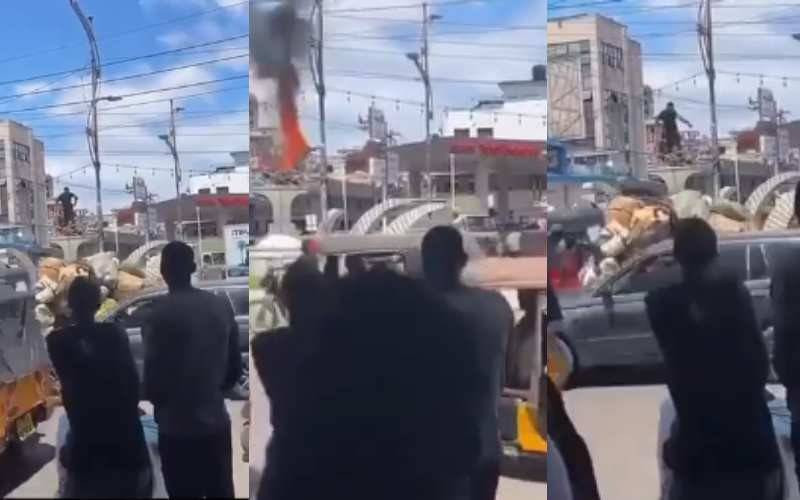 A 28-year-old man who set himself ablaze on Thursday evening died while receiving treatment at the Coast General and Referral Hospital (CGRH), Mombasa.
Coast General Chief Hospital Administrator Dr. Iqbal Khandwalla said the man sustained severe burns and died while admitted at the ICU.
"He had severe burns and succumbed to injuries," said Dr Khandwalla.
His uncle, Samson Gituhu, confirmed that Robert Gituru's body is preserved at the hospital's mortuary.
Ahmed Miraj, a classmate of Gituru's at Eldoret University said the deceased graduated with a degree in Mechanical Engineering in 2021.
"We joined in 2014 but remained in school for seven years instead of four because of the strikes. He appeared frustrated because he had not secured a job," Miraj said.
On Friday, The Standard established that Gituru was reported missing last week by family members.
A video doing rounds on social media showed Gituru holding a Kenyan flag with his left hand while on top of a statue at the Mwembe Tayari roundabout in Mombasa.
He appeared to shout before he doused himself with a flammable liquid and tried to set himself ablaze, but the lighter fell.
Another man dressed in a white t-shirt and cap picked the lighter up and handed it to him. He lit it and set himself on fire.
In the 43-second video, Gituri is seen struggling to get balance atop the statue as the fire spread to all parts of his body.
He fell, and the fire was put off by well-wishers, but the burns were visible all his body. Eyewitnesses said they unsuccessfully tried to convince him not to set himself on fire.
"He was complaining about the high cost of living and venting his frustration of being jobless," said Omar Said, a hawker at Mwembe Tayari.
Related Topics