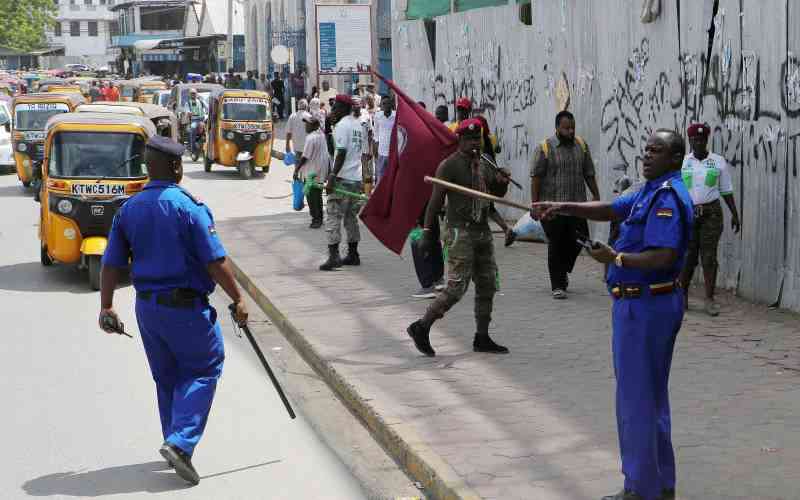 The last time Nairobi was rocked by weekly demonstrations in 2016 when opposition leaders demanded reconstitution of the electoral agency, every eight out of 10 business people were negatively affected.
At the time, the average revenue lost per business per day of demonstrations was estimated to be Sh48,304.
An August 2016 report by Kenya Private Sector Alliance (Kepsa) and Trends and Insights for Africa (Tifa) indicated that revenue was lost due to limited flow of customers (85 per cent of the businesses), closure (68 per cent), employees missing work due to inaccessibility (21 per cent), destruction of property (10 per cent) and looting at 7 per cent.
Fast forward to 2022 and the weekly demonstrations are back, with the possibility of escalation to twice a week after a declaration of intention by Azimio la Umoja leader Raila Odinga.
The opposition has called for mass action against the government over the rising cost of living and electoral reforms. Azimio leaders also claim last year's presidential election was rigged.
After the first outing protests on Monday, Deputy President Rigathi Gachagua said Kenya's economy had taken a substantial blow due to disruption of business in Nairobi.
"As a result, this morning because of lack of business in the CBD, the country has lost almost Sh2 billion in terms of business and this is money that should have been circulating in the economy," he said.
Though the figure is unverified, many business leaders feel that the impact of the demonstrations, which ought to have been peaceful but which morphed into a chaotic outing with endless running battles between police and protesters, and which attracted looters in hordes, is largely negative.
Developmental economist Samuel Nyandemo says the demonstrations will "adversely affect the economy, which is already in a bad shape".
"They will scare investors and impact production and supply chains, thus causing shortages and leading to prices of essential goods and services hiking," he says. "Collections will shrink and this will largely affect the Kenya Revenue Authority (KRA) targets and, as a result, the fiscal space will hurt."
He fears Kenya's investment index could go down and tourist numbers could dwindle, denying a country in dire need of foreign currency a much needed resource. The shilling, losing against the greenback, could depreciate to Sh155, the economist says, with the private sector piling up over Sh920 million in dollars, as they preserve their wealth, and therefore continuing to dictate prices.
This, he says, could mean that scarcity of dollars might be here for long and inflation could struggle to fall from the current 9.23 per cent, which is already some way above the Central Bank's preferred upper limit of 7.5 per cent.
The Kenya Association of Manufacturing (KAM) calls for peaceful picketing, saying that "it is critical that this (the demonstrations) should be done without interrupting business operations and safeguarding every Kenyan".
Hard times
"Coming at a time when the country is facing hard economic times, these disruptions will amplify negative impact on business operations. In addition, this will adversely affect job creation at a time when our industries are grappling with increased cost of doing business. This will ultimately affect all citizens, their income and initiatives to build our economy," the manufacturers' association says.
After Monday's riots, Governor Johnson Sakaja lamented loss of revenue and wanton vandalism. "We collected half of our daily revenue, Sh30.3 million, due to Azimio protests and we cannot sustain it should it be weekly. We need to have a dialogue on the protests and those who were caught on camera uprooting infrastructure will be charged," he said.
A business leader and KEPSA member, who could not be named due to fear of sounding partisan, says the nature of demonstrations in Kenya sets up businesses for losses with traders expecting the worst and often shutting down before the protests begin.
"Every single time we have had demonstrations, the economy has taken a mini hit. Other than the effect of looting, demonstrations should not have a big effect on the economy but on street level businesses," he says.
Property damage
He adds: "Demonstrations can be used to good effect but not the way it happens in Kenya. Our economy and our politics requires a rethink on how dissent can be expressed effectively without businesses having to close or property damage."
The 2016 report by KEPSA and TIFA indicates that that year's demonstrations were initially peaceful but later acts of violence and looting were witnessed, with four per cent of businesses, ironically, benefiting.
"These include transportation, security and welding companies. Those in transportation have either increased their fares or rescued those caught in the protests within the Central Business District (CBD). Security and welding companies have been called upon to secure premises," it says.
Sixteen per cent of interviewed business people maintained the demonstrations had no impact at all to businesses. But the banking and finance sector experienced the highest revenue losses at an average of Sh166,727 per day.
"The highest loss figure mentioned by boda-boda riders was Sh5,000. Newspaper vendors and hawkers mentioned Sh10,000 and Sh3,000 respectively as the highest losses in revenue per day," noted the report. "In addition the highest loss recorded by a restaurant in the CBD was Sh150,000 while the lowest loss was Sh5,000."
At the end of the 2016 protests, 44 per cent of the businesses felt that the economic conditions had worsened, and 56 per cent that the political climate had worsened.
Related Topics