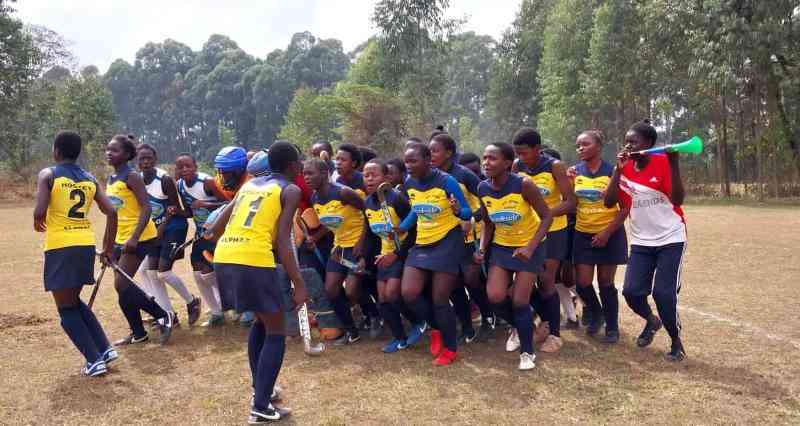 St Joseph's Girls Kitale are baying for St Mary's Tachasis blood ahead of the Rift Valley Rgeional Secondary School games set to kick off at Moi Girls Eldoret and Hill School on Wednesday.
The Trans Nzoia girls' hockey champions are seeking to return to the national games after a six-year hiatus.
After knocking out last year's East Africa runner-up Trans Nzoia Mixed Secondary School to qualify for the county games last month, St Joseph's Girls believe they have what it takes to win the regional gong.
"It has been a long wait, but now we are here. Definitely, we are underdogs compared with Tachasis who are the national champions but we come here as Trans Nzoia County champions. We are not afraid of anyone because I believe this is our year," said St Joseph's coach, John Lusaka.
St Joseph's will battle Singore and Kapkesosio in Group D while defending champions Tachasis from Nandi play Entarara and Taratar in Group C.
Mogotia, Maasai and Afraha are in Group A as hosts Hill School, Ndururumo and Londiani square it in Group B.
St Joseph Kitale's assistant coach come team manager Linah Baraza said nobody should underrate them at the regionals as they look to kick off the games with a win against Kapkesosio today. Tachasis will begin against Tartar.
"We believe in the girls. They have been sacrificing their time to work on their hockey basics and rectify some of the areas we saw needed to be changed after the county games and nobody should underrate us at the regionals," said the teacher of Maths and Chemistry who formerly played for Lakers Hockey Club.
St Joseph's Girls were last crowned Trans Nzoia County champions in 2017. In the same year, they finished runner-up at the nationals and East Africa Games held in Gulu, Uganda behind St Cecilia Misikhu Girls.
St Joseph's, who dominated the Trans Nzoia County games, will also have their handball and basketball teams in Eldoret alongside athletics.
Esther Mukonyi Kituyi will represent the school in 100m and 200m sprints as Magdaline Chelangat battles for the 400m and 800m crowns. Linet Chebet will participate in javelin.
Related Topics