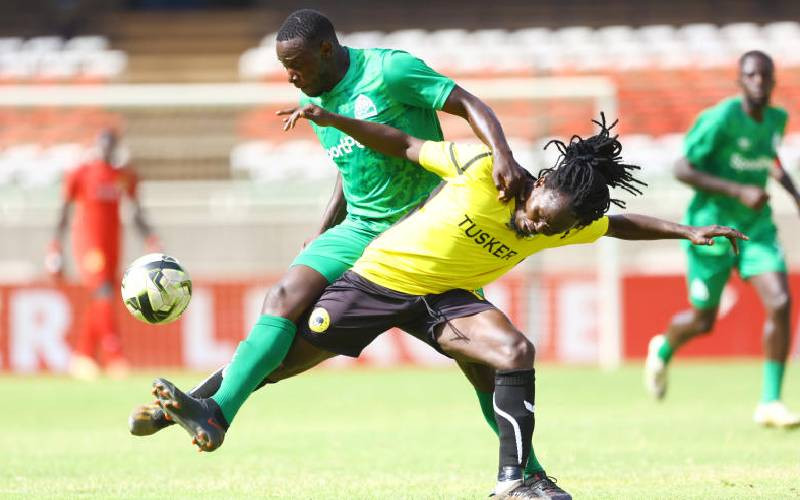 In the 2021/22 season, Tusker were crowned champions, but they only pocketed a paltry Sh2 million in prize money from the FKF Caretaker Committee which had been installed by former Sports Cabinet Secretary Amina Mohamed to manage football affairs in the country after the disbandment of FKF for alleged misappropriation of funds.
But the brewers were not able to represent the country in the CAF Champions League the following season due to the suspension imposed on Kenya by world football governing body, Fifa.
The previous season, Tusker lifted the trophy and walked home with Sh4 million in prize money.
In the 2019/20 season, Gor Mahia were declared the champions after the season ended prematurely due to the Covid-19 crisis.
K'Ogalo won the title by virtue of leading the table with 54 points from 23 matches by the time the league was abruptly halted owing to the pandemic.
However, interestingly, the record league champions never received a trophy or the Sh4 million title winning prize money.
It was a repeat of the 2018/19 season when the organisers failed to pay Gor Mahia the prize money.
Mwendwa, however, promised a bigger and lucrative 2023/24 season that will start in August 2023 and end in May 2024.
"We are packaging something big for the new campaign and these clubs will smile throughout the season. I can't give the details right now. Our season will officially run between August and May with broadcasting and sponsorship deals as well as club licensing. I'm not worried and I actually think this was a blessing in disguise because we all know now what we need to do."
FKF Women's Premier League champions Vihiga Queens were awarded Sh1 million, a move that did not go well with former internationals and stakeholders as they termed the prize money too low.
Stakeholders, including former Tusker and Harambee Stars strikers Boniface Ambani, called for the federation to also award other teams not only winners.
"Women football has had so many ups and downs in Kenyan soccer just like our own men. What these girls go through is always tough. But they have always found time to be there and do what they love most.
"Vihiga queens wins the WPL and walks home with a 1M cheque. Federation kindly find something in your coffers and award second third and fourth something in appreciation. It's not a matter of "winner takes it all" . What will be the motivation factor of participating in the league next season? It's not too late," posted Ambani on his Facebook page.
Former Harambee Stars and Gor Mahia midfield wizard Sammy Owino 'Kempes' blames poor leadership and corruption as the root cause of Kenyan football problems. He believes such things have made sponsors shun away from the game.
"I think Kenyan football is a true reflection of our society as a whole. We have a cultural problem of corruption there, that's the number one enemy. So, how do we fight this monster at the federation level?
It's imperative we get people who are not corrupt. Secondly, we must get competent people. You can get people who are not corrupt, but if they are not competent, they will not be able to do the job," said Owino, who is an electrical engineer by profession.
"Corporate sponsorships will not be involved in our football, if we are corrupt. The first thing that needs to happen is to build credibility and transparency. So, if we have those two, then competent and visionary people, I'm very much confident the corporate world will follow the game.
I'm involved a lot with corporate sponsorships in the US, and what they always want to know is how much value they will get for their money. Corporates will not support you if they feel their money is not put to good use," he said.
"If we have a performing national team and leagues managed properly, sponsors will follow you. I strongly believe if the right people come in place, money is not going to be an issue in the game."
Sports Cabinet Secretary Ababu Namwamba said on May 30 that the ministry is prepping for a mega package for the next season.
"I promise you, we are putting together a mega package, a package that has never been seen before ahead of the start of the next FKFPL season," he said.
"This will include a live broadcast of football, that will include significant sponsorship money going into the pockets of clubs and, therefore, the bags of players that is part of what we're putting together under this Talanta Hela programme," Namwamba added.
Kenyan football deserves better, and the federation must pull up its socks.
Related Topics