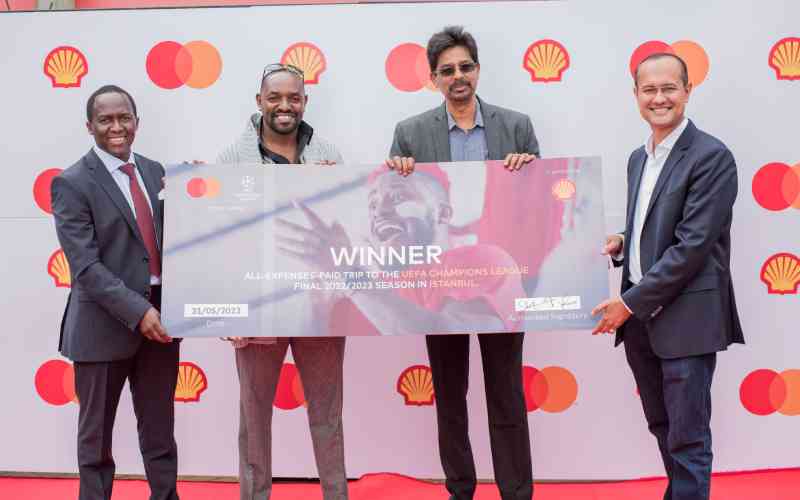 Football fans across the globe are waiting for the epic battle pitting English Premier League champions Manchester City FC against Italian giants Inter Milan in the UEFA Champions League (UCL) finals slated for Istanbul, Turkey on June 6, 2023.
While many will be watching the match at home and on giant screens at various entertainment joints, lady luck has smiled upon two Kenyans who will be inside the Atatürk Olympic Stadium to experience the football spectacle live, courtesy of Mastercard and Vivo Energy Kenya.
Raymond Maranga and Jaison Jose are the lucky winners of the all-expense paid trip. This follows a month-long (April- May) exclusive campaign that gave enthusiastic local football fans a chance to win the trip of a lifetime.
The winners were selected from thousands of participants who engaged in the campaign by making purchases with their Mastercard at participating Shell service stations across Kenya.
"It's like a dream come true. I'm happy that I will be watching the players live, not on Tv the way I have always done," elated Maranga told Standard Sports.
The Travel and Tour Operator will be out to support Man City in the tie together with his wife and daughter who he will travel with to Turkey.
While encouraging Kenyans to try their luck in such campaigns, Maranga underlined: "I'm one of those guys who are never lucky in life, this is the first thing I'm winning in my whole existence,
"It was such a surprise when I received a phone call that I had won. It took the intervention of the I&M Bank Manager to convince me that I had actually triumphed in the draw."
Jose too will travel to Istanbul with his wife and he cannot wait to step on Turkey soil for the first time. He believes the country is a great place to visit.
"I know the atmosphere there will be charged at the time of the UCL, I cannot wait to experience that aura," stated Jose who also had a similar experience at the Maracanã stadium in Rio de Janeiro watching Brazil's Samba Boys do their thing at the iconic football cathedral.
Just like Maranga, Jose is predicting Man City victory in the UCL finals. He believes the Citizens are the most popular of the two giants clashing.
"Man City has a well laid infrastructures at home and they have lots of support in the middle east, so this will count in the battle" Jose explained.
The winners all-expenses paid trip includes round-trip flights, 3-days luxury accommodation, Category A tickets to the UEFA Champions League Finals and various exclusive activities in Istanbul.
"We extend our heartfelt congratulations to our winners, and we are delighted to offer this extraordinary opportunity to witness the UEFA Champions League Finals," said Shehryar Ali, Country Manager for East Africa at Mastercard. "Football is not just a game - it's a unifying sport that transcends borders, cultures, and generations, igniting passion and inspiring communities worldwide."
Peter Murungi, Managing Director of Vivo Energy Kenya, while hailing the winners stated: "We are thrilled to have collaborated with Mastercard in creating such an incredible campaign for football enthusiasts in the country,"
"The two winners announced today will embark on an extraordinary journey to witness the UEFA Champions League Finals in Istanbul, experiencing firsthand the power of football to unite and inspire. "This campaign has allowed us to engage with our customers in a meaningful way and offer them unforgettable experiences that go beyond their everyday transactions."
Related Topics