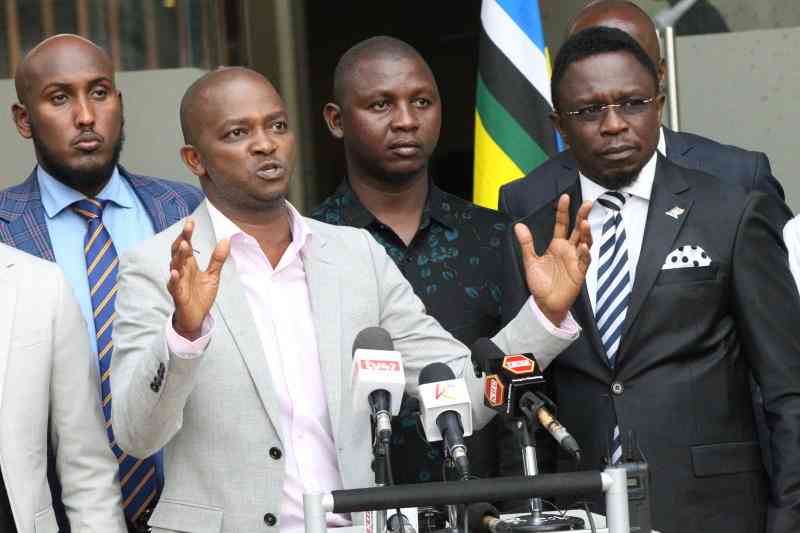 The government has committed Sh4.15 billion (USD30 million) towards the joint-hosting of the 2027 Africa Cup of Nations (AFCON), if their EAC Pamoja bid wins the hosting rights.
Kenya submitted the joint bid together with Uganda and Tanzania on Tuesday.
The trio face stiff opposition from Egypt, Algeria and Botswana.
Even as he expressed confidence in EAC winning the 2027 AFCON bid following the commitment from President William Ruto and his Ugandan (Yoweri Museveni) and Tanzanian (Samia Suluhu Hassan) counterparts, Mwendwa said there are many benefits that will come with the hosting of the tournament.
As per the plan, Kasarani, Nyayo and Kip Keino stadiums are all set to be upgraded to meet international standards alongside nine new training venues.
"The AFCON has never been in East Africa before. We've been discussing at the CAF level that AFCON needs to rotate to the five regions of CAF, otherwise then the representation will continue to be an issue. By three EAC nations coming together, the burden of one nation is reduced," said Mwendwa.
"Now we need two venues, plus one back up. For us, it's Kasarani and Nyayo then back up at Kip Keino. Tanzania has one venue that's already been approved in Zanzibar and a back -up venue in Arusha, while Uganda has Namboole two other venues.
"I'm glad we were able to pull off a bid. We came together and we've met almost every day for the last two months. I was lagging behind because both Tanzania and Uganda were doubting us, but when I met the President (Ruto) he said we've to get it done. They had said they wanted to see him involved, and they were shocked because now they had to follow the queue as he blew them out of the water and took the bid, he's driving this himself.
"He looked at the bid and approved everything the Sports CS requires to get this done. Building stadiums, I was there and he's given the minister every little goodwill he needs to get them built. He's given approval for the financial outlay required for the operations-USD30 million guarantee. I've never seen this happen before.
"Now, our AFCON bid has been blessed, given an okay and the President himself picked up the phone and spoke to both Ugandan and Tanzanian Presidents. He went to South Africa and spoke to the CAF President Patrice Motsepe; we are in the lead for this. That changes everything."
Asked how life was after being removed from office in 2021 for alleged misappropriation of funds, Mwendwa says he has come back a stronger and experienced man.
"I was never in the cold, I've been a football man for many years. So, I kept on doing my football and I just needed to take time. When you lead, you don't lead only for the good things, you lead for everything. And when I took the job, I knew anything can happen," said Mwendwa.
FRESH BEGINNING
"But I learnt that some of the people who were agitating for all these things, one year later they started to say 'you know what, we've suffered and we don't want to suffer any more. Please just return and get the job done.
"We went through tough moments in one and half years, and I'm glad we are here today stronger and better, with a better understanding of the society than before. But also looking to build the game more than ever before. It's like we lost almost ten years, seven sponsors and the foundation we had made.
"I'm glad we now have a fresh new beginning and the situation is different because we have a government that's now an ally and serious about football. Personally, I now see leadership in a different prism today, but I'm still the same person with the same passion for the game. Thankfully, my passion for the game has not changed and I want to deliver for our country what the country hasn't done. And that's why we are doing AFCON. We launched the AFCON bid, because we were out."
But Mwendwa was non-committal on revealing the elections date saying that's the mandate of the Annual General Meeting.
"We had elections just one year before we were disbanded. Our competitors caused all these problems for us to be removed. People wanted to grab the office with the back door because they can't beat us at the ballot box. It backfired badly but it was very painful for the country and for people like us," he said.
"I don't want to talk deeply about elections because they are meaningless if you do nothing. We were rendered useless even after being elected, so what's the point of being elected? This Kenyan mentality of elections, yet when you get elected you do so to do something. We've been out for one and half years, we are back now but so many things are not in the right place. The job now is to get them back into the right place and at the right time, then the membership of FKF will call for elections.
He continued: "Membership will decide when the elections should be either in December or end of next year and whether to compensate for the lost time or not. My guess would be that elections will be held sometime in 2025 but the membership will make that call at the AGM when that happens at the end of this year and next year. Then people will decide if they want to be in that election or not.
"I've seen and heard people want to compete, but I think you need to know when elections will be for you to start preparing. But since I don't know as president when elections will be, those who want to compete against us, will have to find out when the elections will be. And I think they can find out from the membership of FKF."
Related Topics