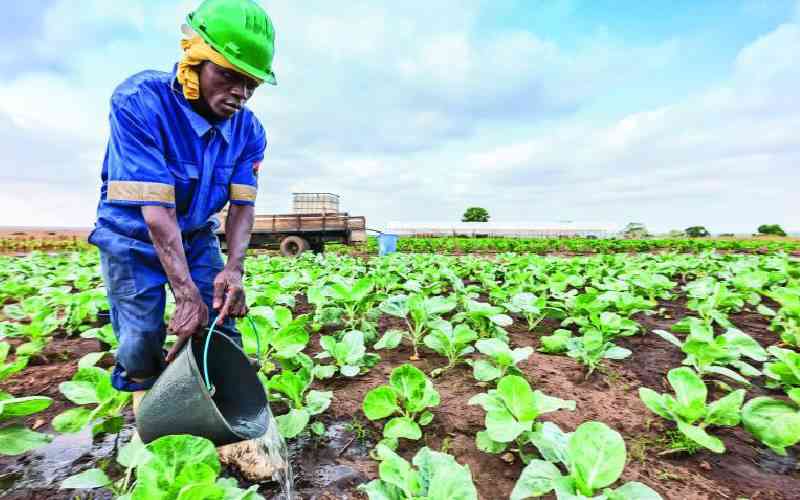 Nearly half of Kenya's population is employed in the agricultural sector despite over two-thirds of the country being classified as arid or semi-arid.
Official data shows close to three-quarters of the people living in rural areas actively practice agriculture.
Yet many farmers still wallow in abject poverty. In a 2019 April interview, Africa's richest man Aliko Dangote told Celtel founder Mo Ibrahim that the continent's future was in agriculture and new technologies.
Young African entrepreneurs, he said, should focus on these sectors if they were to gallop to wealth. Mr Dangote said if he were younger, he would have gone into agriculture.
But Kenya's farmers, most of them smallholders, continue to produce just what is enough for their households.
As land shrinks due to fragmentation amid sharp population growth, there is a likelihood that many of the farmers will never reap what they deserve from their daily toil.
Food and Agriculture Organisation (FAO), a United Nations body, in a 2015 study of seven countries noted that Kenyan smallholders farmed an average of 0.47 hectares, one of the smallest average land sizes. FAO also noted that nearly every Kenyan was involved in small-scale farming, producing food on land less than two hectares on average.
"In Kenya, classifying as smallholders those farmers who farm land smaller than two hectares, and adding them up would nearly result in the entire arable sector," it said. As the country grapples with the worst drought in over four decades, which hit arid and semi-arid areas hard in 2022, most farmers continue to depend on rain-fed agriculture.
Past efforts to reduce reliance on rain-fed agriculture and ensure the proliferation of irrigation have faced serious hurdles, including corruption claims in some of the public-private partnerships that were expected to employ thousands of Kenyans.
Regular rainfall
The new government has reiterated its commitment to increasing irrigation, including the revival of the controversial Galana-Kulalu Irrigation Project.
But with many farmers, even those in areas that receive regular rainfall, increasingly unable to cultivate more than what is just enough to feed their families, it calls for a rethink of the practices of smallholder farmers.
The Kenya National Bureau of Statistics (KNBS) Economic Survey 2022 showed that overall, the value of the recorded sale of produce from large and small farms increased by 3.4 per cent to Sh527.0 billion in 2021. A huge chunk of this came from the little that smallholder farmers are able to sell.
"The smallholder sector remains the main contributor to total marketed agricultural produce at 73.1 per cent. The value of sales for small farms increased by 3.1 per cent from Sh373.6 billion in 2020 to Sh385.3 billion in 2021," the report indicated.
This has been the picture for years; the smallholder sector has consistently contributed around 73 per cent to the total marketed agricultural produce for over half a decade.
In many parts of the country, farmers have many odds stacked against them. Inadequate land to allow for surpluses, high costs of production, which benefit large-scale producers due to economies of scale, brokers and cartels that frustrate their efforts to market their produce and unavailability of water, are some of the key issues facing farmers.
In Kieni West sub-county, for instance, many farmers are reliant on onions, cabbage, carrots and potatoes for commercial purposes. However, a few of them are unable to sell the produce of any significant value as they also farm in limited space.
This is because they have to also cultivate food for their daily consumption, reducing space further for the cultivation of cash crops. Onion, one of the most farmed crops in this semi-arid area, which incongruously sits between Mt Kenya and The Aberdares, has been a source of pain for many.
During harvest time, brokers tell farmers that the market is flooded, offering very low prices. A spot check by this writer showed that while a kilo of onion was going for Sh70 in Nairobi's Wakulima Market, farmers in Kieni West were selling their produce at Sh20 and Sh25 at the farm gate.
Traders in Wakulima Market also claimed that a lot of the produce on their shelves came from Tanzania. "We are told that there are a lot of onions coming from Tanzania and are not, therefore, able to compete and to sell," says Douglas Munyiri, an onion farmer. "In Tanzania, the cost of production is way lower and they can, therefore, price their onions cheaply." This has seen desperate farmers perennially make losses.
The Central Bank of Kenya's Monetary Policy Committee's Agriculture Survey of July 2022 indicated that agriculture continued to contribute well to the country's economic fortunes.
"The agriculture sector continues to play a critical role in Kenya's economy accounting for 20 per cent of Gross Domestic Product (GDP). The sector also employs over 40 per cent of the total population and more than 70 per cent of the rural populace," said the report. This is as smallholder farmers continue to make losses and struggle to wriggle out of poverty.
Related Topics