Do you know where your braids, wigs and weaves come from?
Beauty is closely associated with women, regardless of whether they are raised in African culture or embrace Western ideals. The expense of distinguishing oneself as a stunning and radiant woman is almost unavoidable.
As the adage goes, "Beauty lies in the eyes of the beholder," and women place significant value on their hair as it complements their overall appearance. Spending generously, even to the extent of using their last coin, is not seen as a significant concern. Some go to extraordinary lengths, investing millions of shillings solely on their hair. A notable example is Beyoncé, who allocates $145,000 exclusively for her weaves.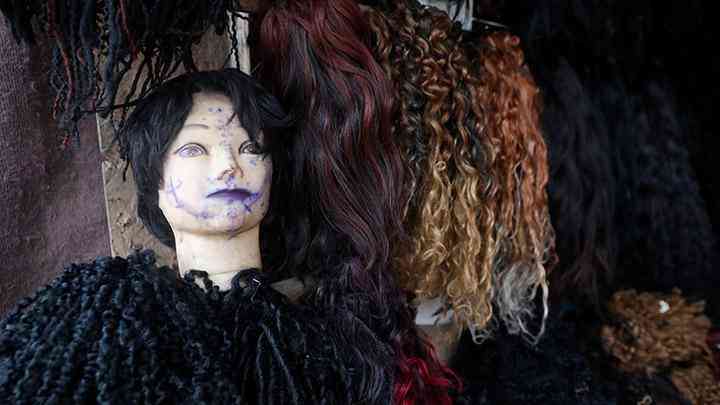 During my conversation with Irene Munyao, a secretary employed at a clearing and forwarding company in the city, she openly expressed her fondness for hair.
She is a frequent visitor to an upscale hair salon located along Kenyatta Avenue, where she willingly spends more than Sh3,000 on a human hair weave twice a month, ultimately summing up to an average monthly expenditure of around Sh7,000.
Stephen Sengwana, a Ugandan hairstylist at Creative Hair Company, differentiates weaves into two categories: human hair weaves, crafted from natural hair such as Brazilian and Indian, and semi-human weaves, which primarily consist of synthetic hair. The cost varies based on customers' preferences and financial capability.
He explains, "Human hair is pricier and tends to attract corporate women. The prices range from Sh800,000 on the higher end to Sh150,000 on the lower end. On the other hand, synthetic weaves fall between Sh800 and Sh50,000, making them more affordable for women from lower socioeconomic classes, although they may be less durable."
However, the extravagant expenditures are placing a strain on the budgets of many, especially during these challenging economic times.
Cheaper alternative
Consequently, there has been a notable influx of individuals to Korogocho slum, each one drawn by the allure of discovering a precious treasure. During our tour of Korogocho, we encountered elegantly attired women who appeared to be of a higher socioeconomic class, navigating through the muddy and densely packed pathways in pursuit of this coveted commodity. Esther Muhoro, a business owner specialising in second-hand braids and weaves, found amusement in our puzzled expressions upon witnessing the fervour of these women selecting the finest options from the weaves and braids showcased on a manila paper.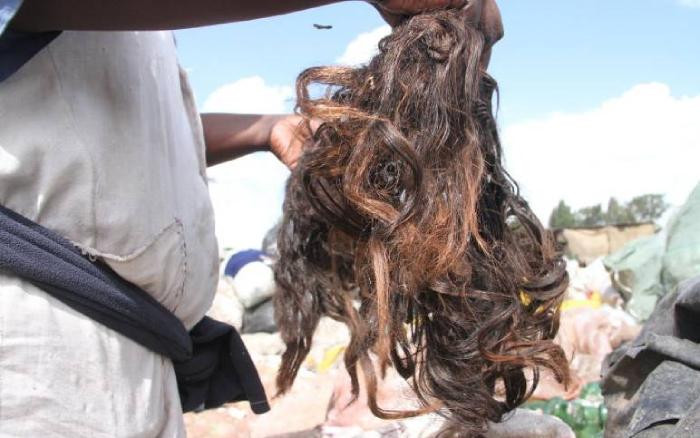 Driven by curiosity, we approached her. "I sell second-hand braids and weaves," she said. "This business has been the cornerstone of my life for the past four years." Esther received her training as a hairdresser at Unity College in Buruburu.
Upon graduating in 2013, Esther began working in a salon in Umoja, where she earned a commission of Sh200 per day, sometimes going without pay. Growing weary of the constant struggle, she decided to invest in the second-hand weave business. "I started with a capital of Sh500. On my very first day, I made Sh1,500, which was a significant success."
The question that often arises is why elegantly dressed women accustomed to a higher-class lifestyle would opt to venture into the depths of Korogocho slum. Jane Mueni, a regular patron at Esther's salon, says the journey from Utawala has proven to be worthwhile, as it has led to substantial savings.
"In the past, I used to spend Sh1,500 on hair services at River Road in town. However, since discovering this place two years ago, I've saved a lot. I now only spend Sh400 to have my hair done," she said.
Mary Akinyi, a former sales and marketing agent, has no regrets about quitting her job three years after discovering she had the skills to make more profit. With her marketing and hairdressing skills, she opened a salon along Moi Avenue but six months later the business stalled due to tough competition. She relocated to Korogocho after a friend told her about the salon business in the area. "I make an average of Sh15,000 in a day handling more than 30 customers daily". Akinyi pays Sh1,500 rent for her workspace and pays her workers Sh1,500.
The business has attracted women from as far as Ruai, Buruburu, Jericho, Kamulu, Ruaka,Utawala as well as Thika. The peak seasons are December and school holidays, when the prices double. "During those two periods we charge Sh1,000 from Sh450, because customers have money and also in a hurry to travel."
Unexpected sources
At Korogocho all classes of customers are catered for, with prices as low as Sh50.
'We sell Diva weaves for sh 500, Daniela sh500, Flat iron sh350 and Bandika Sh450 plus hairdressing services," Akinyi confirms. She says the same brand of weaves and braids goes for between 1000 to 5000 shillings, in upmarket areas in town.
But where do the hair business owners in Korogocho source their products that make them cheap? "We buy our weaves from uptown salons, salons in River Road, Ngara or at times from Best Lady Hair Shop along Accra Road. One bundle containing 30 strands of weave goes for sh50, and we sell it at 150-300 shillings." All these are used or second-hand weaves and braids that are collected from beauty parlours and solons, washed and treated.
Some allege that the vendors' products come from the Dandora dump site, which generates all refuse in the county.
James Mwangi, a resident of Dandora phase four, confirms that some of the products are sourced from the site, "I have 20 youths who sort them from the refuse, clean and repackage for redistribution to the vendors in, Korogocho and Kibera."
Roselyn Njoki is one of the beneficiaries of the recycled weaves in Korogocho. She travels from Think town to collect these products for her customers. One year since she started, the returns are heavy, '"n a purchase of Sh30,000 am guaranteed a profit of Sh55000 after deductions."
Related Topics