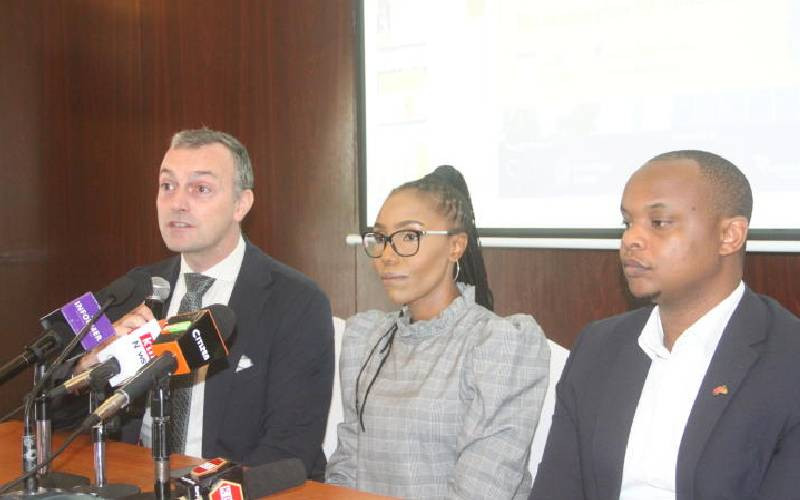 Kenya will next month host this year's Africa continental conference on renewable energy.
Energy Cabinet Secretary Davis Chirchir is expected to officially open the event that will run from October 4 at Sarit Center in Nairobi.
Renewable Energy Africa Forum (REFA) has organised the forum cum exhibition in partnership with the Ministry of Investment Trade and Industry.
REFA, a green energy stakeholders' forum, said the forum will be seeking to bridge the investment gap in the green energy sector.
Speaking during a breakfast meeting in Nairobi, Senior Consultant for European Union Olivia Otieno said the outcome projected will revolutionise the agricultural sector alongside transforming the transport system.
This, she said, is possible through the production of green hydrogen, the theme unto which Africa's renewable energy forum is anchored.
"We will be able to produce green fertilizer that is developed specifically for our soil," said Otieno, noting that the move will leverage African countries economically.
"We import fertilizer which is a huge cost not just to the government but even to the consumer and to the farmer and the fertilizer we are importing is not green. it is not tailored to our soli texture," she said.
She also said that the forum will deliberate on the implementation modalities of British Rapid Transit (BRT) in Nairobi.
BRT clean energy transport system is an EU-facilitated World Bank-financed project that seeks to ease transport congestion within the city.
The innovative BRT project will be the first dedicated electric bus rapid lane in East Africa.
Through GetInvest, the European Union has also rolled out green hydrogen energy plant projects in the country to improve access to electricity in remote areas of Kenya.
According to Africa Solar Industry Association (AFSIA) chief executive John Zuylen, the forum will use a digital investment tool for players to connect with financial institutions and developers offering solutions to green energy projects.
"We are conscious of the financial responsibilities tied to these programmes to end carbon emission, this is the perfect moment to get closer to local developers and create a portfolio of successful investment opportunities," he said.
Peter Njoroge of Astronergy said the forum will bring together local and international stakeholders to deliberate on actions to build the resilience of the continent's strategies to avert the devastating impacts of global warming.
Africa continent is seeking to accelerate the implementation of its climate change strategies and actions, with Nairobi having hosted this year's Africa's Climate Summit barely two weeks ago.
During the summit, President William Ruto wooed world leaders to take responsibility in addressing the climate change effects that continue to wreak havoc across the globe.
Related Topics