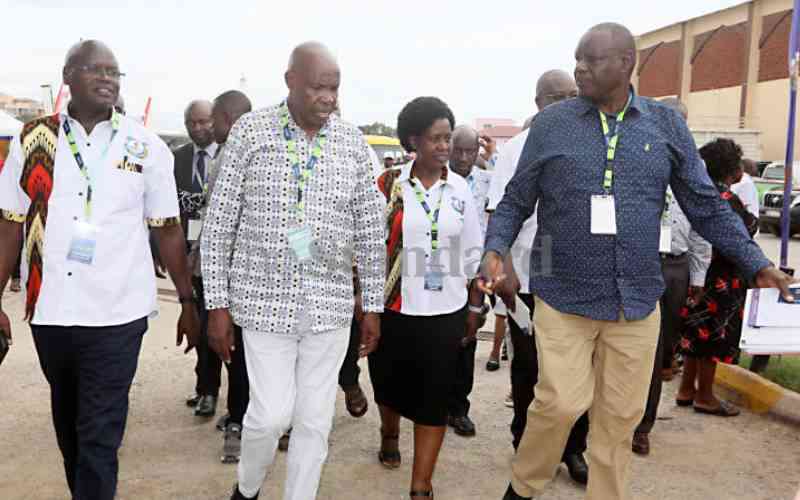 The journey ahead is not looking any better for school heads and principals as public schools risk sliding into the same ditch as public universities.
Kenya Secondary Schools Heads Association (KESSHA) Chairperson Kahi Indimuli, foresees a situation where principals will soon be dragged to court by non-teaching staff for failing to pay salaries and remitting statutory deductions.
The situation is compounded by the fact the schools owe suppliers millions of shillings in pending bills even as Basic Education Principal Secretary Belio Kipsang promised that funds will be wired to respective school accounts by September 20.
The government owes public schools Sh29 billion. The Ministry of Education now says it has received Sh16.2 billion as capitation funds from the National Treasury for disbursement to public primary, junior and senior secondary schools.
"The ministry wishes to assure all schools that the funds will be wired to respective school accounts by September 20," Dr Kipsang said. The delay to release the funds, Indimuli said had put a strain on head teachers and principals as they struggle to look for alternative ways of surviving.
He expressed fears that the funding gap might throw in disarray preparations for national exams set to start next month when Kenya Certificate of Primary Education (KCPE) candidates will sit for their exams followed by those sitting for Kenya Certificate of Secondary Education (KCSE).
A total of 903,260 students are slotted to sit their KCSE, 1.42 million students for KCPE, while 1.28 million students will sit the second Grade Six Kenya Primary School Education Assessment (KPSEA) under the Competence-Based Curriculum.
"We have schools that have gone for more than four months without paying salaries for non-teaching staff, and this is turning schools into bad employers," said the KESSHA boss.
Hefty penalties
Further, several public schools are battling the burden of hefty penalties accrued from non-remittance of statutory deductions.
"We are supposed to deduct and remit some statutory deductions such as NSSF, NHIF and a delay in remittance attracts a penalty. Many schools are currently being weighed down by very hefty penalties, and principals fear being taken to court by school employees for not remitting their deductions," decried Indimuli.
According to the chief principal of Machakos School, sub-county schools that solely rely on the government for capitation, are the worst hit.
"You can imagine this is the fourth week since schools opened and we have not yet received the money. It is even harder for sub-county schools that rely on the government for capitation," said Indimuli.
Under Free Primary Education (FPE) and Free Day Secondary Education (FDSE) policies, the government gives Sh1,420 and Sh22,244 as capitation funds for primary and secondary school learners respectively.
The monies are meant for the day-to-day running of the school, including purchasing tuition and learning materials, salary payments, and settling other utility bills. Any delay means both day and boarding public schools are unable to meet most of their financial obligations.
The funds are to be disbursed in the ratio of 50:30:20 across the three terms of the year. But this has not been the case due to persistent delays.
School heads are now blaming the Treasury and the Ministry of Education for the hole they find themselves in. They are accusing the two ministries of playing ping pong while they remain under extreme pressure from learners, staff, parents and suppliers.
Oliver Minishi, former principal of Nanyuki High School weighed into the debate, accusing the government of not being sincere and serious on the capitation issue.
It is also emerging that some head teachers are securing loans from banks to ensure their schools remain afloat as they wait for the government to disburse funds. "Some of us are ensuring that the schools are running even with our own money. With the hope that we can recover the money when the government releases capitation," said a principal who spoke on condition of anonymity.
Over the last two years, the government has not honoured the 50:30:20 funding formula and instead released monies on a quarterly basis.
Headteachers and principals are linking their woes to the quarterly funding, which they say is not tenable. Kenya Primary Schools Heads Association Chairman Johnson Nzioka urged the government to be clear about the funds to avoid confusion.
Grace Maina, a parent at Moi Girls Eldoret blamed government officials for the confusion in their communication.
Related Topics