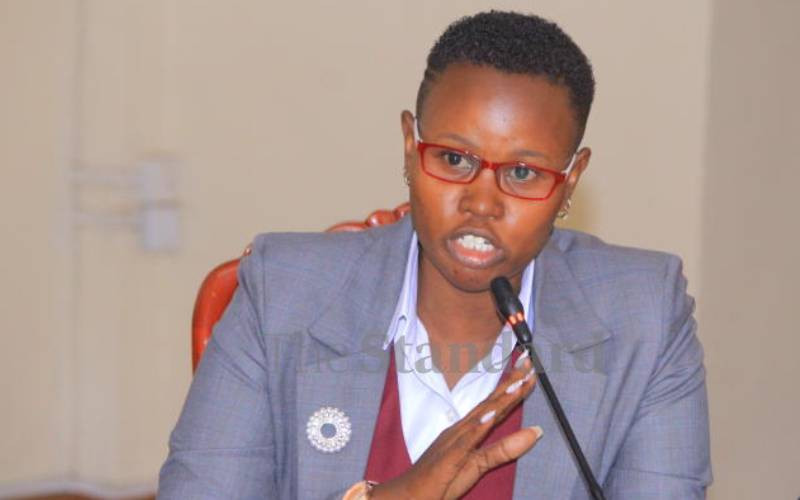 First Choice Recruitment Agency that is accused of allegedly defrauding youths of millions of shillings in Uasin Gishu County is not registered with the National Employment Authority, .
Labour Cabinet Secretary Florence Bore told the Senate Labour Committee on Tuesday that records in her ministry showed the agency is not registered.
She however offered to mediate between First Choice Recruitment Agency Director Judy Jepchirchir and victims who claim to have been swindled of millions of shillings with promise to get jobs and placement in colleges abroad.
Ms Bore told the committee that the Directorate of Criminal Investigations is carrying out investigations into the matter.
"My ministry is looking into ways of ensuring that First Choice Recruitment Agency is able to refund the money owed to the youth. I would like to ask the Senate to allow me to meet the two parties and help sort out this matter by having the youths get back their money," she said.
The CS defended herself against accusations that she was shielding Jepchirchir with some senators saying that she had been seen in her company in a public function.
Bore's offer to mediate was however rejected by the petitioners with Eldoret Town based Human rights activist Kimutai Kirui arguing that for her to arbitrate with Jepchirchir is similar to handing over sheep to the hyena where their safety is not guaranteed.
Kirui said that they have gone to the Labour Ministry and National Employment Authority offices in Eldoret and even written letters to the CS and the people of Uasin Gishu have no confidence in the Ministry of Labour solving the crisis which it has failed to address so far.
"Judy Jepchirchir is not willing to pay back the petitioners their money. They want their money and not any negotiations since they have been intimidated and treated badly by the agency. What we want to hear is that the thousands of youths will get back their money tomorrow," he said.
Senators Alex Mundigi (Embu), Mohammed Faki (Mombasa), Miraj Abdulahi (Nominated), George Mbugua and Gloria Orwoba (Nominated) wondered why despite numerous reports to the police about the recruitment agency Jepchirchir has not been arrested and charged in any court of law.
The Senators also sought to know the powerful individual behind the recruitment agency director whom they termed as arrogant, full of herself and the clear definition of impunity despite the magnitude of the allegations.
The senators directed Bore to place an advert in the media to notify the public that Jepchirchir is not registered to operate the recruitment agency if at all she was genuine in her quest to ensure that the youths get justice.
"We need to be told why this individual has not been arrested and charged in court for fraud, it is clear that the First Choice Recruitment Agency is still in operation despite reports that it has been suspended from running its activities since it is not registered with the National Employment Agency," said Orwoba.
Miraj said that during her appearance before the Senate two months ago, Jepchirchir promised to refund the money to youths but she has not made any efforts to do so.
Related Topics