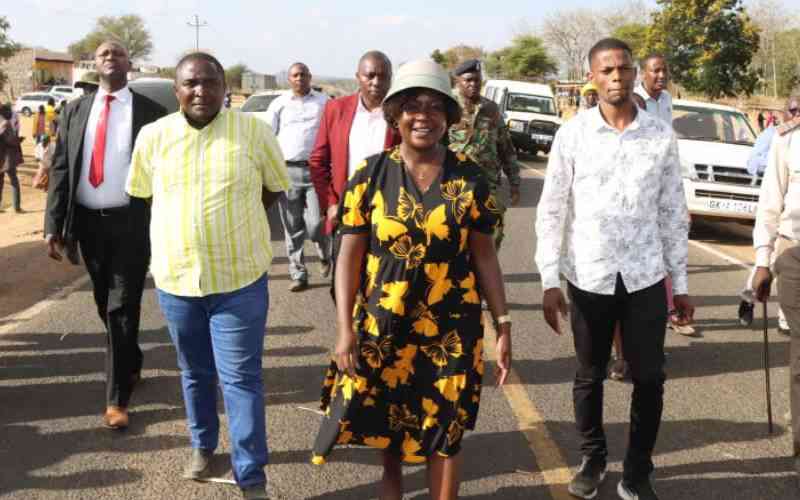 The Government has banned irrigation along rivers in two counties following fights between residents.
In Embu County, angry residents of Macang'a village in Mbeere South blocked Governor Cecily Mbarire's motorcade, demanding a resolution to the long-standing water crisis in the area.
The residents blocked the busy Embu-Kitui highway for hours, forcing motorists to turn back.
Among their grievances were the blocking of Rivers Thiba and Nyamindi by horticultural farmers in neighbouring Kirinyaga County.
Mbarire, who was on an official tour to commission the de-silting and reinforcement of dams in Mavuria and Kiambere wards, accused the National Irrigation Authority of failing to regulate the flow of the two rivers.
In Laikipia County, hundreds of farmers in Ngaring'iro village have held demonstrations over the abstraction of water by a large-scale farmer.
The residents who depend on waters from Ewaso Nyiro River claimed the farmer had dug wells along the river preventing its natural flow.
The residents who mainly depend on the river for domestic use, farming and for their livestock said they now buy water because the river is not flowing downstream.
Mercy Muthoni said they have been suffering since the large-scale farmer redirected the water to his farm.
"We have to wake up early in the morning and trek to fetch water for domestic use since we cannot afford buying water every day. Our crops have dried up due to lack of rain, but his are healthy, "she said.
She added that despite reporting the matter to water agencies and the local administration, their efforts to find a solution have borne no fruit.
"We have tried to talk to the farm management in vain. Today we have decided enough is enough and we have removed the obstructions. We hope the farmer will not rebuild them at night," said Muthoni.
Patrick Thuranira said they are facing threats of attacks by wild animals that are straying into their homes in search of water.
In an effort to address the grievances, the national government has banned irrigation farming and all activities along the rivers in Embu and Kirinyaga counties.
This follows complaints from residents of Mbeere South in Embu County after three permanent rivers Thiba, Nyamindi and Rupingazi dried up for the first time in recent history.A meeting led by Embu County Commissioner Stephen Kihara mandated Water Regulation Authority (WRA) to ensure no water is pumped from the river.Kíhara noted that the meeting had resolved to only allow people to draw water for domestic use."The law is clear that if there is no flow of water in a river then you cannot directly draw water for irrigation," Kíhara said.
He noted that the government was keen to save the livelihoods of five sub-counties in Embu and Kirinyaga.Tana regional manager Abdi Omar said the team made the decision because of the flow of water from Thiba River was at 0.8 cubic meters per second way below the expected flow of 1.2 cubic meters per second.Tana region covers Embu, Kirinyaga, Meru, Tharaka Nithi, Kitui, Lamu, Garissa, Tana River, Parts of Kiambu and Nairobi counties.
Related Topics