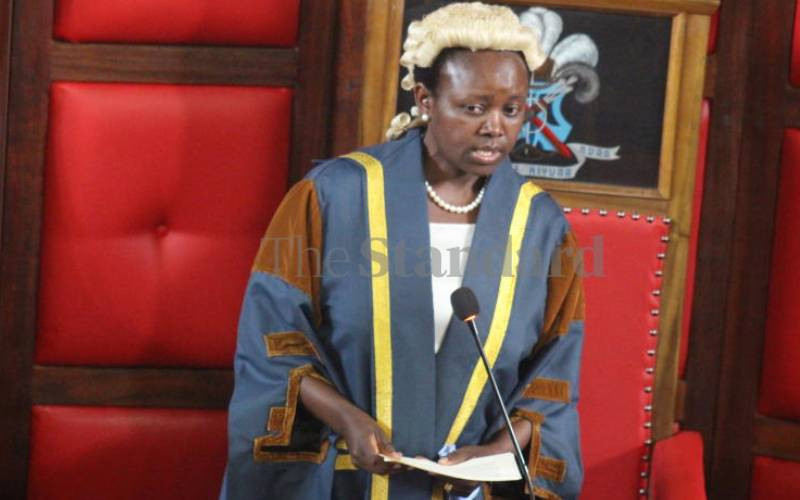 More than 30 contestants, including lawyers, seasoned politicians and businessmen, are vying for the speaker's position in the Kamba region.
In Makueni, the race has attracted seven candidates, among them, veteran lawyer Dennis Mung'ata, former Kibwezi MP Prof Phillip Kaloki, first Makueni speaker Stephen Ngelu, businessman Muema Ndungi, former Ukia MCA Japeth Katumo and immediate former speaker Doughlas Mbilu, among others.
In Machakos, 10 candidates are positioning themselves for the influential county seat. They include lawyer Bernard Mung'ata, former speaker Paul Museku, current speaker Florence Mwangangi, former Ikomba MCA Nathaniel Nganga, lawyer Ann Kyusya and Labour Chief Administrative Secretary Jackson Kalla.
In Kitui, the battle to replace George Ndotto has attracted, among others, Wiper leader Kalonzo Musyoka's personal assistant Kelvin Kinengo, former County Assembly Majority Leader Peter Kilonzo, Dubai-based businessman Kyalo Mulu, East Africa Youth Assembly President Jeremiah Kisangau and lawyers Dennis Mung'ata and Kyalo Masila.
Mr Kisangau, who vied for the Kanziku MCA seat in the August 9 election, says he is the best candidate for the speaker's job.
"Non-lawyers and a person who is not from the party with majority MCAs can protect the legislative side from executive interference. The speaker is guided by the clerks and, therefore, the issue of speakers being lawyers is misplaced. I am a manager," said Kisangau.
Despite those aligned to the Wiper party banking on the party to give them a boost, Kisangau remains optimistic he will clinch the seat.
"On political formations here, Wiper got the most seats, 14, independent nine, Narc eight, Chama Cha Uzalendo one, Chama Cha Mashinani one and UDA two. I am from Narc but I can assure you some MCAs from Wiper will vote for contestants who are not from their party even after the nominated MCAs join in to make the number 55," he said.
In Makueni, those eyeing the position have embarked on meetings with newly elected ward reps to support their bids. The issue of regional balance could also play a part in who gets the coveted position.
Governor Mutula Kilonzo Jnr hails from Mbooni constituency while his deputy Lucy Mumbua Mulili is from Kilome as does Woman Rep Rose Museu. On the other hand, Senator-elect Daniel Maanzo hails from Makueni constituency.
Makueni county has six constituencies and pundits argue that the speaker should be drawn from Kaiti, Kibwezi West or Kibwezi East constituencies.
"Leadership must be distributed across the county. Being a person who is not taking any political side, and coming from the larger Kibwezi which is lacking in the bigger county matrix gives me an upper hand to suit into the speaker's seat. I have no political inclination and I will be able to balance between members and the executive," Mung'ata told the Saturday standard.
However, such an arrangement is also likely to benefit Prof Kaloki (Kibwezi), Ngelu (Kibwezi) and Katumo (Kaiti).
Prof Kaloki could, however, be disadvantaged as he is seen ass a fisherman who has been throwing nets everywhere having being Jubilee candidate Polycarp Igathe's running mate in the August 9 governor election in Nairobi.
In 2013, he vied for the Makueni governor seat but lost to Prof Kivutha Kibwana.
Following the death of the county senator Mutula Kilonzo, he vied in the by-election where he lost to Kilonzo Jnr and in 2017, he lost Kibwezi East MP seat to Jesicah Mbalu.
Ngelu was speaker when the county was thrown into chaos and gun drama as MCA sought to frustrate Kibwana, even attempting to impeach him, forcing the governor to petition President Uhuru Kenyatta to dissolve the county government, which was rejected.
Katumo lost his Ukia ward seat to a Muungano candidate but he is banking on the goodwill of the Wiper MCAs to clinch the seats.
However, there are those who feel issues of regional balancing might not play a major role. They say they want a person who can strike a balance between the executive and the legislature.
"We are looking at someone's capabilities because if a speaker is pushed by the governor, then he will be biased against members and will not work well with them," said Joseph Muema, an independent MCA-elect.
In Machakos, Mwangangi, who was former State House Chief of Staff Waita Nzioka's running mate in the race for governor, faces an uphill task in her bid to reclaim her seat.
However, sources reveal that infighting within the Wiper party could complicate matters.
While Kalonzo is said to be rooting for Museku to reclaim his seat, Governor Wavinya Ndeti is, on her part, said to prefer Kyusya as the new speaker.
Those is Wiper eyeing the position have left their fate to the MCAs.
"I am the MCAs' candidate because I have nobody's endorsement but I still remain loyalty to Wiper," said Nathaniel Nganga
Machakos has a hung assembly as Wiper has 16 MCAs, Maendeleo Chap Chap 12, United Democratic Alliance four, three independents, two for Peoples Trust Party and one each for Chama cha Uzalendo, Party for Independent Candidates of Kenya and and Grand Dream Development Party.
Related Topics